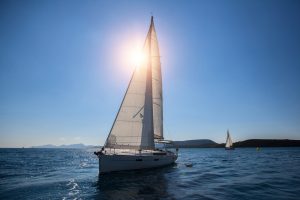 Few things in life are as satisfying as the feeling of the wind in your hair as your sailboat carves its way through the deep blue waves. And if you happen to have this experience while abroad, all the better! Fortunately, sailing is an activity that anyone can participate in, regardless of physical ability. Many sailing companies from all corners of the globe offer accessible sailing holidays in some of the world's most picturesque waters. That's why we've put together a list of accessible sailing holidays around the world, for you!
Oceania
Mind-blowing sailing opportunities can be found throughout Oceania. Plus, the Jubilee Sailing Trust has made it their mission to help people with disabilities explore these waters alongside their able-bodied friends. The company offers dozens of voyages per year with destinations as accessible as Auckland or Brisbane and as remote as Fiji. The Jubilee Sailing Trust also offers trips in Europe and to islands in the Atlantic Ocean. Each of the company's two boats are tall boats, which have larger passageways and specialised rigging that make it easier for anyone to get around the ship. So this really is a destination for everyone!
The Greek Islands
The Mediterranean Sea is considered a classic sailing destination. It's no surprise why: there's a fair climate, countless beautiful vistas, and lots of islands to explore. Greece is one of the leaders in Mediterranean sailing, and there are a handful of Greek companies that offer accessible sailing holidays in the region. One example are these trips to Argolic and Saronic islands from DR Yachting. The island in these two groups are all in close proximity to each other, which means you never have to sail continuously for more than a few hours at a time (unless you want to). Trips range in length from day-trips to multi-week expeditions. And can also include stops at historical sites from the heyday of the Ancient Greece.
San Francisco
Not all accessible sailing holidays have to come in the form of a tour package. With a bit of creativity, you can find accessible sailing opportunities in many parts of the world. For example, look for local accessible sailing social groups, such San Francisco's Bay Area Association of Disabled Sailors. BAADS offers several weekly sailing excursions in the Bay Area, as well as the occasional race and longer voyage.
When researching local disabled sailor associations, consider how long you'll be in the area for. If you'll be sticking around for awhile, it may be best to pay the membership. If not, a simple phone call will generate some leads for accessible sailing in the area. These people are devoted to bringing to joy of sailing to people of all ability levels, and will be eager to help a fellow sailor! Many accessible sailing programs also have guest passes, which are great for networking and getting your feet wet before you dive into a full membership.
The United Kingdom
Sailing the waters around our home can be a real adventure. Commendable companies like Tall Ship Voyages strive to make their vessels available to people of all types. Like the Jubilee Sailing Trust, Tall Ship Voyages is most well known for its tall ships, which are designed to be accessible to just about anyone. Besides offering day-trips and longer journeys, Tall Ship Voyages has also created a youth program to teach children with disabilities about the finer points of seamanship.
---
Considering the number of tour companies and groups operating in the world's top sailing destinations, it's practically a shame not to spend some time out on the water. Fortunately, progressive companies and innovations such as the tall ship have helped to make sailing more accessible for everyone, no matter their physical condition. Next time you're ready for a handicap accessible getaway, you owe it to yourself to research one of these stellar sailing holidays!