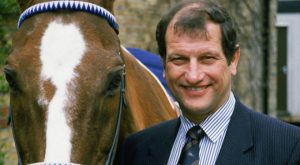 Bob Champion (68) is one of the country's best-known jockeys, made famous for winning his battle against cancer and recovering to ride – and win – the Grand National on Alderniti in 1981.
Overcoming hurdles, therefore, is second nature, or at least it had been until Bob needed to renew his travel insurance and found himself confronted with an obstacle as daunting as any he had faced in his riding career.
"Their underwriting criteria had changed, and I was no longer 'insurable' "
"Historically, I had been insured via a well known credit card company," he explains. "I travel a great deal, especially on cruise ships where I am professionally engaged to talk about my life and in particular winning the Grand National. After one such trip, I called up my insurers to renew my annual policy only to be declined. Their underwriting criteria had changed, and I was no longer 'insurable'."
Bob's difficulty was not his cancer, from which he is fully recovered, but rather a number of pre-existing medical conditions relating to his heart. It was these conditions, alongside his age, that appeared to put Bob into a new tier of 'uninsured and uninsurable'.
Somewhat taken aback, he was forced to call round various providers in an attempt to find cover: "I spent many hours on the phone pressing all sorts of buttons in response to an automated voice instruction only for my application to then be declined at the end of it. It was incredibly frustrating."
"I simply couldn't get a single insurer willing to quote me at all."
Bob approached many of the well known travel insurance providers, but at every turn his application was refused: "It wasn't that I was offered cover at an over-inflated premium," he says. "I simply couldn't get a single insurer willing to quote me at all."
Finally AllClear was recommended to him: "The process was so easy that within 15 minutes my application was processed and I was offered an annual premium of £250. I was expecting to pay four or five times that amount. I've now been with AllClear for four years and the cost of my annual multi-trip policy has barely increased."
The result is that Bob is now covered for all of his future engagements where travel overseas is required, up to a maximum of 45 days in any one period. "Had I not found AllClear, I would not have been able to take on these engagements and my future income would have been seriously affected," he says.
Bob has been genuinely impressed with the service provided. He believes that there must be thousands like him, given his age and his health, who are sharing similar frustrations, being turned away from the major insurers. In this view he is supported by the AllClear Chairman Mike Rutherford. Mike says that there is an alarming trend among insurers to retreat from traditional markets, lowering the maximum age limits prompting some consumers to take a risk and travel uninsured.
"Bob was fortunate because he found AllClear," Mike says, "but there are many others out there who are beginning to believe that they are uninsurable, simply because they are too old or have medical conditions that make them too great a risk. And that is not true."
Mike says that with the appropriate medical screening and close analysis of claims history, the real risk can be assessed and premiums set based on the individual's health and age: "We have successfully insured a number of 99 year olds," he says. "What is required is a specialist approach with underwriters who actually understand the risk they are taking on, rather than a faceless 'tick box' culture that so often ends with 'the computer says no'.
"We believe everyone has a fundamental right to travel. Old age or having a medical condition should not make you uninsurable."