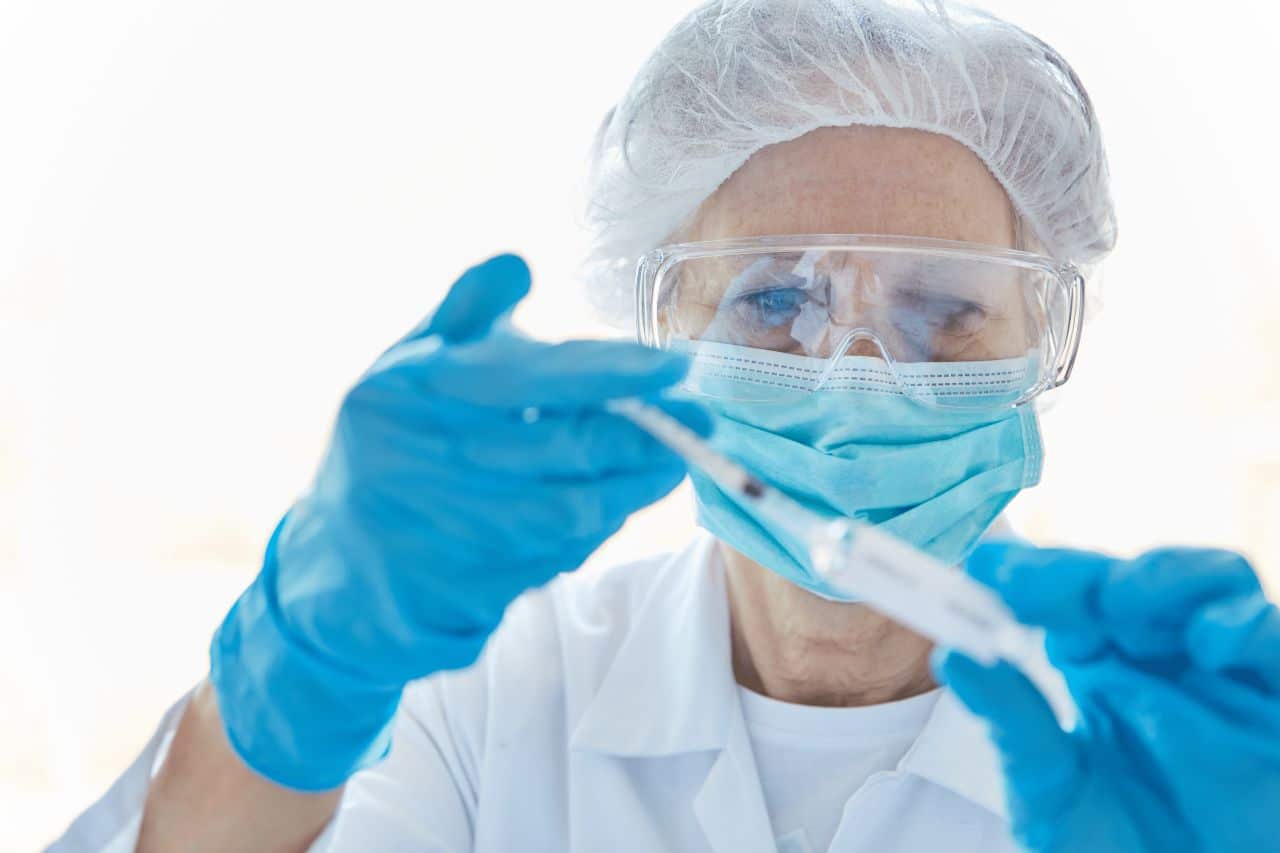 To kick off this blog post, we thought it would be helpful to describe the process of how a vaccine is developed.
Step 1: Scientists conduct initial research to develop a vaccine.
Step 2: If step one is successful, the vaccine moves to clinical trials.
Step 3: If clinical trials are successfully completed, move to mass production and distribution. In some instances, the vaccine is already being manufactured in anticipation of successful clinical trials. In this case, distribution would be able to begin immediately.
As we know, there are a number of different vaccines in various stages of development, both from private pharmaceutical companies and university labs around the world and collaborations between the two.
WHO and other authorities are confident that at least one of these vaccines will complete clinical trials before the end of 2020. WHO Director-General Tedros Adhanom Ghebreyesus has called for solidarity and political commitment by all leaders to ensure equal distribution of vaccines when they become available.
News that the older generation will be some of the first to be vaccinated is great news for travel planning in 2021 for the over 50s.
In the below, we round up the status of some of the different vaccines.
European Medicines Agency (BioNtech/Pfizer vaccine)
The European Medicines Agency accelerated the approval process for a Covid-19 vaccine developed by Germany's BioNTech and US pharma group Pfizer.
The first effective coronavirus vaccine can prevent more than 90% of people from getting Covid-19, a preliminary analysis shows.
The vaccine has been tested on 43,500 people in six countries and no safety concerns have been raised.
The companies plan to apply for emergency approval to use the vaccine by the end of November.
That means a limited number of people may get the vaccine this year. The UK should get 10 million doses by the end of the year, with a further 30 million doses already ordere
WHO's COVAX Global Vaccine Facility
Nine experimental vaccines are in the pipeline, with an aim to distribute 2 billion doses by the end of 2021.
UK Government Trials
The Government's strategy is to build a portfolio of promising vaccine candidates to ensure the best chance possible of finding one that works.
The UK has access to 6 different vaccine candidates, across 4 different vaccine types, reflecting the government's strategy to ensure the UK has a supply of vaccines should any of these prove safe and effective. These include the University of Oxford's vaccine being developed with AstraZeneca, as well as agreements with the BioNTech/Pfizer alliance, Valneva and GSK/Sanofi Pasteur.
The UK Government has secured early access to 90 million doses of 2 promising vaccine candidates but they still need to complete clinical trials. These are:
Supported by the Government, Novavax is running a Phase 3 clinical trial in the UK working with the National Institute for Health Research (NIHR). They plan to manufacture their vaccine in the UK with FUJIFILM Diosynth Biotechnologies.  This will ensure that once available, the vaccine can be supplied to the British public as soon as possible.
UK will co-fund a global clinical trial with the Janssen Pharmaceutical Companies of Johnson and Johnson to establish how effective their vaccine could be in providing long-term immunity against COVID-19. Janssen's vaccine is being made available on a not-for-profit basis during the pandemic to both the UK and the rest of the world to ensure the global supply and equitable access of a vaccine.
If the vaccines are safe and successful in clinical trials, both could be available in the UK in mid-2021. They would be given first to priority groups such as frontline health and social care workers; adults with medical conditions that put them more at risk and older people.
The Government also launched last month the NHS COVID-19 vaccine research registry to enable people across the UK to sign up for information about participating in clinical trials. Aiming to get 500,000 people signed up by the end of October, this would provide scientists and regulators the assurances they need that vaccines secured are safe and effective for use.
100 million doses of the Oxford vaccine made from a genetically engineered virus
30 million doses of the BioNtech/Pfizer vaccine, which injects part of the coronavirus' genetic code
60 million doses of the Valneva inactivated coronavirus
Kate Bingham, chairwoman of the UK Vaccine Taskforce, told the BBC: "What we are doing is identifying the most promising vaccines across the different categories, or different types of vaccine so that we can be sure that we do have a vaccine in case one of those actually proves to be both safe and effective.
"It's unlikely to be a single vaccine for everybody.
"We may well need different vaccines for different groups of people."
Trials involving 1,077 people showed the injection led to them making antibodies and T-cells that can fight coronavirus.
Antibodies:  small proteins made by the immune system that stick onto the surface of viruses.
T-cells: a type of white blood cell, help co-ordinate the immune system and are able to spot which of the body's cells have been infected and destroy them.
Nearly all effective vaccines induce both an antibody and a T-cell response.
The UK has already ordered 100 million doses of the vaccine.
How does the vaccine work?
The vaccine, ChAdOx1 nCoV-19,  is made from a genetically engineered virus that causes the common cold in chimpanzees. It has been heavily modified, first so it cannot cause infections in people and also make it "look" more like coronavirus.
Scientists transferred the genetic instructions for the coronavirus's "spike protein" – the crucial tool it uses to invade our cells – to the vaccine they are developing. This means the vaccine resembles the coronavirus and the immune system can learn how to attack it.
Is it safe?
Yes, but there are side-effects.
There were no dangerous side-effects from taking the vaccine, however, around 17% had a fever and more than six-in-10 patients had a headache. The researchers said this could be managed with paracetamol.
We will continue to update this blog with Vaccine news from around the world.
What are the next steps in the trial?
The results so far are promising, but their main purpose is to ensure the vaccine is safe enough to give to people.
The study has not yet shown whether the vaccine can either prevent people from becoming ill or even lessen their symptoms of Covid-19.
More than 10,000 people will take part in the next stage of the trials in the UK.
However, the trial has also been expanded to other countries because levels of coronavirus are low in the UK, making it hard to know if the vaccine is effective. There will be a large trial involving 30,000 people in the US as well as 2,000 in South Africa and 5,000 in Brazil.
There are plans for "challenge trials" in which vaccinated people are deliberately infected with Coronavirus. However, there are ethical concerns.   The experiment is set to begin in January in a London hospital if it receives final regulatory and ethical approval, aims to accelerate the development of vaccines that could end the pandemic.
Human challenge trials have a history of providing insight into diseases such as malaria and influenza. The UK trial will try to identify a suitable dose of the SARS-CoV-2 virus that could be used in future vaccine trials. But the prospect of deliberately infecting people — even those at low risk of severe disease with Covid, a deadly pathogen that has few proven treatments, is uncharted medical and bioethical territory.
Proponents of COVID-19 challenge trials have argued that they can be run safely and ethically and that their potential to quickly identify effective vaccines outweighs the low risks to participants. But others have raised questions about the safety and value of these studies, pointing out that large-scale efficacy trials involving tens of thousands of people are expected to deliver results on several COVID-19 vaccines soon.
How many Vaccines are being Tested in Total?
According to BBC News, there are 140 in pre-clinical trials, 1o in phase 1 (small scale safety trials), 9 in phase 2 (expanded safety trials), and 4 in phase 3 (wider testing and effectiveness assessed).
When will you get a Vaccine?
It is possible the UK will have a proven effective coronavirus vaccine before the end of the year, however, it won't be widely available.
Health and care workers will be prioritised as well as people who are deemed at high risk from Covid-19 due to their age or medical conditions.
However, widespread vaccination is likely to be, at the earliest, next year even if everything goes to plan.