Friend of AllClear, Diana Morgan is a blog-post writer, social media marketer, and eco-retailer. In this guest post, she shares  her experience of visiting Palma de  Mallorca, and how much has changed since her first visit 43 years ago…
Just as impressive as I remembered it
The first time I went to Mallorca, just turned 12, my elder brother and I stepped out onto the open end of the vintage train carriage and a man offered me a cigarette, much to my amazement and amusement – I did not accept and indeed have never smoked. Did I tell my parents? I really can't remember…
Some people say "never go back" – I disagree.  I visited Mallorca age 12, 14, and 21 (no high jinks – I was with my parents again, as a sort of pre-graduation present!) and have wanted to go back ever since. With six nights at our disposal in April, and the need for some sunshine after dull and rainy weather at home, we chose Palma for a break. We also wanted some history and culture, and some days out of the city.
Palma turned out to be the ideal choice, with just a 2½ hour flight from Gatwick and a twenty minute taxi ride to our boutique hotel in the centre of Palma, which is on the south side of the island. The city is very compact and we easily covered a lot of ground on foot – my step-counter registered well over 10,000 steps every day!
Mallorca is one of the Balearic Islands, which belong to the Catalonia region of Spain. This is very obvious in the form of road signs and notices, where the Catalonia language takes priority over Spanish. Mallorca has its own cuisine but this can be hard to find among a majority of mainstream (though mostly delicious) tapas and Spanish food.
Palma's massive, magnificent Gothic cathedral was as impressive as I remembered it…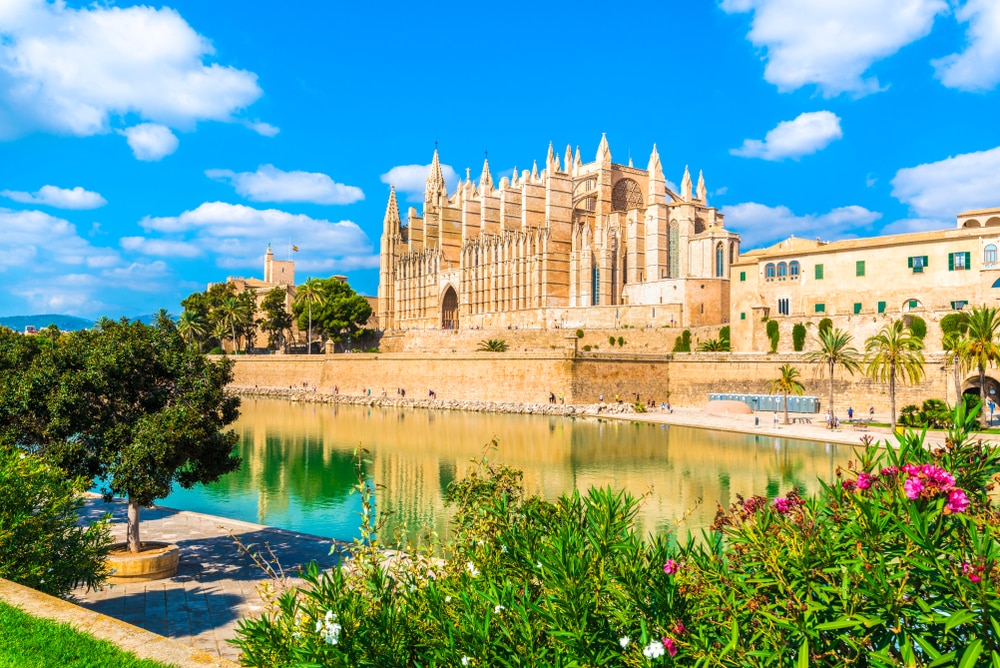 The Moorish-influenced palace opposite is beautiful too, but unfortunately we weren't able to see the exhibitions inside as we left it to the last day, a Monday, and found it closed – a rare failure to check on my part!
Our day trips
There is some impressive architecture in Palma, both public and domestic, and we liked the way many modern buildings have been designed to harmonise with the old, without necessarily aping it to the last detail. A restricted colour palette is very noticeable, with walls rendered in pleasing shades from terracotta to light sand. The fact that little white is used means that buildings aren't too dazzling in the sun. Roofs are often pantiled, in a paler colour than the usual red. We found the same muted colours in the other places we visited. Very close to our hotel was the splendid Edifici Casasayas, with its beautiful balconies and curved windows. It was designed by Antoni Gaudí, who is most famous for his Modernist buildings in Barcelona, capital of Catalonia.
Our first day trip was to the beautiful hill town of Sóller then down to Puerto Sóller on the northern coast. We took the famous Ferrocarril de Sóller vintage train through the roads in northern suburbs of Palma, along fields and up into the mountains, with orange and lemon groves, the latter trees being particularly laden…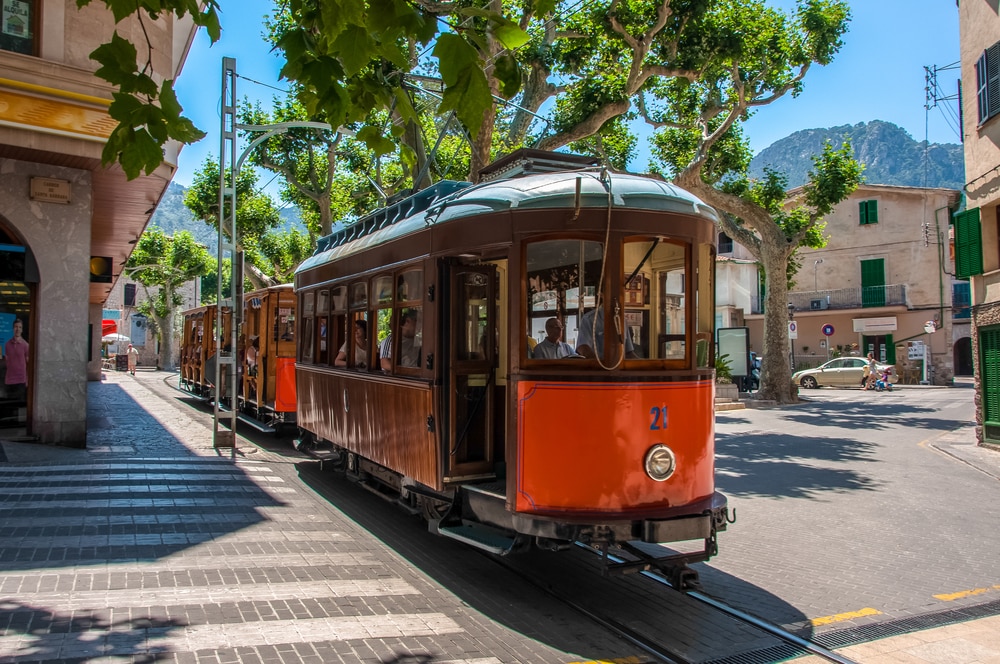 Sóller oranges are well known for their flavour, and indeed we found the fresh juice at breakfast (sometimes with ginger and lemon juice added for an extra kick and sharpness) absolutely delicious.
We took the tram straight down to Puerto Sóller, another interesting ride. Here's a useful tip: most people pile onto the first tram but there is often another one straight after which is much quieter. We enjoyed lunch in a quayside restaurant (luscious big prawns in hot garlic oil – a favourite dish which I've had  many times in the Canary Islands) then took a stroll along the promenade before catching the tram back up to Sóller for a refreshing drink in the square. The town proved a pleasure to wander around, with narrow traffic-free streets and some interesting little shops. Back we went to Palma on the train, enjoying the different views presented by going in the other direction.
The next day we trekked across town through the bohemian district of Santa Catalina to visit Bellver Castle which overlooks Palma on the west of the city…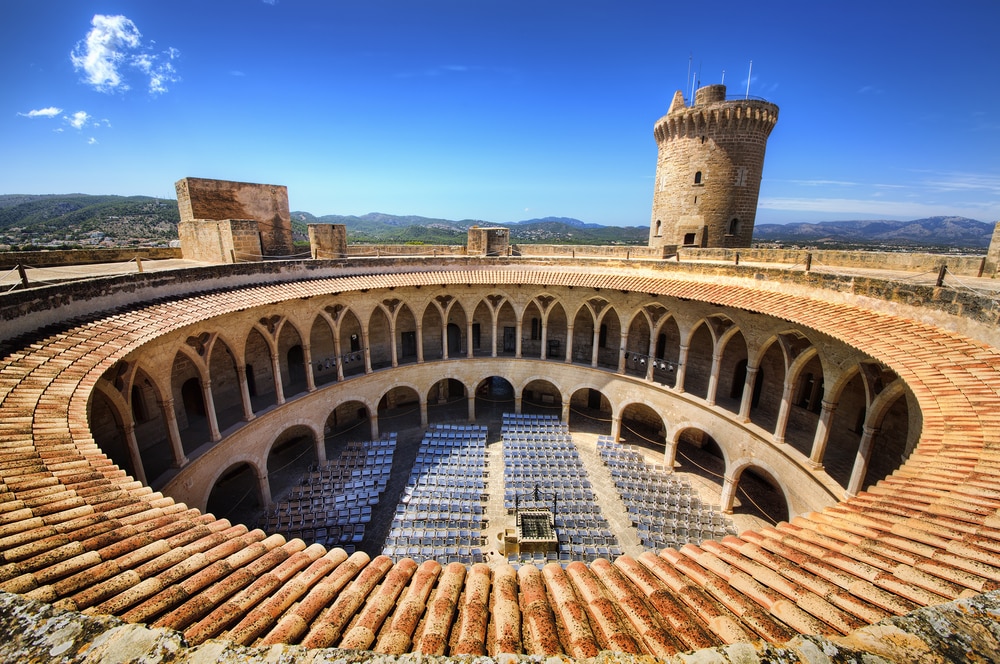 (Over 17 thousand steps there and back!) This is a perfectly round structure and was built in the early 14th century. It saw little action as a defensive castle and was only used as a royal palace for two brief spells in its early days. It was a pleasure to walk along the galleries' first and second floors and see the castle's history in a small exhibition room.
Our second trip out was by bus to the delightful walled town of Alcúdia, which took about an hour. The town was quite busy but not oppressively crowded. We also managed to avoid the crowds by exploring the side streets as well as the main thoroughfares. The roads within the walls are largely traffic-free and the views from the walls are extensive. Again we enjoyed the restrained colours of the walls and of the local architecture.
Why it's the ideal city break
Much has changed since my first visit to Palma de Mallorca aged 12. But vintage train rides and imposing castles don't go out of fashion. I would recommend Palma to everyone who has an interest in tourism beyond the infamous resorts. And if you're lucky like me, you might even make memories which will last a life time!