Finding your medical condition
Introduction
This help article will tell you how to navigate our quote system and find your medical condition(s).
If you're not sure what we count as a medical condition, read Understanding the medical warranty.
If you are unsure what details about your medical conditions you need to tell us about, read What you need to declare.
Tips to help find your condition
If you are unable to find your medical condition, one of the tips below may help.
Enter the first 3-4 letters
Try entering the first 3-4 letters of your medical condition into the search bar. This allows the system to perform a more thorough search and your condition should appear in the list below for you to select.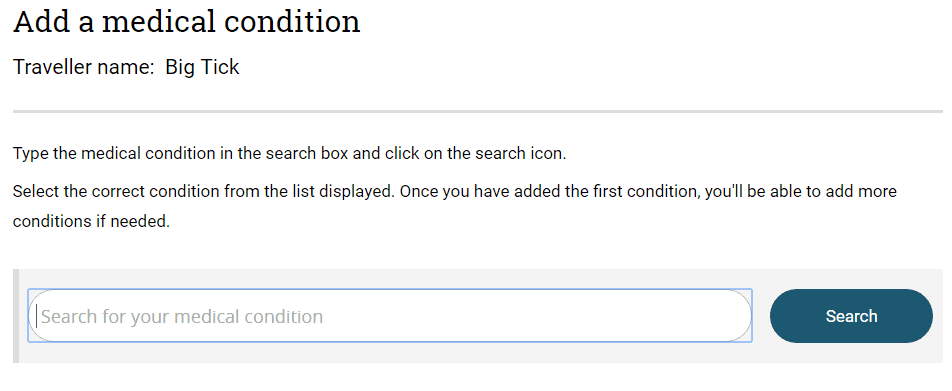 Try entering one word of your condition
For example 'blood' for 'high blood pressure' and browse to the correct condition from the list.
Speak to us on LiveChat
If you still can't find your medical condition, then speak to us on Live Chat, and we should be able to help you to declare your condition.
Our tool to help you find your medical condition
Below is a list of common medical conditions and tips on how to search for them.
| Condition | Try searching |
| --- | --- |
| Allergic reaction to a prescription drug | Drug allergy |
| Aortic aneurysm | Aortic a |
| Atrial fibrillation | Atrial |
| Bipolar disorder | Bipo |
| Cataract operation | Cataract |
| Chronic kidney disease | Kidney |
| Dairy allergy | Allergy |
| Diabetes insipidus | Diabetes |
| Dilated cardiomyopathy | Dilated |
| Ectopic heartbeat | Ectopic |
| Egg allergy | Allergy |
| Epigastric hernia | Epig |
| Gastro-oesophageal reflux | Gastro |
| Heart block | Block |
| Hiatus hernia | Hiat |
| High blood pressure | Pressure |
| Hip replacement | Hip |
| Ischemic heart disease | Isch |
| Juvenile idiopathic arthritis | Juvenile arthritis |
| Malignant brain tumour | Brain tumour |
| Microvascular angina | Micr |
| Non-hodgkin lymphoma | Hodgkin |
| Nut allergy | Allergy |
| Polymorphic light ebruption (sun allergy) | Polym |
| Pregnancy | This does not need to be declared. Learn more. |
| Reactive arthritis | Arthritis |
| Rotator cuff injury | Cuff |
| Serogenerative arthritis | Arthritis |
| Sickle cell anaemia | Anaemia |
| Silent ischemia | Angina |
| Stable angina | Angina |
| Supra-ventricular tachycardia | Sup |
| Temporal lobe epilepsy | Epilepsy |
| Thrombocythemia | Thrombocy |
| Type 2 diabetes | Diabetes |
---
---
---