Saving, retrieving or printing your quotes
Did you find this article useful?
Yes
No
Introduction
This question is relevant for you if you are only at the quote stage.
If you have actually bought a policy, and are trying to access the customer login, then please look at this help article. Only policyholders have access to the customer login.
Save and buy later
Can you save your quotes and buy the policy later?
Yes, you can save your quotes online and later return to buy them. Make sure you actually click the 'Save Quote' button at the end of the quote journey, as shown below.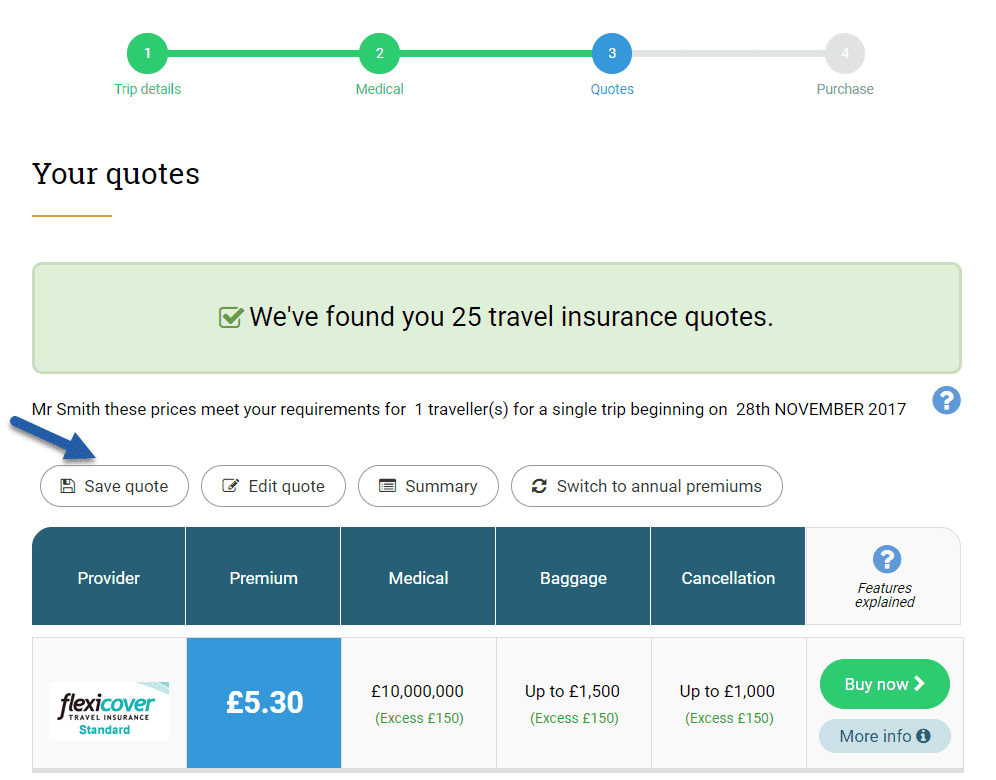 Be sure to make a note of the reference number that is provided at the end of the quote, as this will make it easier for you to find it again.
If you have lost your quote reference number, we can find it for you. Please contact our Customer Care Team on 01708 339029, or speak to us via Live Chat
How long does your quote last?
Your quote is saved online for 7 days. 
Quotes from the Contact Centre are saved for 14 days. 
Please note that quotes only have a guaranteed price up until midnight of the same day. However, your personal and medical details will be saved so you will not have to complete this information again to buy the policy.
Please be aware that upon retrieving your quote, you will need to check that the information is accurate. If there are any material changes, e.g. you having a birthday, this can affect the price of your quote. Any changes to our rating system can also affect the price.
You will need to retrieve your quote within the time frame above.
Your quote information will be re-confirmed and once you have chosen your provider, you'll be prompted to enter your  payment details.
Save your quote
Please note, you will ONLY be able to retrieve your quote, if you click the 'Save Quote' button once you have completed your quote. Otherwise, your quote will not be saved.
Retrieving your quote
How do you retrieve your quote?
You can select the link from the email you received with your quote details to take you back into your quote.
Alternatively, use the reference number and email address to retrieve on the website (you will find this under Quotes> Retrieve quotes).
Printing your quote
Can you print the questions/answers you've given in the quote?
If you save your quotes you can retrieve them within 7 days and therefore review the answers that you gave that way.
Once you have actually bought a policy, your medical declaration, including the answers you gave to the specific medical questions, will be included in your policy declaration. You can choose to have these policy documents emailed to you or you can have them posted. For more information, please look at our policy documents help article. 
Not received your email quote
Please check that you have entered your email address correctly as this is the main reason why an email doesn't arrive. You can contact us on Live Chat and then we can arrange for the email to be resent to you.