Extended stay
Did you find this article useful?
Yes
No
When and how you can extend your trip duration on annual multi-trip cover
How do you know which policies offer extended stay?
To view which annual multi-trip policies have the option to extend your trip duration, have a look at the table displayed on the article – How long you can go away for.
When you have chosen your policy and selected the button 'Buy now' you will be displayed a list of Optional Extras to add.
The option to extend your trip length will be displayed as 'Extended stay', as shown in the following example: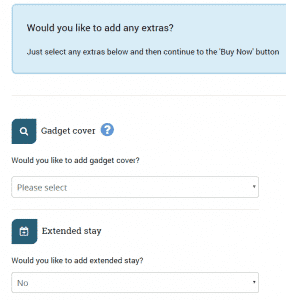 The price of extending your stay will depend upon how many days you choose for your extension and the original cost of your quote.