Page contents
Comprehensive travel insurance for Turkey
Turkey travel insurance covers you if you wish to travel to Turkey with peace of mind, no matter your age or pre-existing medical conditions. This type of insurance covers you for medical emergencies, even those related to COVID-19, which is vital to prevent unexpected medical bills and give you the support you need if you have any medical problems while you are away.
Turkey is an amazing place to go all year round, with stunning cities like Istanbul and Ankara and the coastal holiday regions of Dalaman and Antalya each requiring an adequate travel insurance policy to keep you protected.
Our experience of insuring thousands of people travelling to Turkey has proved that you're an adventurous bunch of determined travellers, even during the Coronavirus pandemic.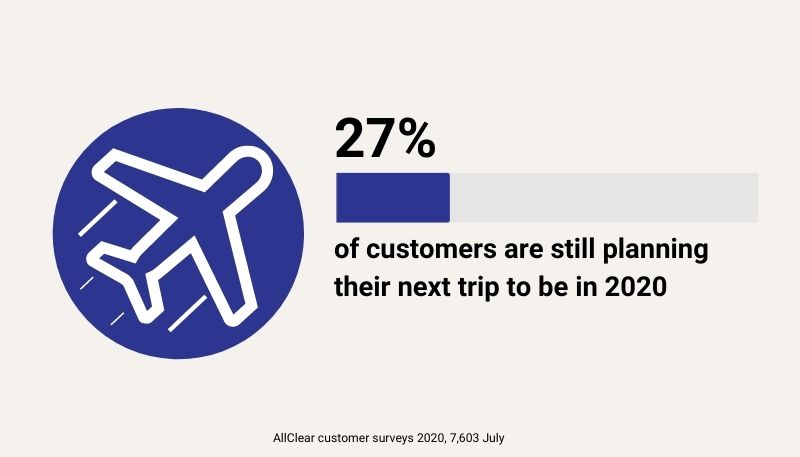 So whether you want to sunbathe or explore, it's great that Turkey is currently on the FCO green list for travel (as of 2nd September 2020). AllClear has a range of travel insurance products with enhanced Covid-19 cover for your trip. You should always buy your travel insurance before you set off, as you never know what issues you could face when travelling.
AllClear travel insurance provides you with comprehensive cover while travelling Turkey, covering medical costs, travel disruption or cancellations and personal belongings.
Why do I need travel insurance for Turkey?
Turkey is not in the European Union, so your EHIC card will not entitle you to any emergency medical or subsidised healthcare when visiting the country. Turkey also has no reciprocal health agreement with the United Kingdom, so you must pay for all medical costs should you fall ill or require treatment when visiting the country.
That's why you need to make sure you are covered quality medical travel insurance when travelling to this part of the world.
You should investigate the government's health travel advice when travelling to Turkey as the country has a large number of stray dogs and cats, which are carriers of some unwanted parasites and diseases.
If you find yourself in need of emergency medical treatment, dial 112 to request an ambulance, and then immediately notify your travel insurance company so they can start taking action to help you.
Travel Insurance for Turkey
A good travel insurance policy for Turkey should include the following:
Cover for medical expenses and repatriation should you need to return to the UK.

Cancellation and curtailment insurance in case you have to end your holiday due to a medical problem or an emergency means you must cancel.

Baggage and possession cover, in case your belongings are lost, damaged or stolen during your trip.
What AllClear Cover Includes:
Main Benefits
Cancellation and Curtailment covered up to £25,000, including for Covid-19
Up to £15 million emergency medical expenses cover, including for Covid-19
Up to 30 days FREE extended cover (if due to unexpected circumstances beyond your control)
Up to £2,000, if medically necessary, for a friend or relative to travel from your home area to stay with you if you fall ill with Covid-19 (costs for room and to accompany you home)
Repatriation costs, when medically necessary, to bring you back to the UK where it is deemed to be in your best interests
Following recovery from Coronavirus, costs for a continued recuperation stay, when medically necessary and under doctors advice
Costs for your return flight following your enforced stay due to Coronavirus
Personal Belongings covered up to £3,000
All conditions. All ages.
All these figures are per person, and per trip.
Am I covered for travel in the Coronavirus pandemic?
To make sure you're covered there are three things to check:
You must be fit to travel
The FCO must NOT have advised against travel to your destination
You must follow the local government advice for your destination, checking and following their guidelines and entry requirements
You can then be covered for emergency medical expenses or cancellation relating to COVID-19, when you have travel insurance with enhanced Coronavirus cover. If you're an existing policyholder, you can read our Frequently Asked Questions if your trip is affected by Covid-19.
Your Options for Additional Cover
Turkey is a great location for adventure sports including scuba diving and even winter sports -thanks to a boom in the number of resorts in recent years.
If you plan on getting involved in these activities, make sure your travel insurance covers them and check for restrictions. AllClear can cover a variety of activities without any additional cost, such as scuba diving and safari trekking – plus cover 'hazardous activities' for an additional premium, including Winter Sports.
Are You Booking Your Flights and Accommodation Separately?
Holidaymakers are increasingly choosing to make their own travel arrangements, booking flights, accommodation, and extras separately.
However, in recent years we've seen the collapse of several airlines and travel companies – including XL.com, Libra Holidays, Flyglobespan, Kiss Flights, Goldtrail, Zoom – while more recent examples include Monarch, WOW Air and Jet Airways.
When these travel companies go bust, you could be left out of pocket. This is because your travel arrangements will only be covered by license schemes such as ABTA and ATOL if you have booked a package holiday. 
Protection against your travel company or airline going bust is also key. Some insurers, including AllClear offer this as standard but it's important to check your policy documents carefully as a number of high-profile failures have left passengers stranded over the years.
Read AllClear Trustpilot Reviews
"Fantastic insurance company"
Fantastic insurance company, my mum took ill while on holiday in Turkey, we showed our insurance documents, spoke to them on the telephone once & then everything was
taken care of without any trouble whatsoever.
Is Turkey in Europe for Travel Insurance?
Some providers – Including all on AllClear's panel – categorise Turkey as being in Europe for travel insurance. If you are ever unsure which region a country falls in for AllClear policies, you can check here: Region Checker.
Travel Tips for Turkey
Health
Depending on how fit and well you are, your doctor may advise you to have Hepatitis A, Hepatitis B and Tetanus vaccines before you travel. These are usually free on the NHS.
Visa
All British nationals need a visa to enter Turkey (except for cruise ship passengers in certain circumstances). The Turkish government also advises that your passport must be valid for at least 6 months from the date you arrive in the country.
There are currently two options for getting visas. The first is an e-Visa which should be obtained from the official Turkish Government website only. They cost £20 and you can apply for one to 3 months before you're due to set off and you should apply at least 48 hours before you travel.
Visas can also be issued when you arrive in Turkey. Multiple entry sticker visitor visas are valid for multiple stays of up to 90 days within a 180-day period and cost £20 cash (Scottish and Northern Irish notes are not accepted), however, this service is to be phased out so an e-Visa will soon be the only option.
Cruise ship passengers who hold 'British Citizen' passports and arrive at tourist ports will not need a visa as long as their visit is for less than 72 hours.
Money
The currency is the Turkish Lira. You can get Lira from banks and the exchange bureaux – known as DOVIZ in Turkish. Otherwise, there are plenty of cash machines in major cities and tourist areas. Tipping in restaurants and hotels is customary!
Local Laws
For tourists, there are a few unfamiliar laws that you should be aware of. For example, it's a criminal offence to insult the Turkish nation, the national flag or to deliberately damage the currency in any way.
Safety and Security
In some parts of Turkey there is political tension and the FCO provides regular updates on which areas of Turkey should be avoided.
If you'd like to start a quote, click the quote now button below.
Frequently Asked Questions About Turkey Travel Insurance
When does the cover begin?
Full benefits begin on the travel dates you have selected. However, if you have chosen cancellation cover to be included, this cover begins as soon as you buy your policy. For this reason, it's important to buy your travel insurance as early as possible – or as soon as you have your trip booked. You can book a single trip policy up to 12 months in advance of your holiday.
What is the age limit on Turkey Travel Insurance policy?
We're pleased to say our AllClear Gold and Gold Plus policies have no age limits. During your quote, you'll only be shown quotes which can cover your age category.
What's the maximum trip length on a single trip travel insurance policy?
Allowed trip lengths vary between policies, however, the maximum you can get for a single trip quote online is for up to 92 days. Find out more about maximum trip durations here: How long you can travel for.
Is it best to buy a single or an annual multi-trip policy?
Whether buying a single or annual multi-trip policy is best for you, it depends on how often you intend to travel during the next 12 months.  If you are going on holiday multiple times throughout the year, an annual policy could work out better value for you.
With an annual multi-trip policy you can travel as many times as you like throughout the period of your insurance. There are, however, limits on the number of days you can be away for any one trip; which for some providers also depends upon your age.
What is your 'Before you Buy' checklist?
Are my personal possessions covered?
 Check the 
baggage cover
 limits.
Will you be carrying a relatively large amount of foreign currency?
 Check the personal property cover offered and specifically cover limits for cash.
Will you be taking part in winter sports?
 If you are taking part in winter sports make sure you have paid the additional premium to ensure you are covered.
Are you covered if you need to cancel?
 Check the cancellation cover is sufficient to cover the cost of your holiday. Remember you may also be required to pay an excess in the event of you having to cancel your trip and make a claim.