Do I need travel insurance for UK Holidays?
UK travel insurance covers you to travel within the UK with peace of mind, no matter what your age may be or what pre-existing medical conditions you may have. This type of insurance covers you for cancellations (including those relating to Covid-19) and other unexpected events that may occur either before or during your holiday.
Travel insurance within the UK may not seem like a necessity, but even though you're still in the UK, you could still face unexpected events, especially with the Covid-19 pandemic. In fact…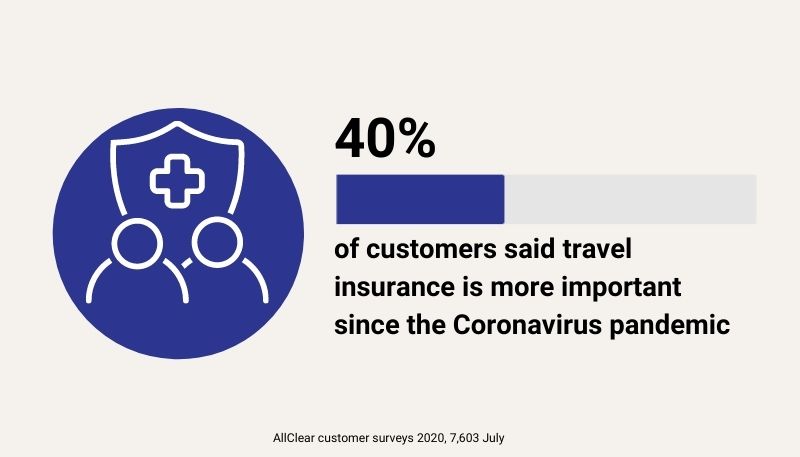 If you're in need of a few days away from home but you're wary of the changing rules during the pandemic, then a staycation can be the perfect compromise.Whether you're planning a weekend break in the Cotswolds, or a week-long stay in the Scottish Highlands, or a beach holiday, travel insurance can give you peace of mind about cancellations and lost belongings.
Any actual medical treatment in the UK will be covered by the NHS but, if you need to cancel your trip or cut your trip short because of your medical conditions or Covid-19, then travel insurance means you will be covered.
What does my UK travel insurance cover?
AllClear offers travel insurance in the UK for singles, couples, families and groups. A good policy will provide cover for:
Travel delays and transport cancellations
If you've had to book transport in advance, a travel insurance policy will cover you if you run into unexpected delays or cancellations. Transport providers may not refund you if a trip is cancelled due to factors beyond their control – including some weather events – so insurance cover can provide reassurance.
Baggage, personal possessions and cash
Check your policy offers sufficient cover in the event that your baggage, possessions or cash are stolen.
Cancellation and curtailment
If you can't go on your holiday or have to cut it short due to an emergency including illness or injury.
You should also consider any activities you plan to enjoy while away. The UK is the 'home of golf' and hosts a list of world-famous courses. If you plan to enjoy them, a specialist policy that covers your clubs, celebratory hole-in-one drinks and course fees is worth considering.
Benefits of an AllClear policy
Main Benefits
Cancellation and Curtailment covered up to £25,000, including for Covid-19
Up to £15 million emergency medical expenses cover, including for Covid-19
Up to 30 days FREE extended cover (if due to unexpected circumstances beyond your control)
Up to £2,000, if medically necessary, for a friend or relative to travel from your home area to stay with you if you fall ill with Covid-19 (costs for room and to accompany you home)
Repatriation costs, when medically necessary, to bring you back to the UK where it is deemed to be in your best interests
Following recovery from Coronavirus, costs for a continued recuperation stay, when medically necessary and under doctors advice
Costs for your return flight following your enforced stay due to Coronavirus
Personal Belongings covered up to £3,000
All conditions. All ages.
All these figures are per person, and per trip.
Are you covered for travel in the pandemic?
There are a few things to check first, as it needs to be safe for you to travel to make sure you're covered:
You must be fit to travel
The FCO must NOT have advised against travel to your destination
You must follow the local government advice for your destination, checking and following their guidelines and entry requirements
You can then be covered for emergency medical expenses or cancellation relating to COVID-19, when you have travel insurance with enhanced Coronavirus cover. If you're an existing policyholder, you can read our Frequently Asked Questions if your trip is affected by Covid-19.
Travel insurance for the Isle of Man & Channel Islands
The Channel Islands (including Guernsey, Jersey, Alderney, Herm and Sark) and the Isle of Man do not have the NHS. Each island has a different approach to covering healthcare costs with some providing emergency care for free but charging for GP visits while others will require you to pay for everything including ambulance services. The Channel Islands and Isle of Man do not accept the EHIC either.
Get Online Quotes in 3 Simple Steps
1. Call us or click a quote button on our site
Once you are ready to start the quote process, the first step is to provide your personal details and information about your holiday plans.
2. Complete our simple medical screening process
You then declare the medical conditions for you (and any other travellers) and answer the specifically designed medical questions.
3. Get your quotes
You will then get your quotes and can either proceed to buy, or save your quote, at this stage.
Why More Than 3 Million People Have Chosen AllClear
97% of customers rate us as 'Excellent' or 'Great' and you can compare prices online to find your perfect policy.
What Our Customers Say
 "A contented customer"
I have been with AllClear Travel for a few years now, having the peace of mind that they will provide insurance for me in spite of my chronic health problems means I have the confidence to travel like anyone else. My renewal this year was made so much easier by speaking with Callum, having someone who could clearly answer all of my questions and could bring a sense of humour to what is usually a dry process was very appreciated.
Jenni – Trustpilot
Read AllClear Trustpilot Reviews
We hope you found our guide to travel insurance for the UK helpful and enjoy your next trip!
Click the Start Quote now button below to get a quote.

Frequently Asked Questions About UK Travel Insurance
When does the cover begin?
Full benefits begin on the travel dates you have selected. However, if you have chosen a cancellation cover to be included, this cover begins as soon as you buy your policy. For this reason, it's important to buy your travel insurance as early as possible – or as soon as you have your trip booked. You can book a single trip policy up to 12 months in advance of your holiday.
What is the age limit on UK Travel Insurance policy?
We're pleased to say our AllClear Gold and Gold Plus policies have no age limits. During your quote, you'll only be shown quotes which can cover your age category.
Do you need a single trip travel insurance if you have a European Health Insurance Card (EHIC)?
If you have an EHIC (which used to be called the E111), you get medical treatment at the same price as the residents within EU countries you're visiting. This often means either free or reduced costs. However, the EHIC does not cover you for all eventualities, and so you also need comprehensive travel insurance.  For example, if you're taken to a private clinic in a private ambulance, you won't be covered. The EHIC also doesn't cover the cost of repatriation if you need to be flown back to the UK following an accident on holiday.
What's the maximum trip length on a single trip travel insurance policy?
Allowed trip lengths vary between policies, however, the maximum you can get for a single trip quote online is for up to 92 days. Find out more about maximum trip durations here: How long you can travel for. 
Is it best to buy a single or an annual multi-trip policy?
Whether buying a single or annual multi-trip policy is best for you, it depends on how often you intend to travel during the next 12 months.  If you are going on holiday multiple times throughout the year, an annual policy could work out better value for you.
With an annual multi-trip policy you can travel as many times as you like throughout the period of your insurance. There are, however, limits on the number of days you can be away for any one trip; which for some providers also depends upon your age.
What is your 'Before you Buy' checklist?
Are my personal possessions covered?
 Check the 
baggage cover
 limits.
Will you be carrying a relatively large amount of foreign currency?
 Check the personal property cover offered and specifically cover limits for cash.
Will you be taking part in winter sports?
 If you are taking part in winter sports make sure you have paid the additional premium to ensure you are covered.
Are you covered if you need to cancel?
 Check the cancellation cover is sufficient to cover the cost of your holiday. Remember you may also be required to pay an excess in the event of you having to cancel your trip and make a claim.