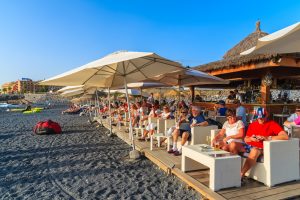 Read George Stewart's AllClear customer story. He loves to travel to Costa Adeje, but on one particular occasion, what could have been a holiday disaster, was thankfully averted due to careful planning and ensuring he had medical travel insurance cover.
When George Stewart went on a 10-day holiday with his wife to their favourite hotel in Costa Adeje, it turned out to be a trip to remember for all the wrong reasons…
But it could have been so much worse.
What happened to George?
Eight days after arriving, he was taken to hospital in great pain with what turned out to be a perforated bladder, requiring an emergency operation. A few days later George contracted MRSA, meaning his stitches and staples had to be removed and George had to stay in hospital for three weeks before he was medically fit to return home.
How did George avoid holiday disaster?
Fortunately for George he had taken out travel insurance with AllClear, a specialist in covering people with pre-existing medical conditions.
George says it's easy to think of travel insurance as an unnecessary expense, but it's important to consider what you might need it for: "Before my trip, I could never have imagined falling ill like this, nor could I have imagined how many services and expenses would be involved."
"AllClear was superb in its telephone support, talking directly to my doctors and to my wife's hotel, where the company's representatives were able to clear extending her stay," says George.
What was George's experience?
George says that he had to travel from the hospital to the airport by ambulance: "I was flown home by private jet accompanied by a paramedic. I was then transported by private ambulance to my local hospital, where I spent another five days before being allowed home. If you add all of this together, and include my wife's flight home, the cost would have been unaffordable.
"My wife and I were delighted with the support AllClear offered and are recommending to all our friends, as well as sharing our story to highlight that good travel insurance is important for everyone and for all types of holidays!"
Share more personal experiences with us
We love hearing your travel stories and how AllClear has helped you get the cover you need, do you have a story like George's? Let us know in the comments below or send us a tweet @AllClearTravel