Why do you need High Blood Pressure Travel Insurance?
High Blood Pressure travel insurance covers you if you have high blood pressure and wish to travel with peace of mind. This type of insurance covers you for medical emergencies, which is vital to prevent unexpected medical bills and give you the support you need if you have any medical problems while you are away. In particular, during the Coronavirus pandemic, 40% of you said that travel insurance is more important to you than ever.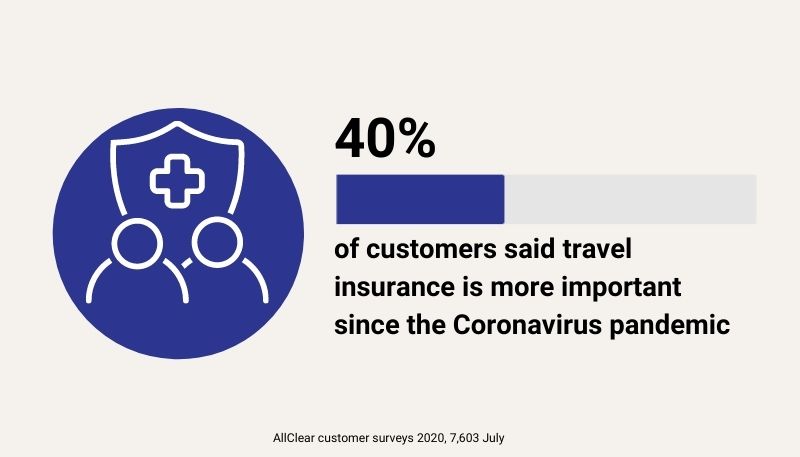 Hypertension (or high blood pressure) is quite common. Half of all those aged over 65 have it. Because of this, many people don't tell their travel insurance provider about their hypertension before they travel.
However, it's classed as a pre-existing medical condition, which means that not declaring it could invalidate your policy if you need to make a claim. If you needed medical treatment as a result of your hypertension while on holiday, you may end up footing the bill. Comphensive travel insurance including your high blood pressue will cover you for urgent, specialist medical care when you're away.
Benefits of AllClear Cover
Gold
Gold Plus
Platinum
Emergency medical expenses and Repatriation costs
Up to £10m
Up to £15m
Up to £15m
Cancellation* and Curtailment
Up to £2k
Up to £15k
Up to £25k
Extended cover
30 days FREE
30 days FREE
30 days FREE
Friend or relative to travel from your home area to stay with you if you fall ill with Covid-19
Up to £2k
Up to £2k
Up to £2k
Travel Delay
Up to £100
Up to £350
Up to £500
Recuperation stay
Cost of return flight due to COVID-19
Personal Belongings
Up to £2k
Up to £2.5k
Up to £3k
Personal liability
Up to £2m
Up to £2m
Up to £2m
Legal protection cover
Up to £50k
Up to £50k
Up to £100k
* If you buy a policy which includes cancellation cover
All these figures are per person and per trip
Planning and protecting your holiday abroad
Things to know before you go:
Remember to check the latest travel advice from the FCDO for your destination. You will have no cover if you choose to travel against FCDO advice, unless that advice relates specifically to Covid-19 (check our Covid FAQs for more details)
Check any entry requirements and quarantine requirements for your chosen destination
Choose a Travel Insurance policy that includes Covid-19 Cover
For information on how Covid might affect your trip, visit our dedicated FAQs page
Simple 3 step quote process
1. Call us or click a quote button on our site
Once you are ready to start the quote process, the first step is to provide your personal details and information about your holiday plans.
2. Complete our simple medical screening process
You then declare the medical conditions for you (and any other travellers) and answer the specifically designed medical questions.
3. Get your quotes
You will then get your quotes and can either proceed to buy, or save your quote, at this stage.
Why high blood pressure travel insurance is so important
Providing you have fully declared your high blood pressure, your policy should:
Cover claims for any lost or damaged medication which could be vital in the control of your high blood pressure.
Cover any unplanned medical treatment, repatriation or curtailment (cutting short your trip).
Policies differ across insurance providers so ensure you check policy details before you buy.
Our 5 Star Rating on Trustpilot
Read AllClear Trustpilot Reviews
Travelling with Hypertension: Travel Tips
Before you go
Travelling with hypertension (high blood pressure) shouldn't be a problem for you, but you may need to stock up on extra medication in case of delays and you may want to get some personalised advice from your GP.
Plus, your doctor may have some good hypertension travel tips for you, and will remind you of any warning signs you need to be aware of.
Planning for a great holiday
Don't forget your medication! Other things to think about when it comes to your treatment plan while on holiday include:
Keeping your medication with you in your hand luggage.
Ensuring you keep your tablets in their original boxes, which state the names and dosages as well as your own name. You could also take a copy of your prescription. This will help prevent any issues at customs and also make it easier for you to source more if needed.
Working out which times of day you need to take your tablets, especially if you're travelling into a different time zone. Your doctor can help you with this if needed.
Stay hydrated
A simple way of staying healthy and minimising any problems related to travelling with hypertension is staying well hydrated, especially in hot climates. Always keep some botteld water in your bag while you're out sightseeing.
Travelling to your destination
Luckily, flying doesn't affect blood pressure in most cases. However, if your blood pressure tends to be unstable or especially high, check with your doctor before finalizing your travel plans. If you know you'll need oxygen while on the plane, advise your airline in advance and check in early so that staff can make suitable arrangements. Help yourself out by getting to the terminal in plenty of time for your flight, too. Unnecessary stress is not what you need!
Spas
Unfortunately, it's best to avoid Jacuzzis, hot tubs, saunas and steam rooms. These types of spa facilities are generally not recommended for people with hypertension. If you really want to make use of them, then ask your doctor for advice in advance.
If you get ill…
If you get ill or develop diarrhoea, then it's vital you seek treatment quickly. Why? If you're taking an ACE inhibitor or angiotensin receptor blocker (ARB), losing fluid from the body increases the blood-pressure-lowering effect of these medicines.
Remember to take the contact details of your emergency medical assistance company from your travel insurance policy with you.
FAQs
Annual multi-trip or single trip?
An annual multi-trip policy allows you to travel multiple times within a year. The maximum duration of these trips varies between policies. However, it is usually between 31 to 45 days.
If you need a longer trip duration or, if you only plan on travelling once in the year, then a single trip travel insurance policy may be right for you.
What will affect the price of your policy?
We calculate the premiums you're displayed using multiple factors. These include age, trip duration, destination and pre-existing medical conditions.
[1] Based on Trustpilot reviews of all companies in the Travel Insurance Company category that have over 25,000 reviews as of May 2021.