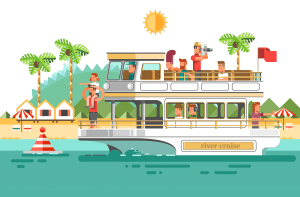 Taking a cruise is up there with the most luxurious types of holiday one can have. The possibility of all inclusive food, accommodation and entertainment, and a forever wonderful view makes it the ideal all-in-one getaway for millions of passengers per year. In recent years, this relaxing combination has also been increasingly popular with families. However, a misconception remains: that you escape the need for passports for cruises and other travel documents once boarded. We clear up the debate in this article, and let you know what you'll need to take aboard.
When you will need your passports for cruises
Once you get on board the cruise ship you will initially need to show identification to be registered aboard and be given your cruise card. As you know may expect, this card allows you room access, room charges and to leave and return to the cruise ship. However, although you are safely aboard the ship it is not true that you won't need either a passport or the correct VISA to enter certain countries.
For example, if you are taking a cruise heading for the USA, you will need an electronic passport PLUS your other travel documents and the correct VISA. Many cruise companies will make you aware of which countries you will need a visa or passport for in advance of your holiday. But if you're not sure, be sure to check.
In most ports, you won't be required to show your passport while docking for a short while. However, it might be best to carry a copy of important details with you at all times, and that includes any travel insurance documents. It might seem overly cautious, but being prepared will enable you to enjoy the experience to the fullest.
Steadfast Rules
The one rule you can rely on when it comes to your passport and cruise companies is having at least 6 months left on your passport validity, and enough pages for any stamps for exit and entry.
Also, for greater protection you may be interested in specialist cruise travel insurance. AllClear lets you compare multiple quotes in one place.