The trips you should consider for your next holiday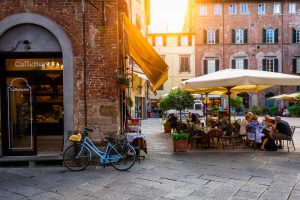 Holidays can prolong your life – it's true! Research by Dr Filep in 2010 found that going on holiday is one of the three main contributors to happiness. While on holiday we tend to let go of stress and do more physical activities, both improve health and mental well-being. So, there you have it, holidays are happiness and happiness is a longer life! Now, what makes the best holiday can change as your priorities do. With that in mind, we've put together a list of trips that are most enjoyable in your later years.
The top 5 holiday destinations if you're over 70
1)    Italy – rich with culture and history Italy is the ideal location to take a trip away. With so many options of hotels or staying in a private apartment or villa, you can tailor your holiday to suit your ideal holiday. Tuscany provides the perfect base for ease of travel to Lucca, Florence, Pisa and more. Remember that many of the museums are crowded during peaks times so book tickets and tours in advance. Perfect for history buffs and food lovers. Also, Italy is a very popular destination for those planning European coach tours.
2)    Spain – sun, sea and sand. The laid-back lifestyle, warm climate and a whopping 27% of the country speaking English it makes it a great place to book. Spain, of course, is a very popular retirement destination and many travellers feel more at home in Spain than any other European country. It has superb travel links with most countries and is a mixture of natural beauty and culture. Perfect for those that love feeling at home on holiday and gorgeous architecture.
3)    Seychelles – If you are up for a bit of an adventure the Seychelles is the place for you! Island hopping via plane or ferry you can really make the most of this sightseeing adventure. The Seychelles boasts an incredible 65 beaches on the island of Mahé alone. There are 115 islands and travelling between them has never been easier. Hotels or private 5-star accommodations are all available – making this a budget friendly piece of paradise. Perfect for those that love space and a break away from noisy cities.
4)    Scotland – rich in both history and natural beauty, making Scotland the ideal location for a UK getaway. With the option to stay in a city location or a cottage in the middle of nowhere you are certain to get that much-needed relaxation. Scotland has many trails which travellers love to explore ranging from Castle trails to the West Highlands. Perfect for avid golfers and landscape lovers, and probably the lowest-priced destination on this list.
5)     Canada – the Canadian people are known as some of the friendliest in the world. French is the official language, but English is spoken just about everywhere too. You will find so much to do regardless of the month you choose to visit. Brunswick is a notable Whale watching hub and may give you chances to get close to these amazing animals while with qualified and experienced tour guides. As if that isn't enough of a reason, the Canadian landscape has a special kind of beauty that looks like an oil painting. Perfect for both curious city explorers and nature enthusiast.
These Top 5 holiday destinations are among the most beautiful places to visit on the planet. But before you go don't forget to make sure you're up to date on travel regulations, visas (where required), and make sure your travel insurance covers you comprehensively if anything should happen. If you're interested in specialist over 70 travel insurance, you can get multiple quotes in one place with AllClear.