Our customers are more adventurous than ever!
We're proud to see many of them still getting round to those trips of a lifetime in far flung destinations –  in spite of any pre-existing medical conditions they may have.
One such inspirational traveller is Catherine Byrne, who finds the balance between being a conservative woman but a thrill seeker when it comes to holidays.
Like on her recent trip glacier walking in Iceland…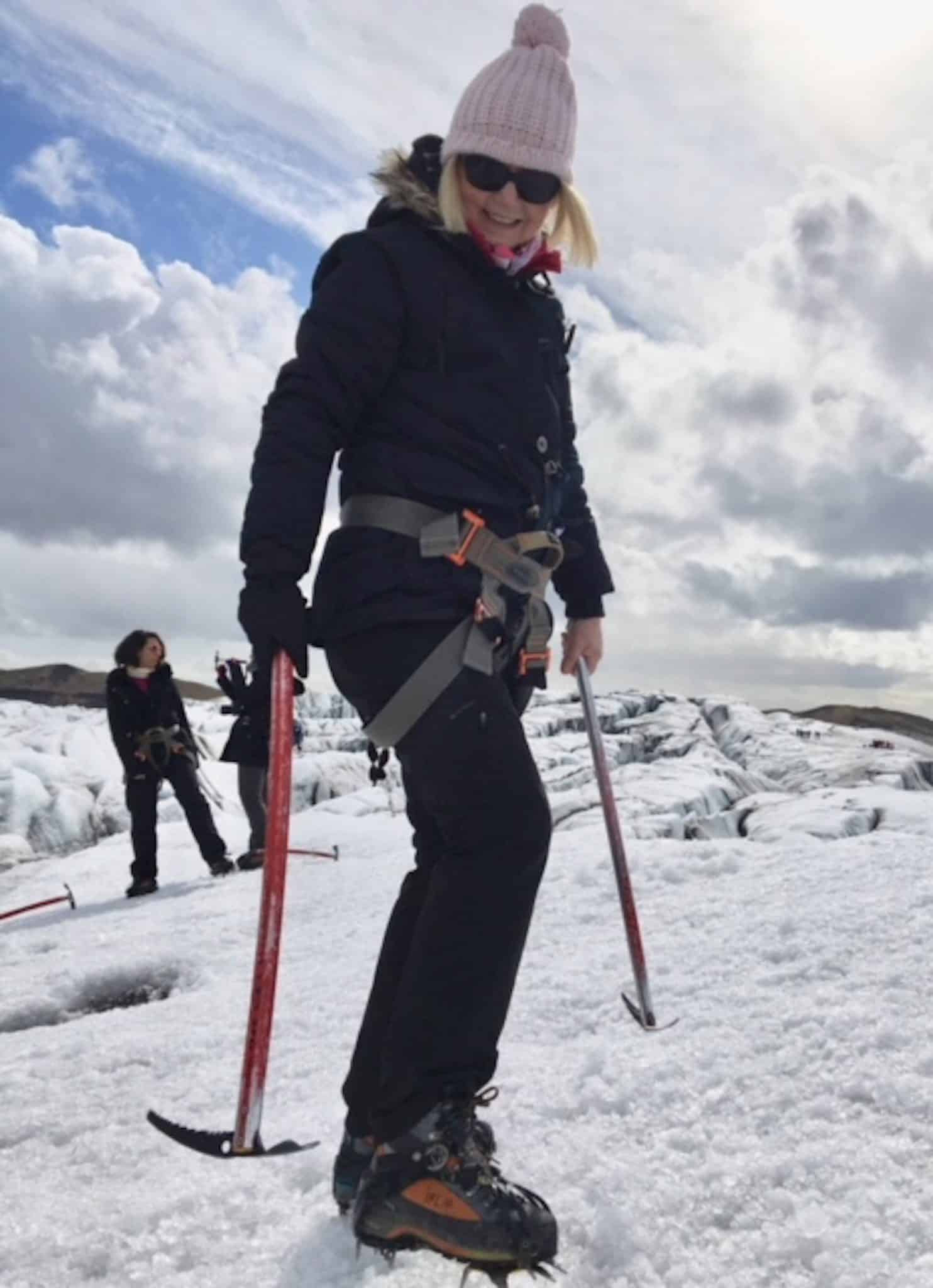 "The trip was ideal, exhilarating without being too adventurous. I like to see the world, but I'm actually a bit of a worrier, and so was pleased it was a well-organised trip where we used professional equipment including crampons, harnesses and ice picks. There was a guide to help us navigate the crevices, so all in all it felt safe, yet breathtakingly extraordinary."
As a self-confessed worrier, travel insurance for this recent trip was a key priority. Catherine is in remission from Hodgkin Lymphoma, which means many insurance providers won't cover her even for more straight-forward trips.
Since recovering from Hodgkin Lymphoma, Catherine has also been diagnosed with heart issues, including a leaky heart valve, arrhythmia and left ventricular dysfunction.
So Catherine took her time to research insurers that specialised in people with heart issues… And was recommended to try AllClear by a friend.
AllClear provided Catherine with annual worldwide cover that includes the USA, renowned as the most expensive country to receive medical care and therefore the hardest to get cover for. It was important to Catherine as she has been to Hawaii before to hike and kayak around its waterfalls and would not want similar trips to be out of bounds.
Catherine did have to check that her new insurance with AllClear would cover Glacier Walking. It required a separate negotiation between AllClear and the underwriter to add glacier walking to her policy.
"My medical history does not stop me travelling the way I want to travel, and in reality there is only a slim chance of something happening meaning I need medical attention. However, that slim chance could result in my footing the bill for tens or even hundreds of thousands of pounds.
"That's not a risk I am willing to take, and am very pleased that I've been able to find cover that'll take me to my next adventure."
What a fantastic example Catherine is in how you can be adventurous but responsible; living with serious pre-existing conditions but never letting them stop you!
Could we help you?
We can offer cover in 99% of cases.
So if you, a family member or friend are having difficulty finding over 50's medical travel insurance, we'd love to hear from you!