Comprehensive Worldwide Travel Insurance
Worldwide travel insurance covers you to travel anywhere around the world with peace of mind at any age, even if you have pre-existing medical conditions. This type of insurance covers you for medical emergencies, even those related to COVID-19, which is vital to prevent unexpected medical bills and unnecessary complications that could arise when you're away.
In a post-Brexit, post-COVID travel era, having the right level of cover in place is essential, which is why our Worldwide travel insurance policies can be tailored to suit you and your needs – so that wherever you are in the world you and your holiday are protected.
Our Worldwide annual multi-trip cover is available in two categories: the first excludes Canada, USA, and the Caribbean and the second includes these destinations. When buying a policy, it's vital you check that your destination is covered for anywhere you might want to travel in the year.
So that you can travel with confidence, AllClear also offers a 24/7 medical emergency helpline, to give you support at any time no matter where you are in the world.
Do you need Worldwide Travel Insurance?
Wherever you are travelling to in the world, travel insurance is essential. Different countries offer different levels of healthcare and it can be costly for tourists that are not prepared should the worst happen. To ensure that you have access to high-quality health care without unexpected medical bills, make sure you take out comprehensive travel insurance. Worldwide Travel Insurance simply makes this process easier as it incorporates all destinations included in your trip in one policy making life much easier.
A worldwide annual multi-trip policy, includes cover for:
Baggage and personal possessions – if they are lost, damaged or stolen while travelling
Medical emergency expenses – if you get ill or injured on holiday or need treatment for an existing medical condition that you've told your insurer about
Repatriation – if you need to return to the UK because of a medical problem
Cancellation and curtailment – in case an emergency prevents you from going on holiday or means you have to cut it short
Can You Get Worldwide Travel Insurance to Include Your Pre-Existing Medical Conditions?
More than 1 in 5 travellers need medical attention when abroad and, when you have a pre-existing medical condition, you're more likely to need help. As a Specialist Medical Travel Insurance provider, AllClear can offer worldwide cover for any pre-existing medical conditions you may have.
However, when buying your policy, you will need to be declared fit to travel and will have to inform us of all pre-existing medical conditions. This is usually a few simple questions about your health that will help make sure you get the right level of cover.
On the AllClear website, we define a pre-existing medical condition as any disease, illness or injury for which you have:
Taken any prescribed medication or required medical treatment
Consulted a medical practitioner and/or been registered as an in or outpatient
Undergone surgery, in or out-patient treatment, tests or investigations in a hospital, clinic or GP surgery
In our AllClear Annual Survey 2020, we discovered over 55s are more likely to pick a destination based on its perceived COVID-19 safety record (56% vs. 28% of those under 34).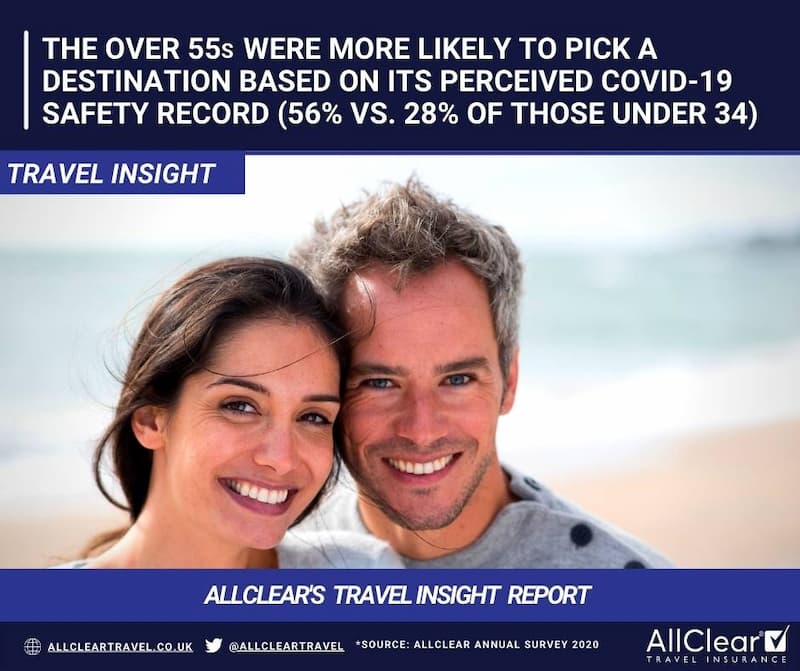 UK adults are prepared to spend £1,334.82 more than they usually would on their holidays to ensure their trips abroad would be as safe as possible:
People are more likely to pay more for quality with the assumption that Covid controls might be stronger. For example, people were prepared to pay an average of £308 more for a better hotel and an average of £213 to upgrade to a higher class of travel.
The second consideration related to social distancing, with people looking for private excursions or being prepared to pay more for private taxis, to avoid the relative congestion of using public transport.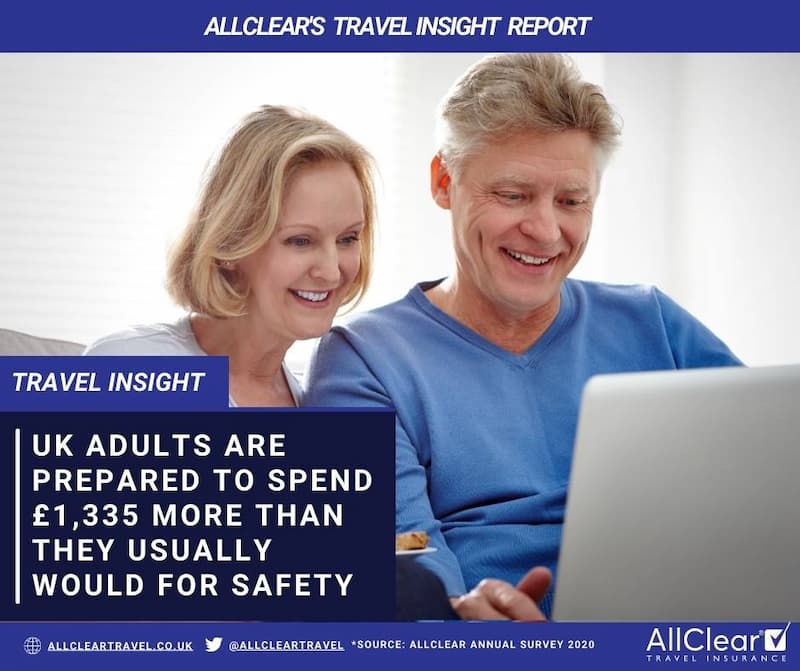 Main Benefits
Cancellation and Curtailment covered up to £25,000, including for Covid-19
Up to £15 million emergency medical expenses cover, including for Covid-19
Up to 30 days FREE extended cover (if due to unexpected circumstances beyond your control)
Up to £2,000, if medically necessary, for a friend or relative to travel from your home area to stay with you if you fall ill with Covid-19 (costs for room and to accompany you home)
Repatriation costs, when medically necessary, to bring you back to the UK where it is deemed to be in your best interests
Following recovery from Coronavirus, costs for a continued recuperation stay, when medically necessary and under doctors advice
Costs for your return flight following your enforced stay due to Coronavirus
Personal Belongings covered up to £3,000
All conditions. All ages.
All these figures are per person, and per trip.
Will you be covered if you're travelling during the COVID-19 pandemic?
There are three things to check so that you can make sure you're covered:
You must be fit to travel
The FCDO must NOT have advised against travel to your destination - check the FCDO travel advice
You must follow the local government advice for your destination, checking and following their guidelines and entry requirements
You can then be covered for emergency medical expenses and cancellation for a positive diagnosis of COVID-19, with AllClear travel insurance with enhanced Coronavirus cover. Existing policyholders should read our Frequently Asked Questions if your trip is affected by Covid-19.
1. Call us or click a quote button on our site
Once you are ready to start the quote process, the first step is to provide your personal details and information about your holiday plans.
2. Complete our simple medical screening process
You then declare the medical conditions for you (and any other travellers) and answer the specifically designed medical questions.
3. Get your quotes
You will then get your quotes and can either proceed to buy, or save your quote, at this stage.
Tips for Travelling Worldwide
Check the Latest Travel Advice From The FCDO
Due to the ongoing COVID-19 outbreak, countries around the world are continuously changing their travel restrictions in an attempt to control and contain the virus. So, before travelling to any destination, check the latest travel advice from The Foreign, Commonwealth and Development Office.
Make Sure Your Passport is Valid for Post Brexit Travel to Europe
If you're planning to include destinations in Europe as part of your worldwide travel, you will need to make sure that you are aware of the Post-Brexit travel changes which are apart of the UK and EU Trade Deal. Our brexit travel insurance page and our European travel insurance page can provide you with the information you may need.
Make Sure Your Passport is Valid for Post Brexit Travel to Europe
If you're planning to include destinations in Europe as part of your worldwide travel, you will need to make sure that you are aware of the Post-Brexit travel changes which are apart of the UK and EU Trade Deal. Our brexit travel insurance page and our European travel insurance page can provide you with the information you may need.
Travel Vaccinations and COVID-19 Travel Resources
When planning a holiday, there are many things to consider. Two of the main travel considerations, aside from packing, are travel vaccinations and COVID-19 measures.
Activities and Insurance add-ons
If you're planning to take part in adventurous sporting activities such as skiing while on holiday or if you enjoy playing golf, you may wish to consider our policy add-ons – designed to give you peace of mind covering you for certain activities.
Why More Than A Million People Have Chosen AllClear
Read AllClear Trustpilot Reviews
Frequently Asked Questions About Worldwide Travel Insurance
What Countries Does Worldwide Travel Insurance Cover?
If you are planning one trip with multiple destinations – you'll need to let us know when your trip will begin and end, as well as all the countries you're planning to visit. We will then be able to tailor your cover to your trip.
If you are a frequent traveller, our Annual Travel Insurance policy could save time and money. If you wish to take out an Annual Travel Insurance policy, you can be covered for all destinations you will visit (or could possibly visit) in the year.
There are two options
cover anywhere in the world except USA, Mexico, Canada, and the Caribbean
cover anywhere in the world including USA, Mexico, Canada, and the Caribbean
How Long Will You Be Covered By Worldwide Travel Insurance?
You can take out worldwide cover for:
single trips, where you're insured for the duration of the one trip you're going on. This is ideal if you only plan on one or two holidays a year. Some insurers may have limits for how long a single trip can last
Annual or multi-trip insurance, allowing you to go on as many trips as you like during the year covered. Most insurers place a limit on the duration allowed for each trip – this is up to 45 days with an AllClear policy
Extended stays for longer visits. This works the same way as a single-trip policy where you're covered for the length of the one trip. Some insurers will offer cover up to a year, and it's important to include all your planned destinations on your policy.
What is the age limit on the worldwide travel insurance policies?
We're pleased to say our AllClear Gold and Gold Plus policies have no age limits, enabling you to travel with peace of mind at any age.
Does Worldwide Travel Insurance Cover the UK?
Yes, worldwide cover includes UK travel. This means that you can travel to Scotland, Ireland, Wales and England as well as countries abroad all in one trip or they can be included as part of a worldwide Annual Multi trip Travel Insurance policy.
When does the worldwide travel insurance cover begin?
Full benefits begin on the travel dates you have selected. However, if you have chosen a cancellation cover to be included, this cover begins as soon as you buy your policy. For this reason, it's important to buy your travel insurance as early as possible – or as soon as you have your trip booked. You can book a single trip policy up to 12 months in advance of your holiday.
What's the maximum trip length on a single trip travel insurance policy?
Allowed trip lengths vary between policies, however, the maximum you can get for a single trip quote online is for up to 92 days. Find out more about maximum trip durations here: How long you can travel for.
Is it best to buy a single or an annual multi-trip policy?
Whether buying a single or annual multi-trip policy is best for you, it depends on how often you intend to travel during the next 12 months.  If you are going on holiday multiple times throughout the year, an annual policy could work out better value for you.
With an annual multi-trip policy you can travel as many times as you like throughout the period of your insurance. There are, however, limits on the number of days you can be away for any one trip; which for some providers also depends upon your age.
What is your 'Before you Buy' checklist?
Are my personal possessions covered?
 Check the 
baggage cover
 limits.
Will you be carrying a relatively large amount of foreign currency?
 Check the personal property cover offered and specifically cover limits for cash.
Will you be taking part in winter sports?
 If you are taking part in winter sports make sure you have paid the additional premium to ensure you are covered.
Are you covered if you need to cancel?
 Check the cancellation cover is sufficient to cover the cost of your holiday. Remember you may also be required to pay an excess in the event of you having to cancel your trip and make a claim.