Page contents
Why Do You Need Travel Insurance for Spain?
For over 20 years, we at AllClear have been helping our customers travel, knowing that they have a comprehensive travel insurance policy in place. Spain has among the highest costs for medical treatment anywhere in the world and, as a UK citizen, should you require medical attention in Spain then you will likely have a large medical bill to pay.
Our AllClear policies will cover you up to £15million for unexpected medical costs, including repatriation should you need to be brought back to the UK. Medical travel insurance will insure you for pre-existing medical conditions as well any unforeseen medical circumstance that might occur, meaning you can travel relaxed in the knowledge that we have you covered should the unexpected happen. Visit our travel insurance information blog for more help on why you need travel insurance.
Comprehensive Travel Insurance for Spain
Spain has been one of the most popular holiday destinations for British holidaymakers for decades. Offering everything from resort holidays to golfing trips, Spain has so much to offer and is still one of our most loved destinations in Europe. Whether it's the beaches and the swimming pools or the pina coladas and paella – not to mention the weather! – it's no wonder we keep going back year after year.
Spain has a diverse cultural landscape from the mountainous undiscovered regions of the northern districts down through the centres of Barcelona and Madrid and further still to its most southern point touching the very tip of Africa. Destinations such as Costa del Sol and Malaga are constantly popular while the wildlife, food, and nightlife of some of the lesser-known towns are a cultural and historic delight and are just waiting to be explored. With vast remote districts, should you require emergency medical treatment, it's important to know that you have the right policy in place before you travel.
We have helped thousands of our customers with expensive medical costs for medical treatment abroad. Let us help you today.
Visiting Your Own Property in Spain?
Many British people own property in Spain. If you're visiting your own property and are unsure about needing cover then let AllClear help. As a UK citizen abroad you will still be charged for any medical treatment and therefore will need to be insured the same as a holidaymaker.
However a full policy may not be needed and you may want to remove certain parts of the cover that you don't need – remember at AllClear we can easily remove the cancellation cover from your policy – giving you just cover for unwanted medical bills.
Will an EHIC Card Cover for Medical Costs in Spain?
From 31 Dec 2020, the current agreements between the UK and the European Union (EU) will be changing and British people will likely not get the same cover as before. However it has always been important to be insured beyond the EHIC card wherever you go as it will not cover for repatriation back to the UK should you need it and many people have been left with medical costs to pay themselves while using their EHIC card. For comprehensive information please visit our EU Brexit page.
What Should a Travel Insurance Policy for Spain Cover?
It's important to us that you can enjoy your trip without the worry of unexpected costs. You'll want to ensure that you have comprehensive cover in place before you travel. High-quality insurance will cover your pre-existing medical conditions as well as any unforeseen medical expenses and should include the following:
Emergency medical expense – Cover for all pre-existing medical conditions and also for any unforeseen medical treatment that might be needed whilst you're away. This should also include all repatriation back to the UK and should also include accommodation for a loved one or member of your party.
Cancellation and curtailment – A good policy will also include cover for cancellation of your holiday for medical reasons and also should you have to cut your holiday short.
Baggage and Personal Property – If your personal property, including your passport, should get lost, damaged or even stolen then a good policy will cover you for losses and offer emergency help when needed.
Tailored Extras – A good policy will also offer you the opportunity to insure for more bespoke aspects of your trip. Going to play Golf in Spain? Add Golf cover to your policy and let us give you a little extra cover.
Benefits of an AllClear Policy
Main Benefits
Cancellation and Curtailment covered up to £25,000, including for Covid-19
Up to £15 million emergency medical expenses cover, including for Covid-19
Up to 30 days FREE extended cover (if due to unexpected circumstances beyond your control)
Up to £2,000, if medically necessary, for a friend or relative to travel from your home area to stay with you if you fall ill with Covid-19 (costs for room and to accompany you home)
Repatriation costs, when medically necessary, to bring you back to the UK where it is deemed to be in your best interests
Following recovery from Coronavirus, costs for a continued recuperation stay, when medically necessary and under doctors advice
Costs for your return flight following your enforced stay due to Coronavirus
Personal Belongings covered up to £3,000
All conditions. All ages.
All these figures are per person, and per trip.
Will you be covered if you're travelling during the pandemic?
To make sure you're covered there are three things to check:
You must be fit to travel
The FCO must NOT have advised against travel to your destination
You must follow the local government advice for your destination, checking and following their guidelines and entry requirements
You can then be covered for emergency medical expenses or cancellation relating to COVID-19, when you have travel insurance with enhanced Coronavirus cover. If you're an existing policyholder, you can read our Frequently Asked Questions if your trip is affected by Covid-19.

56% of those surveyed in the AllClear Annual Survey 2020 think Europe will be safe to visit within 12 months.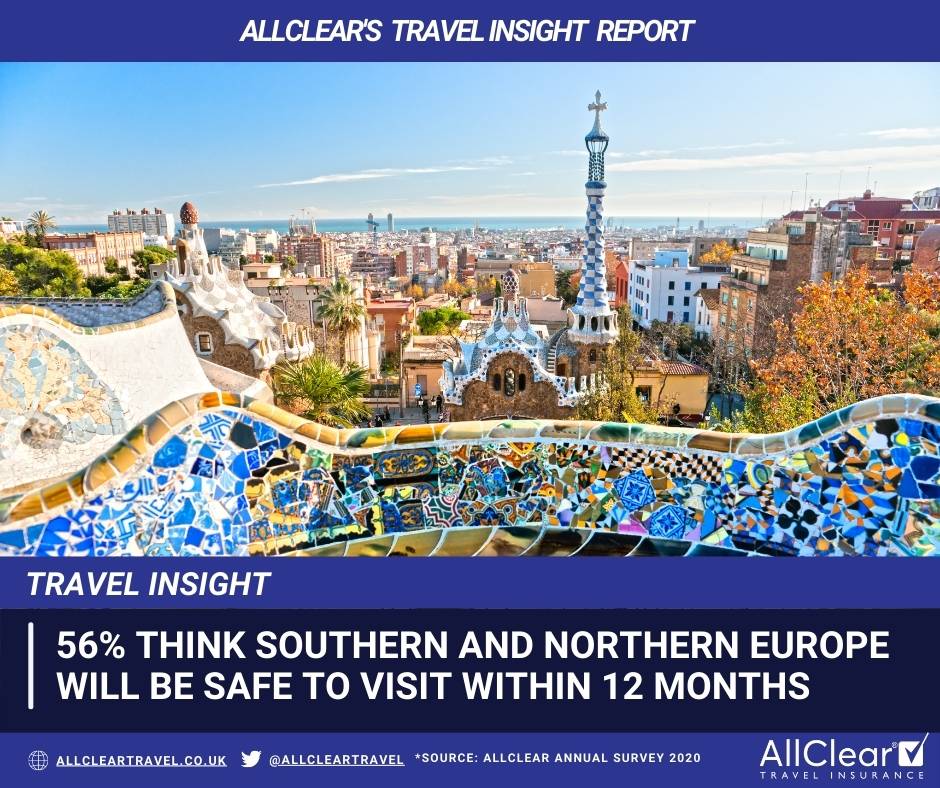 1. Call us or click a quote button on our site
Once you are ready to start the quote process, the first step is to provide your personal details and information about your holiday plans.
2. Complete our simple medical screening process
You then declare the medical conditions for you (and any other travellers) and answer the specifically designed medical questions.
3. Get your quotes
You will then get your quotes and can either proceed to buy, or save your quote, at this stage.
Travel Restrictions when Travelling to Spain
The COVID-19 pandemic has affected most aspects of our lives, including travelling. With current FCDO and WHO restrictions changing frequently it is important to stay up-to-date with the latest travel advice regarding your destination. As long as there are no travel restrictions applied to your destination then we are happy to give you cover. Please check the FCDO travel advice for Spain for the latest information.
Enhanced Coronavirus Cover for Spain
In our Annual Survey 2020, 51% of over 55s said they wanted the best travel insurance cover (as opposed to cheapest) that fully covered them for a wide range of COVID-19 risks.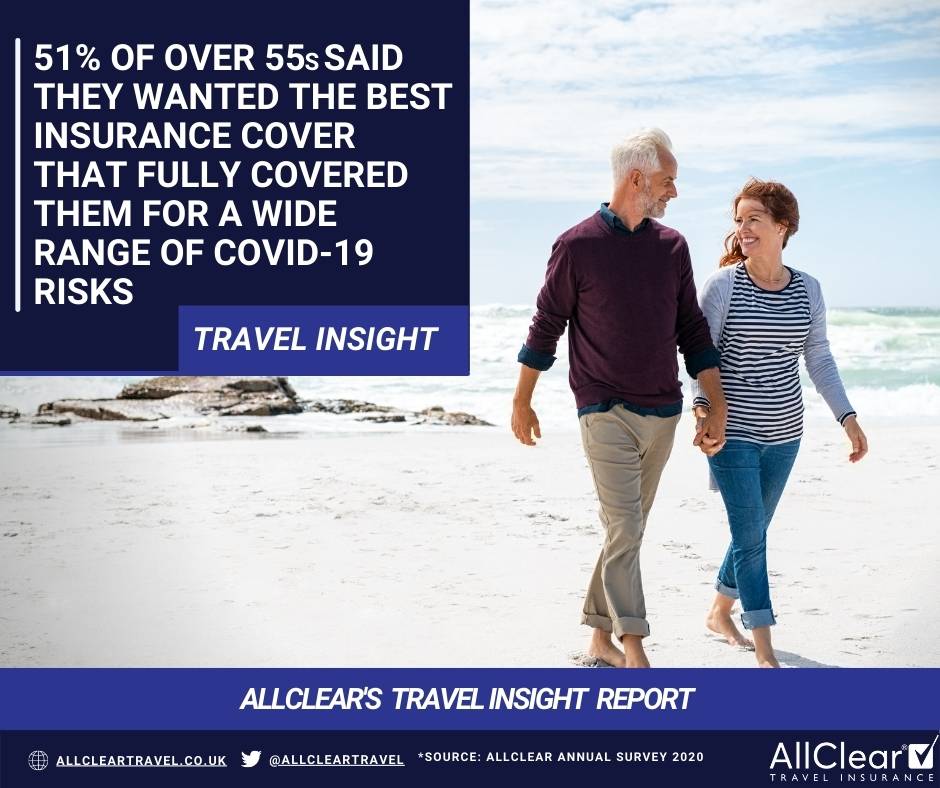 We can offer:
Emergency medical cover: if you contract Coronavirus when you're away.
Cancellation cover: that covers you for cancellation or cutting short your trip due to Coronavirus.
Repatriation cover: to bring you back to the UK again if needed, as well as cover for a continued recuperation stay
AllClear are happy to be able to provide medical and cancellation cover for a Covid-19 diagnosis. This includes extended stay cover should you contract the virus whilst away. Please see our informative Coronavirus help page for more information or call us for a quote today!
Read AllClear Trustpilot Reviews
Emergency medical and repatriation expenses for Coronavirus while abroad
We are now able to offer:
Up to £15 million emergency medical expenses cover for Covid-19
Up to 30 days FREE extended cover (if, due to unexpected circumstances beyond your control)
Up to £2,000, if medically necessary, for a friend or relative to travel from your home area to stay with you (costs for room and to accompany you home)
Where medically necessary - repatriation costs to bring you back to the UK where it is deemed to be in your best interests
Following recovery from Coronavirus, costs for a continued recuperation stay, where medically necessary and under doctors advice
Costs for your return flight following your enforced stay due to Coronavirus
Competitor comparison table
This table shows how AllClear Travel Insurance compares to other providers

i

Trust
5-star Trustpilot reviews

82%

77%

77%

71%

TrustScore

4.8

4.7

4.7

4.6

5-star Defaqto rated

Good Housekeeping endorsement

Established for 20+ years

Product
Maximum cancellation cover

£25k

£15k

£7.5k

£10k

Minimum standard excess

£0

£65

£0

£70

Baggage delay benefit after 12 hours

i

£250

£0

£75

£250

Number of product choices

4

2

3

1

No age limits

i

Travel companion cover

Terminal conditions cover

Cancellations
Admin fee for cancelling during the cooling off period

£0

£25

£25

£0

Refund provided outside of cooling off period

Claims
Claims paid within 5 working days

i

100%

95%

N/A

N/A
Frequently asked questions about travel insurance for Spain
Where are the best places to visit in Spain?
Spain has a diverse amount of cultures and places to visit that will all give you quite a different holiday experience. Famed for the sun-kissed beaches and resorts of Costa del Sol and Marbella, Spain does have a lot more to offer. Why not take a trip to Almeria where film studios filmed old Westerns as the landscapes are a lot like the wild west of the USA. Maybe you would like to explore the southern regions full of historic towns and rural splendor. Wherever you go in Spain make sure you can travel in comfort with a secure insurance policy in place.
Do you need travel insurance for Spain?
What is the best travel insurance for Spain?
Good travel insurance for Spain will include: cancellation and curtailment cover in case you have to cut your holiday short or you're prevented from travelling; cover for lost baggage and other property; high levels of cover for medical bills in case you need treatment while travelling and repatriation if you need to be returned to the UK.
Check your policy documents for details about what is and isn't covered, particularly with respect to high-risk activities. Make sure you declare your pre-existing medical conditions so that we can take them into account and provide the right choices for you.
What isn't covered?
Some policies won't cover high-risk activities such as skiing unless you pay an additional premium. Be sure to declare all pre-existing medical conditions so that you can be covered in case they cause problems when you're on holiday. Check the policy documents to see what is and isn't covered.
What does the EHIC cover in Spain?
The European Health Insurance Card (EHIC) entitles you to the same quality of healthcare that a Spanish resident has, which is generally the same standard as in the UK. However, there may be medical costs that EHIC cannot cover. Also the EHIC doesn't cover private healthcare. Arrangements for UK residents may change after Brexit on 31 December 2020.
How much is travel insurance for Spain?
A travel insurance premium will be based on a number of factors. These will include your age and any pre-existing medical conditions you may have. The duration of your trip and local medical costs of your destination will also contribute to the final price. Also any optional extras or the removal of an excess will also have a contributing factor to your final premium. Call AllClear for a quote today on 0800 077 777.
Where can you get travel insurance for Spain?
What areas are covered by Spain travel insurance?
The following areas are covered by Single Trip travel insurance for Spain and Annual multi-trip travel insurance for Europe:
Top tips for travelling to Spain
Foreign & Commonwealth Office travel advice
It is useful to check the FCO travel advice for Spain before you travel.
Emergency number
The general emergency number is 112. Police are on 091 and ambulances on 061.
Using Money in Spain
All 17 Spanish regions use the Euro as currency so make sure you have changed your pounds to Euros before you leave. You can use a bank card for access to cash from a cashpoint whilst away providing your bank offers that kind of service on your account. Use our handy AllClear holiday check-list to help.
Be aware that some cash machines charge for withdrawals and some of those are quite expensive, particularly in tourist hotspots.
Languages
Spain has a few dialects throughout the regions. Based on Latin with variations such as Castilian, Catalan, Galician and Basque (to name a few) Spain is a melting pot of the romantic language. However, most British people visiting Spain do not know the local languages and depending on where you visit, there will most likely be no shortage of locals or workers who are able to speak English. Most resorts and the most popular destination spots will definitely have English-speaking staff to help you out when needed.
Dinner
Nightlife tends to start and finish later than in the UK – restaurants may be very quiet before 9pm.
Tipping
It's customary but not required to leave small change to round up a bill to the nearest 50 cents. Larger tips are of course welcomed but they are not expected – perhaps a euro per person at lunch or dinner, or 5-10% for good service. Bear in mind that service can sometimes seem slow – particularly when you come to ask for la cuenta (the bill) – generally it's because they don't want to rush you in and out but they will come when you signal for attention.
Driving in Spain
Here is a checklist for mandatory and recommended items when driving.
Documentation
☑ Original full valid driving licence issued by the UK, EU or EEA country (and drivers must be over 18 if they have a foreign licence) – required
☑ Proof of ID (e.g. passport) – required
☑ Proof of insurance – required if the vehicle isn't registered in Spain
☑ V5C certificate – required if the vehicle isn't registered in Spain
☑ Vehicle registration documents
Equipment
☑ If you need glasses to drive you must keep a spare pair with you / in the vehicle
☑ A warning triangle is compulsory in every vehicle with four or more wheels
☑ High-vis or reflective jackets are not mandatory but you could be fined for not wearing one while walking on the road or hard shoulder after breaking down
☑ Helmets are mandatory when riding motorbikes, mopeds or scooters – and trikes or quadbikes if they don't have seatbelts
☑ GB sticker or Euro plates
☑ Headlamp beam deflectors (depending on your car)
☑ Passengers in the front and rear seats of private vehicles must wear their seat belts if fitted.
Rental cars should be supplied with the documentation and equipment required by law.
In Spain it's illegal to use radar and speed camera detectors.
The drink driving limit is stricter than in the UK: 0.5 mg/ml compared to 0.8 mg/ml in the UK. It may be safer to not drink at all if you intend to drive.
The police can demand on-the-spot fines from law breakers.
Medication
The legal status of medication may be different in other countries compared to the UK. You may need the original packaging, a doctor's prescription or letter or the medicine may be completely prohibited. If you need a prescription or letter, make sure the brand name and the active ingredient are both included, as the brand may not be recognised.
Check with your doctor or pharmacist whether your medicine contains a "controlled drug" and seek their advice about how to store it, for example whether it must be kept at a certain temperature.
Consider packing some medication in your hand luggage and hold luggage (if any) just in case one of them is lost, although bear in mind that hold luggage can be exposed to temperatures that could degrade some medication. UK pharmacists are very helpful with these questions.
The UK's FCO recommends checking what rules apply to your medication with your local embassy before you travel. This can be difficult to do online so it may be easier to phone them.
Sunlight
The sun and heat can be dangerous in Spain, particularly in the summer. If there is a cool breeze you might not realise the intensity of the sun. Do consider sunscreen to protect your skin, sunglasses to protect your eyes and a hat to protect your head and ears. Keep a bottle of water handy.
Mosquitos
Mosquitos can be common in some places depending on the weather and time of year. Mosquito repellent is widely and inexpensively available from shops and supermarkets.
Plug sockets
Spain uses plug socket types C and F so you will need an adapter if you want to use a UK plug.
Buses and trains
If you're over 60 and you want to travel by train, consider purchasing a senior discount card – the Tarjeta Dorada. You can get it from train stations for €6 and it will save you 25-40% on train tickets.
If you want a bus timetable ask for "los horarios de autobuses". If you want a train timetable ask for "los horarios de trenes".
Culture in Spain
Spain's modern culture is steeped in history. Spain is a Roman Catholic country with languages rooted in Latin. Its coastline to the Atlantic sea made it a pioneer of early seafaring and the colonisation of the Americas. Spain's influence can still be heavily felt across many parts of the Southern Americas today. Spain is famous for its wine and has numerous vineyards across many districts distributing high-quality wines to across the world. Perhaps one of Spain's most famous exports, however, is the Flamenco dance – grown out of the folklore and the traditions of southern Spain, this colourful energetic artform is a joy to behold. Spain has long been rich in the arts and romances and as Johann Wolfgang von Goethe said, "Spain, the Beautiful Country of Wine and Songs".
Festivals
If you need an excuse to travel to Spain or want to build a trip around a festival, Spain has many festivals throughout the year. These include:
6th of January is Los Tres Reyes or Three Kings: the annual gift-giving day, with huge processions in the larger cities and sweets thrown to children in the streets on the night before.
1-19th March in Valencia: high-tech giant puppets and other creations are on display at hundreds of locations before being burned at Las Fallas de Valencia, a celebration of spring.
14-21 April is Semana Santa or Holy Week: this Easter festival is celebrated across Spain with processions of elaborate floats bearing religious icons accompanied by brass bands. Listen for the "saeta", a song typically sung solo and unaccompanied from a balcony overlooking the cavalcade. Truly an enthralling moment on your first experience.
23 June, night of San Juan (St. John): a celebration of the summer equinox, with beers, barbeques and bonfires on beaches around Spain.
Many villages and towns have their own festivals, particularly at special times of the year such as grape or olive harvests or local saints' days. Whatever time of year you holiday in Spain it is well worth looking up the "actividades" (activities) local to where you're staying – open-air parties with food, drink, live music and fireworks are typical and there is always a great atmosphere.