Why Do You Need Over 80's Travel Insurance?
Travel insurance for over 80's covers you if you're over the age of 80 and wish to travel with peace of mind, even if you have pre-existing medical conditions. This type of insurance covers you for medical emergencies, which is vital to support you if you have a medical problem while you're away and prevent unexpected medical bills.
If you are over the age of 80 you may have found getting the right travel insurance a little difficult, particularly if you are living with a medical condition. We're pleased to say we offer medical travel insurance with no age limits, for all destinations.
Whilst some in later life may not wish to venture far, we know that for many people over 80, travelling with friends and family is something that they still very much enjoy.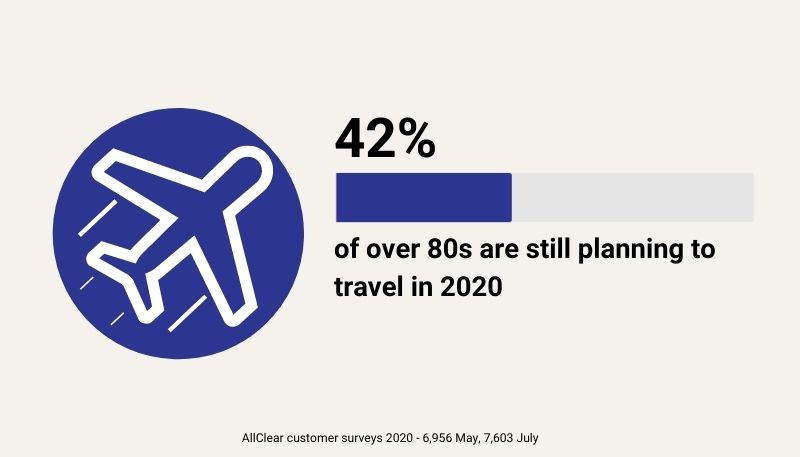 On the off-chance that something goes wrong before or while you're abroad, you are in safe hands. As experts in specialist cover since the year 2000, we can give you peace of mind, even during Covid-19, and you agreed!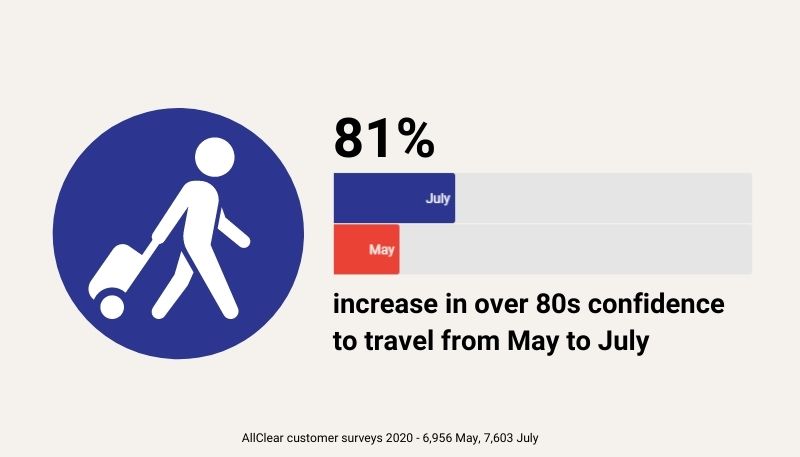 Did you know?
A recent study conducted by the National Employment Savings Trust found that 62% of those surveyed who were retired chose travelling as what they most liked to do.
Should You Declare All of Your Pre-Existing Medical Conditions?
Yes! Irrespective of age, it's vital that you declare all your pre-existing conditions when getting your quote, otherwise your policy may be invalid in the event of a claim.
Did you know a UK holidaymaker needs emergency medical treatment abroad every 3 minutes?
You can get cover for all of your medical conditions through our simple 3-step medical screening process via our website or by speaking to one of our trained professionals over the phone.
What travel insurance is best for seniors?
When you go abroad later on in life you'll want comprehensive cover for peace of mind. The best travel insurance for senior citizens should provide cover for any pre existing medical conditions with no upper age limits and enhanced COVID-19 cover.
The Key Benefits You Can Get
Main Benefits
Cancellation and Curtailment covered up to £25,000, including for Covid-19
Up to £15 million emergency medical expenses cover, including for Covid-19
Up to 30 days FREE extended cover (if due to unexpected circumstances beyond your control)
Up to £2,000, if medically necessary, for a friend or relative to travel from your home area to stay with you if you fall ill with Covid-19 (costs for room and to accompany you home)
Repatriation costs, when medically necessary, to bring you back to the UK where it is deemed to be in your best interests
Following recovery from Coronavirus, costs for a continued recuperation stay, when medically necessary and under doctors advice
Costs for your return flight following your enforced stay due to Coronavirus
Personal Belongings covered up to £3,000
All conditions. All ages.
All these figures are per person, and per trip.
Am I covered for travel in the Coronavirus pandemic?
To make sure you're covered there are three things to check:
You must be fit to travel
The FCO must NOT have advised against travel to your destination
You must follow the local government advice for your destination, checking and following their guidelines and entry requirements
You can then be covered for emergency medical expenses or cancellation relating to COVID-19, when you have travel insurance with enhanced Coronavirus cover. If you're an existing policyholder, you can read our Frequently Asked Questions if your trip is affected by Covid-19.
What should I cover with travel insurance?
When taking out travel insurance, you may want to look for cover that includes medical expenses, cancellation and curtailment, baggage as well as enhanced COVID-19 cover. You'll need a policy which covers any pre-existing medical conditions you may have and lastly you should consider adding extras such as gadget cover or cover related to sporting activities.
What Else Can Be Covered?
We offer specialist insurance for expensive gadgets (up to 7) such as mobile phones and tablets. Gadget cover is typically excluded from baggage cover in travel insurance policies, but we can include it as an optional extra

Single or annual multi-trip policies with no age limits. The annual cover also gives you a licence to travel up to any number times in a year and can save you money compared with multiple single-trip policies
Our Easy 3 Step Quote Process
1. Call us or click a quote button on our site
Once you are ready to start the quote process, the first step is to provide your personal details and information about your holiday plans.
2. Complete our simple medical screening process
You then declare the medical conditions for you (and any other travellers) and answer the specifically designed medical questions.
3. Get your quotes
You will then get your quotes and can either proceed to buy, or save your quote, at this stage.
Join Over 3 Million Holidaymakers
Read AllClear Trustpilot Reviews
"We used to use another provider"
"With an online search under travel insurance for over 80's we found this sight AllClear Travel Insurance. We had used another provider (SAGA) on previous trips but their quotes had increased by over 60%. The online process was easy and we received over 40 quotes. We chose the cheapest platinum quote as it had the correct cover we required. We saved over £130.00 well worth the 20mins effort. Five-star review from us. Highly Recommended." – Mr T.C. on Trustpilot
What is the age limit for travel insurance?
With a specialist medical travel insurance provider like AllClear – there is no age limit for travel insurance. Although many standard providers stop providing cover at a certain age we recognise that everyone has the right to travel with comprehensive cover.
Over 80's Travel Tips
From deciding where you want to visit to which activities you'll be up to, planning for a holiday can be very exciting! But there's so much to think about you may miss these steps…
See your doctor before you travel:
Before you travel, it's a good idea to see your GP to talk through your travel plans. They will be able to tell you if they have any concerns about you travelling or they'll declare you fit to travel meaning you can continue planning your trip. Seeing your doctor before you travel is also a good idea if you take regular medication. They'll be able to give you extra supplies of your medication in case of delays and they'll also be able to help you out if you'll be changing time zones and aren't sure when to take your medication once you arrive at your destination
Travelling by plane
If you're travelling by plane, take advantage of what your airline can offer you to make your trip easier and more comfortable. Priority boarding might be a good option to go for so you can avoid the hustle and bustle of everyone boarding the plane all at once. If you have trouble walking or standing for long periods of time, you might be able to request a wheelchair in the airport or to be taken to your terminal by wheelchair. This will save you standing around and having to walk to your terminal, especially if your terminal is a 15-minute walk away
Lower your risk of deep vein thrombosis by doing gentle foot and ankle exercises while onboard and getting up from your seat onboard when the seatbelt sign is switched off. You might also want to wear compression stockings throughout your flight to lower the risk of DVT
Staying healthy when abroad:
Aim to drink plenty of water and remain well hydrated especially if you're going to a hot country with high temperatures. If you're normally fairly healthy then you don't have to let this slip while you're away and healthy eating certainly doesn't have to be boring. Fill your plate with fresh fish and fresh salad and enjoy the local produce of the country you're in!
While excursions and days out can be great when you're on holiday, don't feel you have to see and do everything if you know there's a chance you might overexert yourself. The last thing you want is to overdo it on day one then be unable to enjoy the rest of your holiday. Sometimes relaxing by the pool with a good book is the best thing to do when you're away!
Frequently Asked Questions About Travel Insurance for over 80's
How do you know which over 80's policy is best for you?
Whether you want travel insurance for over 80's single trip or annual multi-trip insurance, Worldwide or just Europe, our specialist knowledge and carefully selected partners will ensure that you will be offered a choice of options. These will be displayed once you have completed the quote process.
For further reassurance before making your choice, you can also read policy wordings for each quote given or contact us. 
What's the difference between a single trip policy and an annual multi-trip policy?
Single trips for over 80's travel insurance work well when you only have one trip planned, particularly if that trip is more than 31 days; the trip length limit for most annual multi-trip policies. 
Where your travel plans include a number of trips in any twelve-month period, then it is likely that an annual multi-trip over 80's travel insurance policy could be a more cost-effective option.
Please be aware that all trips have to start and finish in the UK and also be mindful that your travels must not take you outside of your chosen region.
As specialist providers, our AllClear Gold and AllClear Gold Plus policies have no age limits, whether you opt for a single trip or an annual multi-trip policy.
Which factors may affect the price of your policy?
A number of factors are taken into consideration when calculating premiums. These include: The destination to which you are travelling (for example, Spain, the United States, and Canada are among the more expensive countries in which to receive medical treatment); The duration of your trip; The type and severity of your medical conditions; Your age and the level of benefits being offered to you.
Quote premiums may vary by the provider because they may offer different levels of cover, excesses, and upgrades
Also, for our AllClear policies, we are continually reviewing and analysing all of our claims data to ensure that the premiums we offer are fair and accurate.
Where can you travel to with over 80's annual multi-trip travel insurance?
How often can you travel with over 80's annual multi-trip travel insurance?
With our AllClear over 80's annual cover, you can take up to any number of trips during the year. Rather than needing to tell us exactly where you'll be, you only need to select your preferred region of the cover.
However, there are restrictions on the length of time you can be away for any one trip.
For AllClear Gold and Gold Plus policies, you can travel up to 45 days for any one trip, or get a trip extension up to 55 days per trip.
How do you make sure you are 'Fit to travel'?
You don't need to provide us with a certificate from your doctor, but you will need to confirm you're fit to travel at the time of getting a quote or purchasing a policy.
If you need to make a claim, you may require a letter from your doctor confirming that you were fit to travel at the time you purchased your policy, and the date when you were declared unfit to travel.
What if you buy an over 80's policy and then your medical conditions change?
If you have bought an over 80's policy and you need to amend something to do with your declared medical conditions then simply get in touch at the earliest possible opportunity and we will update your details.
It's important to let us know any changes before you travel to ensure your policy is the most up to date and you're still covered.
How is the cost of over 80's travel insurance calculated?
The price of your quote is primarily based on the following factors:
Likelihood of your medical conditions requiring treatment while abroad
Health care costs in your chosen destination
The distance of your destination from the UK
Your age
But you can also choose the level of cover you want on our comparison site, depending on which policy you choose.
Over 80's travel insurance and the EHIC
If you already have a European Health Insurance Card (EHIC) – great!
But, remember!  This only gives you access to the default state healthcare system within a given country. The EHIC does not replace travel insurance. For example, it won't cover you for:
Needing to cancel the holiday before you go
Medical transport (repatriation) to get back home
Having a comprehensive travel insurance policy is even more critical if you're travelling outside of Europe.
How can we help you find over 80's travel insurance for pre-existing medical conditions?
Most travel insurance policies are optional, but if you recently have or had a medical condition such as diabetes, high blood pressure or stroke, buying medical travel insurance might be a pre-requisite to your travel.
We are an experienced medical travel insurance provider. Many of our customers have pre-existing medical conditions. For most medical conditions we can provide full cover, including cancer, heart disease, and diabetes.
What if you are on a waiting list for treatment?
Yes, just be sure to answer that you are on a waiting list for treatment during the Medical Warranty section of your quote.
Plus, if you'd like to be covered for cancelling your holiday due being on the waiting list, simply Waiting List cover as an optional extra.
What counts as a pre-existing medical condition?
There are some medical conditions that you always need to declare:
Any respiratory conditions, heart conditions, any neurological conditions (including stroke and epilepsy), cancer, blood circulatory conditions, any diabetic conditions, any renal, liver or kidney conditions, any psychiatric or psychological conditions (including anxiety, stress and depression).
If your medical condition is not in the above categories, you only need to tell us about anything for which you have received surgery, in or out-patient treatment, tests or investigations for in a hospital, clinic or GP surgery within the last 24 months. Or any medical condition for which you have been prescribed medication in the last 5 years.
Article References: