Why Do You Need Over 50's Travel Insurance?
Travel insurance for over 50s covers you for unforeseen circumstances while away, including medical emergencies, even if they are Covid-19 related or you have pre-existing medical conditions. This means you can travel with peace of mind, knowing you have support if you have a medical problem, and you do not need to worry about unexpected medical bills.
It's vital that you declare all your pre-existing conditions when getting your quote, otherwise you won't be properly covered in the event of a claim relating to your pre-existing conditions – that's why it's always better to be safe than sorry.
Did you know that over 22% of all travellers need to seek medical attention when abroad? Yet the Foreign Office estimates that 1 in 10 over 50s don't opt for travel insurance when going on a trip, risking potentially astronomical medical bills, unnecessary complications, and a lot of worry. Thankfully, those travellers are in the minority. We surveyed our customers and found that the level of medical cover was the most important factor in their travel insurance.
Make AllClear your travel companion and travel with peace of mind.
You're Over 50 and Ready to Travel
We know our customers who are over 50 love to travel, and why not?!
So whether you're planning an adventure of a lifetime or a relaxed weekend away, it's important that you have travel insurance that gives you complete peace of mind.
And even during the Coronavirus pandemic, you're still looking to travel. Confidence to travel in 2020 has grown as the FCO travel restrictions have eased…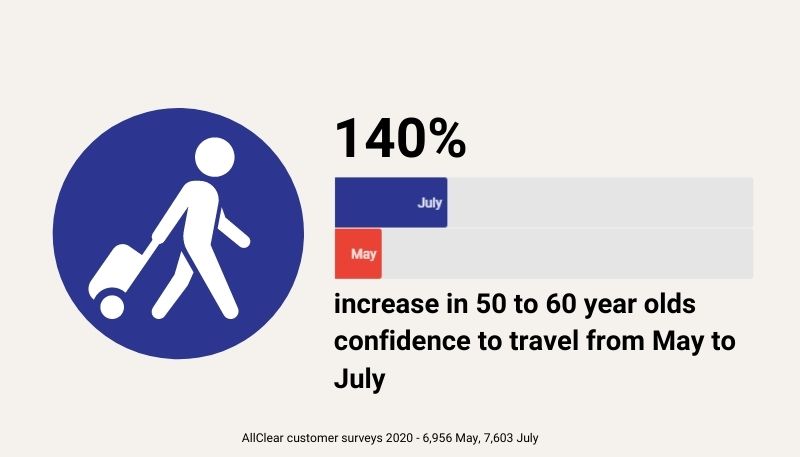 And you will change your destination of travel too if you need to…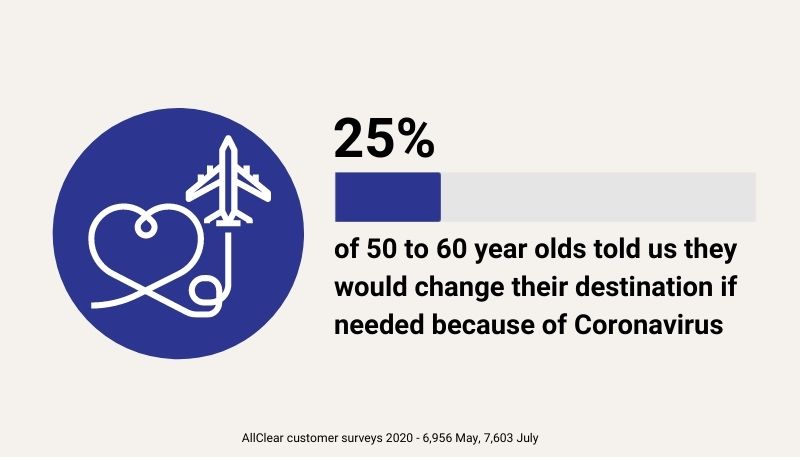 What to do if you have a pre-existing medical condition?
Travel Insurance is essential for those with a pre-existing medical condition, whether that be an illness, disease or disability. To ensure you're fully covered, you must disclose any pre-existing medical condition during the screening process. Failure to disclose when buying travel insurance may leave you without protection.
What counts as a pre-existing medical condition for travel insurance?
A pre-existing medical condition for travel insurance is any illness or injury you've experienced symptoms, treatment, investigations, surgery, or medical appointments for within the last two years. This could include diabetes, COPD, heart disease or cancer. Declaring all pre-existing conditions on your policy can help to avoid unwanted medical bills if you need emergency medical treatment when you're on holiday.
What is the best travel insurance for pre-existing medical conditions?
The best travel insurance for pre-existing medical conditions is one that can be tailored to suit you and your individual needs. It should be both comprehensive and good value for money, offering cover for any pre-existing medical conditions, medical expenses, and cancellation without any upper age limits. It should also include enhanced COVID19 cover.
The best way to choose travel insurance is to consider the following; how long you will be travelling for, the destinations you will be going, your age and whether or not you have any pre-existing medical conditions. You will then be able to choose a policy that is tailored to suit you which offers the best value for money.
What pre-existing conditions are not covered?
Unlike standard travel insurance providers, a specialist medical travel insurance provider will cover most if not all pre-existing medical conditions. The best way to know if you're eligible for cover is to declare all pre-existing medical conditions you may have during the screening process.
Why Choose AllClear? – the Key Benefits of Over 50's Cover
Main Benefits
Cancellation and Curtailment covered up to £25,000, including for Covid-19
Up to £15 million emergency medical expenses cover, including for Covid-19
Up to 30 days FREE extended cover (if due to unexpected circumstances beyond your control)
Up to £2,000, if medically necessary, for a friend or relative to travel from your home area to stay with you if you fall ill with Covid-19 (costs for room and to accompany you home)
Repatriation costs, when medically necessary, to bring you back to the UK where it is deemed to be in your best interests
Following recovery from Coronavirus, costs for a continued recuperation stay, when medically necessary and under doctors advice
Costs for your return flight following your enforced stay due to Coronavirus
Personal Belongings covered up to £3,000
All conditions. All ages.
All these figures are per person, and per trip.
Will you be covered if you're travelling during the pandemic?
There are a few things to check first, as it needs to be safe for you to travel to make sure you're covered:
You must be fit to travel
The FCO must NOT have advised against travel to your destination
You must follow the local government advice for your destination, checking and following their guidelines and entry requirements
You can then be covered for emergency medical expenses or cancellation relating to COVID-19, when you have travel insurance with enhanced Coronavirus cover. If you're an existing policyholder, you can read our Frequently Asked Questions if your trip is affected by Covid-19.
Travel Tips for Over 50's
For those unforgettable experiences, your cover with AllClear Gold and Gold Plus policies can include jet skiing, horse riding, scuba diving (up to 30 meters deep), safari and gorilla trekking, cycling, and, if you fancy it, even camel riding!
Book your travel insurance early as cancellation cover begins as soon as your policy does. The sooner you buy your travel insurance the more confident you can feel about being covered for your trip, whatever happens.
Double-check your travel insurance documents before your trip. If you have a medical emergency, you'll need the medical emergency number from your policy (refer to our 'Making a claim' page). If you have lost your documents, there's no need to worry – speak to our Customer Care Team via Live Chat or call us on 0800 640 4811, we'll get you a copy of your documents in no time.
Competitor comparison table
This table shows how AllClear Travel Insurance compares to other providers

i

Trust
5-star Trustpilot reviews

82%

77%

77%

71%

TrustScore

4.8

4.7

4.7

4.6

5-star Defaqto rated

Good Housekeeping endorsement

Established for 20+ years

Product
Maximum cancellation cover

£25k

£15k

£7.5k

£10k

Minimum standard excess

£0

£65

£0

£70

Baggage delay benefit after 12 hours

i

£250

£0

£75

£250

Number of product choices

4

2

3

1

No age limits

i

Travel companion cover

Terminal conditions cover

Cancellations
Admin fee for cancelling during the cooling off period

£0

£25

£25

£0

Refund provided outside of cooling off period

Claims
Claims paid within 5 working days

i

100%

95%

N/A

N/A
Find Travel Insurance for over 50 with our 3 Step Quote Process
1. Call us or click a quote button on our site
Once you are ready to start the quote process, the first step is to provide your personal details and information about your holiday plans.
2. Complete our simple medical screening process
You then declare the medical conditions for you (and any other travellers) and answer the specifically designed medical questions.
3. Get your quotes
You will then get your quotes and can either proceed to buy, or save your quote, at this stage.
Frequently Asked Questions About Travel Insurance for over 50's
How far in advance can I get travel insurance?
To protect any holiday, it's always best to buy travel insurance in advance. Single trip travel insurance coverage begins on the day of purchase and expires on the specified return date. Annual trip travel insurance can be taken out 30 days in advance from the date of your first trip and will expire around 12 months from this time.
Does being over 50 affect how long you can travel on the over 50's travel insurance policy?
We're pleased to say that no matter your age, you can travel up to:
Can you get over 50's cover if you're on a waiting list for a treatment?
Yes, just be sure to answer that you are on a waiting list for treatment during the Medical Warranty section of your quote.
Plus, if you'd like to be covered for cancelling your holiday due being on the waiting list, simply Waiting List cover as an optional extra.
How often can you travel with over 50's travel insurance?
With our over 50's annual multi-trip travel insurance, you can take any number of trips during the year. Rather than needing to tell us exactly where you'll be, you only need to select your preferred region of the cover.
However, there are restrictions on the length of time you can be away for any one trip.
What if you purchase an over 50's travel policy then your medical conditions change?
If you've purchased an over 50's travel policy and you need to amend something to do with your declared medical conditions then simply get in touch at the earliest possible opportunity and we will update your details.
It's important to let us know any changes before you travel to ensure your policy is the most up to date and you're still covered.
How is the price of over 50's travel insurance calculated?
The price of your quote is primarily based on the following factors:
Likelihood of your medical conditions requiring treatment while abroad
Health care costs in your chosen destination
The distance of your destination from the UK
Your age
But you can also choose the level of cover you want on our comparison site, depending on which policy you choose.
What's the difference between single trip or annual multi-trip travel insurance for over 50's?
It's quite simple.
→ Single trip travel insurance: Covers you for a one-off trip on selected dates only. You can travel up to 92 days.
→ Annual multi-trip travel insurance: Allows you unlimited travel throughout the entire year! This is perfect if you're planning on getting away a few times in the next 12 months because it's cheaper than buying several single trip travel insurance policies.
The maximum trip duration does change between annual multi-trip policies.
As an example, you can travel up to 45 days per trip for unlimited trips with the AllClear Gold and Gold Plus annual multi-trip cover.  And if needed, you can easily extend this with additional days for only a small premium.
Is travel insurance on a cruise worth it?
Cruise travel insurance is worth it as it offers valuable peace of mind. Cruise specific travel insurance can offer you cover for all the things that are found on a standard travel insurance policy, but with EXTRA benefits that are tailored for specific problems that may arise on a cruise holiday.
Do you need over 50's travel insurance if you have an EHIC card?
If you already have a European Health Insurance Card (EHIC) – great!
But, remember!  This only gives you access to the default state healthcare system within a given country. The EHIC does not replace travel insurance. For example, it won't cover you for:
Needing to cancel the holiday before you go 

Medical transport (repatriation) to get back home
Having a comprehensive travel insurance policy is even more critical if you're travelling outside of Europe.
Are there any exclusions for over 50's travel insurance?
No, there are not. Winter Sports is available as an Optional Extra up to the age of 76 on AllClear Gold and Gold Plus policies!
What's more, we have a diverse list of Optional Extras available to further boost your cover, such as:
Travelling Companion

Waiting List

Travel Disruption

Golf cover
How can we help you find over 50's travel insurance for pre-existing medical conditions?
Most travel insurance policies are optional, but if you recently have or had a medical condition such as diabetes, high blood pressure or stroke, buying medical travel insurance might be a pre-requisite to your travel.
We are an experienced medical travel insurance provider. Many of our customers have pre-existing medical conditions. For most medical conditions we can provide full cover, including cancer, heart disease, and diabetes.
How can you make sure you are 'Fit to travel'?
You don't need to provide us with a certificate from your doctor, but you will need to confirm you're fit to travel at the time of getting a quote or purchasing a policy. If you need to make a claim, you may require a letter from your doctor confirming that you were fit to travel at the time you bought your policy, and the date when you were declared unfit to travel.
What's our medical screening process for over 50's travel insurance?
It's a short set of simple and straightforward questions about your health.
Unlike many other insurance companies, we don't want to waste your time by asking too many questions, and we've tried to make this part as quick as possible.
Nevertheless, medical screening is still very important and it'll help determine your conditions and make sure you get the right level of cover.
All you have to do is to select the medical conditions applicable to you (and any other travellers) and answer a few routine medical questions. That's it!
What credit card has the best travel insurance?
Although some credit cards offer complimentary travel insurance it cannot be assumed that every situation or expense will be covered. Travel insurance offered by credit cards is fairly standard. So, be sure to read the terms and conditions carefully as you may require a more comprehensive travel insurance policy – especially if you have a pre-existing medical condition.