Does Over 70's Travel Insurance Cover Medical Conditions?
Travel insurance for over 70s covers you if you're over 70, living with medical conditions, and want to travel with peace of mind. Over 70s travel insurance can cover all major pre-existing medical conditions including diabetes, strokes and heart disease. This type of insurance covers you up to £15 million in medical expenses, including emergency treatment and Covid-19-related costs
It's vital that you declare any pre-existing conditions when getting your travel insurance quote. Otherwise you won't be properly covered in the event of a claim relating to your pre-existing conditions.
AllClear makes sure that all parts of your trip are protected. We provide cover for lost luggage, delayed flights, and – most importantly – medical emergencies.
The right travel insurance policy from AllClear delivers all the confidence you need to set off on your travels, knowing that you're covered for the unexpected.
In our recent survey, you told us that comprehensive cover is more important than ever since Covid-19. Remember, while AllClear travel insurance provides COVID cover, you'll also still be covered for your declared medical conditions, in case you need to cancel because of a change in your health for example.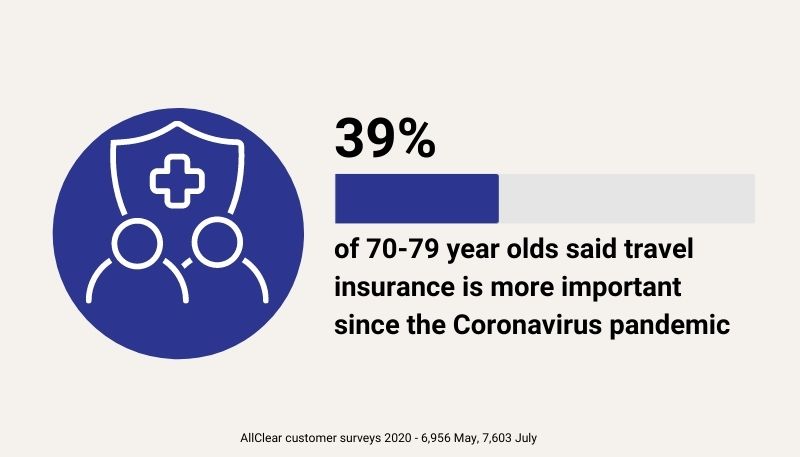 What is the best value for money travel insurance?
The best value for money travel insurance may not necessarily be the cheapest. To get the best value you'll want a high level of cover at a fair and reasonable price. Cheap policies may not offer the level of protection you need.
What Travel Insurance is best for seniors?
The best travel insurance for senior citizens will provide comprehensive cover, giving you peace of mind to enjoy your holiday, whatever your age. It should include cover for any pre existing medical conditions, as well as enhanced COVID-19 cover for emergency medical expenses and cancellation.
Why Choose AllClear? The Key Benefits
Main Benefits
Cancellation and Curtailment covered up to £25,000, including for Covid-19
Up to £15 million emergency medical expenses cover, including for Covid-19
Up to 30 days FREE extended cover (if due to unexpected circumstances beyond your control)
Up to £2,000, if medically necessary, for a friend or relative to travel from your home area to stay with you if you fall ill with Covid-19 (costs for room and to accompany you home)
Repatriation costs, when medically necessary, to bring you back to the UK where it is deemed to be in your best interests
Following recovery from Coronavirus, costs for a continued recuperation stay, when medically necessary and under doctors advice
Costs for your return flight following your enforced stay due to Coronavirus
Personal Belongings covered up to £3,000
All conditions. All ages.
All these figures are per person, and per trip.
Are you covered for travel in the pandemic?
To make sure you're covered there are three things to check:
You must be fit to travel
The FCO must NOT have advised against travel to your destination
You must follow the local government advice for your destination, checking and following their guidelines and entry requirements
You can then be covered for emergency medical expenses or cancellation relating to COVID-19, when you have travel insurance with enhanced Coronavirus cover. If you're an existing policyholder, you can read our Frequently Asked Questions if your trip is affected by Covid-19.
What else can we cover?
Worried your transport could be delayed or cancelled? We offer cover for travel delays as standard on AllClear Gold and Gold Plus policies for up to £2,000, should you need to make alternative arrangements
We offer cover for airline or end supplier failure as standard on AllClear Gold and Gold Plus policies, to protect your money if your travel company goes bust and your holiday isn't protected by the ABTA or ATOL schemes
Planning an active holiday? We can cover a range of activities free of charge, ranging from scuba diving to safari trekking!
Your Optional Extras
We provide extra cover for your adventurous trips! Here's 3 optional extra you can add to your cover…
Winter Sports cover including for piste closures or unused portions of your ski pack
Golf Cover including loss of green fees or a round of drinks for up to £100 if you get lucky enough to hit a hole-in-one!
Gadget Cover for up to £3,000 for 7 devices – such as mobile phones and tablets – which may not know is excluded from standard baggage cover.
How much does travel insurance cost for over 70s?
A number of factors are taken into consideration when calculating premiums. These include: the destination you're travelling to (Spain, the United States, and Canada are among the more expensive countries to receive medical treatment); the duration of your trip; the type and severity of your medical conditions; your age; and the level of benefits being offered to you.
Get Quotes in Just 3 Easy Steps
1. Call us or click a quote button on our site
Once you are ready to start the quote process, the first step is to provide your personal details and information about your holiday plans.
2. Complete our simple medical screening process
You then declare the medical conditions for you (and any other travellers) and answer the specifically designed medical questions.
3. Get your quotes
You will then get your quotes and can either proceed to buy, or save your quote, at this stage.
Join Over 3 Million Holidaymakers Who Trust AllClear
Read AllClear Trustpilot Reviews
What more do you need to know?
"Easy to use. Covered our medical conditions. Over 70's. What more do you need to know?" – Brian G, Trustpilot
Although these are very unusual times, over 70s are still preparing to travel according to our survey – largely due to changes in lockdown restrictions and the FCO travel corridors.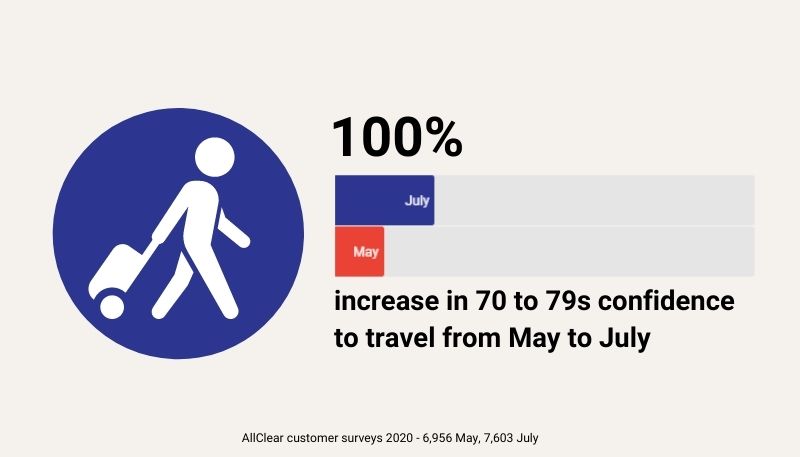 Travel Tips for over 70's
Whether you want to relax on the beach, have an adventure, or a little bit of both, we've got the cover for you. Our AllClear Gold policy can include jet skiing, horse riding, scuba diving (up to 30 meters deep), safari and gorilla trekking, cycling, and if you fancy it, even camel riding!
If you're taking medications, then speak to your GP before your journey. Ask about any adjustments you might need to make in different timezones and ensure that you have enough medication to cover your whole journey, with some to spare in case of a delay!

Mention your needs ahead of time to your travel agent, hotel, airport staff, and anyone else when making bookings and travelling - you might be surprised by helpful people can be

Cancellation cover starts as soon as your policy, so booking your travel insurance early can really pay off. If you sort this out as quickly as possible then you can tick another thing off the pre-holiday checklist

Familiarise yourself with your travel insurance documents before travelling. A handy tip is highlighting all emergency numbers and contacts in case you need to use them or even saving them to your phone for ease of access

Have you lost your documents? Not to worry – speak to our friendly Customer Care Team via Live Chat or give us a call on 0800 640 4811, and we'll get you a copy of your documents in no time
Going on a cruise?
You may be interested in our specialist cruise cover, with specific cruise benefits. For example, you can increase your cancellation cover up to £15,000 per person. An annual multi-trip policy can be particularly useful for you if you have a holiday apart from your cruise, as travel via plane is also covered.
Can I get over 70s travel insurance if I have a medical condition?
Just because you are over 70 with a medical condition doesn't mean you should stop travelling, it just means that you need the right travel insurance. There are plenty of insurers offering cover for over 70s on the market, however it's best that you buy comprehensive cover for peace of mind.
What is the best travel insurance for international travel?
The best travel insurance for international travel will offers cover for medical emergencies, cancellation, delays as well as lost, stolen or damaged luggage as standard. Given the ongoing coronavirus pandemic, the best travel insurance will also offer enhanced COVID-19 cover.
Which travel insurance is best for medical conditions?
The best travel insurance for medical conditions is one that is tailored to suit you and your individual needs. If you have a pre-existing medical condition, it is important that you have a policy with comprehensive cover and that all your medical conditions are covered.
Frequently Asked Questions About Over 70's Travel Insurance
Is there anything you can't be covered for when you're over 70?
An Optional Extra which does have an age limit is Winter Sports, which is available up to the age of 76. However, we offer a diverse range of other Optional Extras which have no age limits, including Waiting list, Golf, Travelling companion, Travel disruption, and Extended stay.
For any other activities not listed in your policy booklet, you can contact our Customer Care Team.
What counts as a pre-existing medical condition?
There are some medical conditions that you always need to declare:
Any respiratory conditions, heart conditions, any neurological conditions (including stroke and epilepsy), cancer, blood circulatory conditions, any diabetic conditions, any renal, liver or kidney conditions, any psychiatric or psychological conditions (including anxiety, stress and depression).
If your medical condition is not in the above categories, you only need to tell us about anything for which you have received surgery, in or out-patient treatment, tests or investigations for in a hospital, clinic or GP surgery within the last 24 months. Or any medical condition for which you have been prescribed medication in the last 5 years.
For more information, read our medical warranty help article.
Do you have to tell us about medication?
Initially, you do not need to declare the medication you are taking. Instead, you will be declaring the medical conditions that you have. The medical screening questions may then ask you about your medication, but you will not need to know the names of your medication.
Does being over 70 affect how long you can travel on the over 70's travel insurance policy?
If you buy a single trip policy online you can travel up to 92 days.
The maximum trip length for annual cover does change between policies, however, you can view the trip limits of each policy here: Annual multi-trip policies.
As an example, you can travel up to 45 days per trip on AllClear Gold and Gold Plus annual multi-trip cover, no matter your age. In addition, a trip extension of up to 55 days can be added to your policy as an Optional Extra.
Does the over 70's travel insurance cover sports and other activities?
We cover a whole range of activities with no additional cost (check your policy booklet), but you can also add on Winter Sports, Waiting list, Golf, Travelling companion, Travel disruption, and Extended stay.
What if you are on a waiting list for treatment?
We're pleased to say you can include Waiting list cover on AllClear Gold and Gold Plus policies.
Does the over 70's travel insurance cover damages from natural disasters?
To be covered for natural disasters, such as a hurricane or earthquake, you can add our Optional Extra of Travel Disruption.
How often can you travel with over 70's annual travel insurance?
For AllClear Gold and Gold Plus annual multi-trip policies, you can take any number of trips during the year. Rather than needing to tell us exactly where you'll be, you only need to select your preferred region of the cover.
However, there may be restrictions on how many times you can travel in 12 months for other providers on our quote panel. You can also check out the maximum trip duration for each holiday per provider here.
How to make sure you are 'Fit to travel'?
You don't need to provide us with a certificate from your doctor, but you will need to confirm you're fit to travel at the time of getting a quote or purchasing a policy. If you need to make a claim, you may require a letter from your doctor confirming that you were fit to travel at the time you bought your policy, and the date when you were declared unfit to travel.
What if you buy an over 70's travel policy then your medical conditions change?
If you have bought an over 70's travel policy and you need to amend a detail of your declared medical conditions then simply get in touch at the earliest possible opportunity and we will update your details.
It's important to let us know of any changes before you travel to ensure your policy is the most up to date and you're still covered.
Over 70's travel insurance and the EHIC
If you already have a European Health Insurance Card (EHIC) – great!
But, remember!  This only gives you access to the default state healthcare system within a given country. The EHIC does not replace travel insurance. For example, it won't cover you for:
Needing to cancel the holiday before you go
Medical transport (repatriation) to get back home
Having a comprehensive travel insurance policy is even more critical if you're travelling outside of Europe.
Are there any exclusions for over 70's travel insurance?
No, there are not.  Winter Sports is available as an Optional Extra up to the age of 76 on AllClear Gold and Gold Plus policies!
What's more, we have a diverse list of Optional Extras available to further boost your cover, such as:
Travelling Companion
Waiting List
Travel Disruption
Golf cover
How can we help you find over 70's travel insurance for pre-existing medical conditions?
Most travel insurance policies are optional, but if you recently have or had a medical condition such as diabetes, high blood pressure or stroke, buying medical travel insurance might be a pre-requisite to your travel.
We are an experienced medical travel insurance provider. Many of our customers have pre-existing medical conditions. For most medical conditions we can provide full cover, including cancer, heart disease, and diabetes.