Why Do You Need over 60's Travel Insurance?
Travel insurance for over 60s covers you if you're over 60 and have any pre-existing medical conditions. This means you'll be covered for any medical emergencies while away and will not need to worry about unexpected medical bills, even if they're Covid-19 related. With over 60s travel insurance you can have peace of mind knowing you have comprehensive cover.
You might be thinking of retiring soon and thinking of all the places you'd like to visit? Start your dream destinations list today with the right cover from AllClear.
Maybe you've got your tickets and your passport, but what about the right travel insurance? It's that extra layer of security that allows you to really unwind, knowing that even if something doesn't go to plan, you're prepared anyway.
Most importantly, you want to know that you will be covered for medical emergencies, including those relating to Covid-19 and your medical conditions, as well as other holiday mishaps such as lost luggage and delayed flights.
Our over 60's cover can give you the freedom and confidence to travel. In fact, you told us in our survey that travel insurance is more important to you during the pandemic.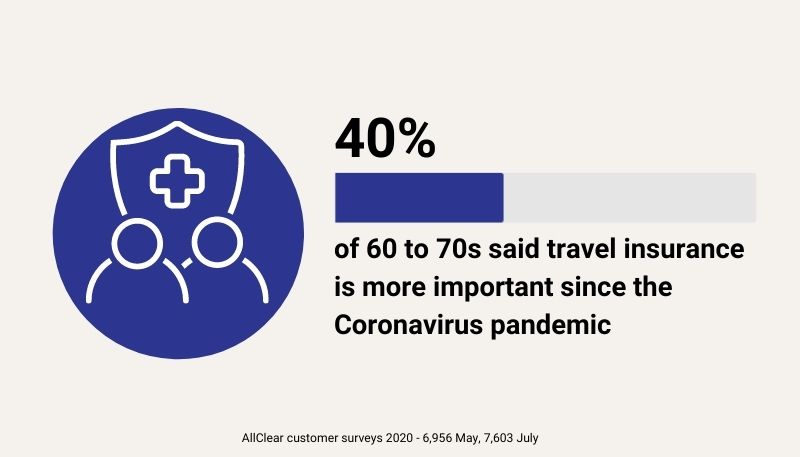 But as long as you have comprehensive cover, then your confidence to travel is growing….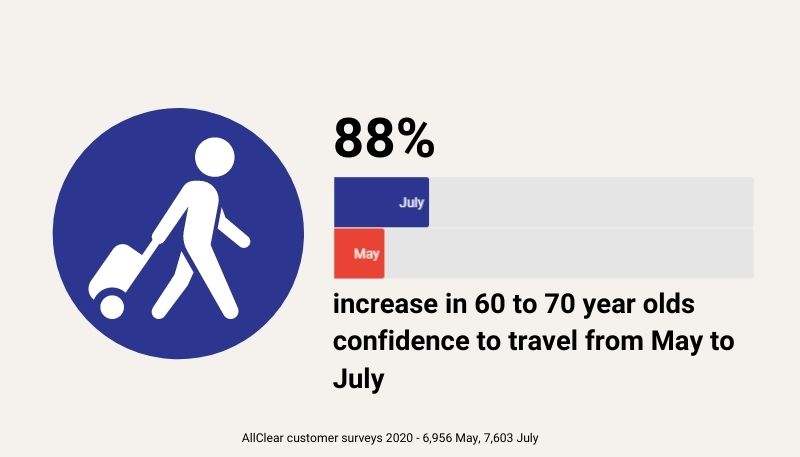 We've got your back when it comes to lost luggage, delayed flights and, most importantly, medical emergencies.
It's vital to declare all your pre-existing conditions when getting your travel insurance quote. Otherwise, you might not be properly covered in the event of a claim relating to your pre-existing conditions.
Our over 60's cover can give you the freedom and confidence to travel the world. Make AllClear your travel companion for peace of mind.
What counts as a pre-existing medical condition for travel insurance?
Any illness or injury you've experienced symptoms, treatment, investigations, surgery, or medical appointments for within the last two years is regarded as a pre-existing medical condition for travel insurance. This could include DVT, Epilepsy, nut allergy or cancer. It's important to declare all pre-existing conditions on your policy.
Which travel insurance is best for medical conditions?
The best travel insurance for medical conditions is one that enables you to travel with confidence. If you have any pre-existing medical conditions it's always best to take out a policy that is tailored to suit you and your individual needs. It should offer high coverage for medical expenses and cancellation and should also include COVID19 cover.
Should You Declare All of Your Pre-Existing Medical Conditions?
It is essential that you declare any pre-existing medical condition you may have whatever age you may be.
If you choose not to declare all of your conditions, it could make your policy invalid.
Plus, did you know a UK holidaymaker needs emergency medical assistance abroad every 3 minutes?
You can declare your medical conditions and get comprehensive cover in a matter of minutes through our easy medical screening process – via our website or by speaking to one of our trained professionals over the phone.
What Travel Insurance is best for seniors?
The best travel insurance for senior citizens is one that can provide you with peace of mind. It's ideal to have comprehensive cover for any pre existing medical conditions and enhanced COVID-19 cover, that way you can travel with confidence.
What is the best value for money travel insurance?
Cheap travel insurance may not provide you with the protection you need. The best value for travel insurance is one that is affordable with a high level of coverage. A comprehensive travel insurance policy, can help save you time and money, should any unforeseen medical expense occur whilst on holiday.
What does your travel insurance cover?
Cover levels can vary depending on the product that you choose. Benefits can include Emergency Medical Expenses, Cancellation cover and Baggage cover. AllClear Policies also include enhanced cover for Covid-19.
Why Choose AllClear? The Key Benefits
Main Benefits
Cancellation and Curtailment covered up to £25,000, including for Covid-19
Up to £15 million emergency medical expenses cover, including for Covid-19
Up to 30 days FREE extended cover (if due to unexpected circumstances beyond your control)
Up to £2,000, if medically necessary, for a friend or relative to travel from your home area to stay with you if you fall ill with Covid-19 (costs for room and to accompany you home)
Repatriation costs, when medically necessary, to bring you back to the UK where it is deemed to be in your best interests
Following recovery from Coronavirus, costs for a continued recuperation stay, when medically necessary and under doctors advice
Costs for your return flight following your enforced stay due to Coronavirus
Personal Belongings covered up to £3,000
All conditions. All ages.
All these figures are per person, and per trip.
Will you be covered if you're travelling during the pandemic?
There are three things to check so that you can make sure you're covered:
You must be fit to travel
The FCO must NOT have advised against travel to your destination
You must follow the local government advice for your destination, checking and following their guidelines and entry requirements
You can then be covered for emergency medical expenses or cancellation relating to COVID-19, when you have travel insurance with enhanced Coronavirus cover. If you're an existing policyholder, you can read our Frequently Asked Questions if your trip is affected by Covid-19.
What Else Can We Cover?
Travel delays - and other costs should you need to make alternative arrangements, in the event that any booked transport is heavily delayed or cancelled

Airline or end supplier failure - included as standard on AllClear Gold and Gold Plus policies, to make sure you don't lose money if your travel company goes bust and your holiday isn't protected by the ABTA or ATOL schemes

Activities free of charge - we cover many sports and travel activities without any additional cost, including jet-skiing, horse riding, scuba diving (up to 30 meters deep), safari and gorilla trekking, cycling, and, if you fancy it, even zorbing!
Optional Extras
No two holidays are the same, tailor your policy to suit your needs! Our optional extras are there to enhance your cover – including, Golf, Winter Sports and Gadget Cover. Upgrade your cover to ensure you have the level and quality you require.
Join over 3 Million People We've Helped Cover
Worried we can't quote your medical condition? We've covered over 1300 different conditions since the year 2000.
"Able to travel with multiple illnesses at over 60 years old"
"After being refused cover by over 21 companies as 'too high a risk' I thankfully got cover for my holiday."
Shirley Dover – Trustpilot
Read AllClear Trustpilot Reviews
Competitor comparison table
This table shows how AllClear Travel Insurance compares to other providers

i

Trust
5-star Trustpilot reviews

82%

77%

77%

71%

TrustScore

4.8

4.7

4.7

4.6

5-star Defaqto rated

Good Housekeeping endorsement

Established for 20+ years

Product
Maximum cancellation cover

£25k

£15k

£7.5k

£10k

Minimum standard excess

£0

£65

£0

£70

Baggage delay benefit after 12 hours

i

£250

£0

£75

£250

Number of product choices

4

2

3

1

No age limits

i

Travel companion cover

Terminal conditions cover

Cancellations
Admin fee for cancelling during the cooling off period

£0

£25

£25

£0

Refund provided outside of cooling off period

Claims
Claims paid within 5 working days

i

100%

95%

N/A

N/A
Take 3 Easy Steps to Multiple Quotes
Escape the boredom of normal travel insurance questionnaires.
AllClear make it easy with our 3 step quote process.
Follow the steps below and buy with confidence!
1. Call us or click a quote button on our site
Once you are ready to start the quote process, the first step is to provide your personal details and information about your holiday plans.
2. Complete our simple medical screening process
You then declare the medical conditions for you (and any other travellers) and answer the specifically designed medical questions.
3. Get your quotes
You will then get your quotes and can either proceed to buy, or save your quote, at this stage.
Still need any help?
Use our dynamic Help Centre to answer questions about cover, speak to our expert agents on Live Chat or give us a call.
Travel Tips for over 60's
Whether you're after a lazy beach break or the adventure of a lifetime, AllClear will make it happen. Our AlClear Gold and Gold Plus policies can include jet skiing, horse riding, scuba diving (up to 30 meters deep), safari and gorilla trekking, cycling, and if you fancy it, even camel riding!
Cancellation cover starts as soon as your policy, so booking your travel insurance early can really pay off. You can tick another thing off your pre-holiday checklist if you sort this early

Familiarise yourself with your travel insurance documents before travelling. A handy tip is highlighting all emergency numbers and contacts in case you need to use them or even saving them to your phone for ease of access

Taking medication? Talk to your GP about the adjustments required when travelling in different timezones and ensure you have sufficient medication to last the trip, plus a little extra in case of delays.

Lost your documents? Not to worry – speak to our friendly Customer Care Team via Live Chat or give us a call on 0800 640 4811, and we'll get you a copy of your documents in no time
Should I purchase travel insurance for international travel?
Yes, travel insurance is essential for international travel. It offers you protection for emergency medical expenses, cancellation, delays and baggage. Without travel insurance, you could be left with massive unforeseen medical bills should the worst happen whilst you are on holiday.

Frequently Asked Questions About Travel Insurance for over 60's
Does being over 60 affect how long you can travel on the over 60's travel insurance policy?
We're pleased to say that no matter your age, you can travel up to:
Does the over 60's travel insurance cover include repatriation?
Yes – always! Cover for repatriation to your Home Country also extends to any other travelling member who is listed on your policy.
Can you get over 60's cover if you're on a waiting list for a treatment?
Yes, just be sure to answer that you are on a waiting list for treatment during the Medical Warranty section of your quote.
Plus, if you'd like to be covered for cancelling your holiday due being on the waiting list, simply Waiting List cover as an optional extra.
Can someone else join your travel insurance policy if they're under 60?
Yes they can.
Being on the same policy as a friend or family member also has the great benefit of mutual cancellation cover should one of you need it.
How often can you travel with over 60's travel insurance?
With our over 60's annual multi-trip travel insurance, you can take any number of trips during the year. Rather than needing to tell us exactly where you'll be, you only need to select your preferred region of the cover.
However, there are restrictions on the length of time you can be away for any one trip.
Where can you travel to with AllClear's over 60's travel insurance?
We cover all destinations.  For a single trip policy, simply enter the name of the country you are visiting. For an annual policy, you have three regions to choose from: Europe, Worldwide excluding North America, and Worldwide including North America.
How is the cost of over 60's travel insurance calculated?
A number of variable factors are taken into consideration when calculating premiums. These include: The destination to which you are travelling (for example, Spain, the United States and Canada are among the more expensive countries in which to receive medical treatment); The duration of your trip; The type and severity of your medical conditions; Your age and the level of benefits being offered to you.

Quote premiums may vary by provider because they may offer different levels of cover, excesses and upgrades.
How do you know you are 'Fit to travel'?
You don't need to provide us with a certificate from your doctor, but you will need to confirm you're fit to travel at the time of getting a quote or purchasing a policy. If you need to make a claim, you may require a letter from your doctor confirming that you were fit to travel at the time you bought your policy, and the date when you were declared unfit to travel.
What if you purchase an over 60's travel policy then your medical conditions change?
If you've purchased an over 60's travel policy and you need to amend something to do with your declared medical conditions then simply get in touch at the earliest possible opportunity and we will update your details.
It's important to let us know any changes before you travel to ensure your policy is the most up to date and you're still covered.
Do you need over 60's travel insurance if you have an EHIC card?
With the European Health Insurance Card (EHIC) you will receive treatment in any of the EU's 28 states as a local citizen. However, this is based on treatments received in public, not private hospitals.

The EHIC isn't a substitute for travel insurance. It doesn't cover you for:
 The costs of rescue and repatriation (an air ambulance from Spain back to the UK costs upwards of £10,000).
 Lost or stolen property such as passports, baggage or precious items.
 Losses from trip cancellation, curtailment and interruption.
 Extra travel and accommodation costs due to illness.
 Any medical coverage outside of the EU.
The EHIC is also date-specific, so check the expiry on your card before you travel.
What's the difference between single trip or annual multi-trip travel insurance for over 60's?
It's quite simple.
→ Single trip travel insurance: Covers you for a one-off trip on selected dates only. You can travel up to 92 days.
→ Annual multi-trip travel insurance: Allows you unlimited travel throughout the entire year! This is perfect if you're planning on getting away a few times in the next 12 months because it's cheaper than buying several single trip travel insurance policies.
The maximum trip duration does change between annual multi-trip policies.
As an example, you can travel up to 45 days per trip for unlimited trips with the AllClear Gold and Gold Plus annual multi-trip cover.  And if needed, you can easily extend this with additional days for only a small premium.
Which pre-existing medical conditions are not covered?
AllClear can cover ALL pre-existing medical conditions. However, travel insurance is based on an individual's circumstance rather than the condition alone. Therefore the only way to know if you can get cover is to declare all your pre-existing medical conditions during the medical screening process.
Are there any exclusions for over 60's travel insurance?
No, there are not.  Winter Sports is available as an Optional Extra up to the age of 76 on AllClear Gold and Gold Plus policies!
What's more, we have a diverse list of Optional Extras available to further boost your cover, such as:
Travelling Companion
Waiting List
Travel Disruption
Golf cover
How can we help you find over 60's travel insurance for pre-existing medical conditions?
Most travel insurance policies are optional, but if you recently have or had a medical condition such as diabetes, high blood pressure or stroke, buying medical travel insurance might be a pre-requisite to your travel.
We are an experienced medical travel insurance provider. Many of our customers have pre-existing medical conditions. For most medical conditions we can provide full cover, including cancer, heart disease, and diabetes.