Page contents
Do I need Travel Insurance in Europe?
Europe travel insurance covers you when you travel to a European country, even if you have pre-existing medical conditions. This type of insurance covers you for medical emergencies, even those related to COVID-19, while abroad, which is vital to prevent unexpected medical bills and unnecessary complications that could arise when you're away.
2020 has been an unprecedented year but we know that even during the Coronavirus pandemic, many of you still want to travel. Confidence to travel in 2020 in Europe has grown as the FCO travel restrictions in Europe have eased.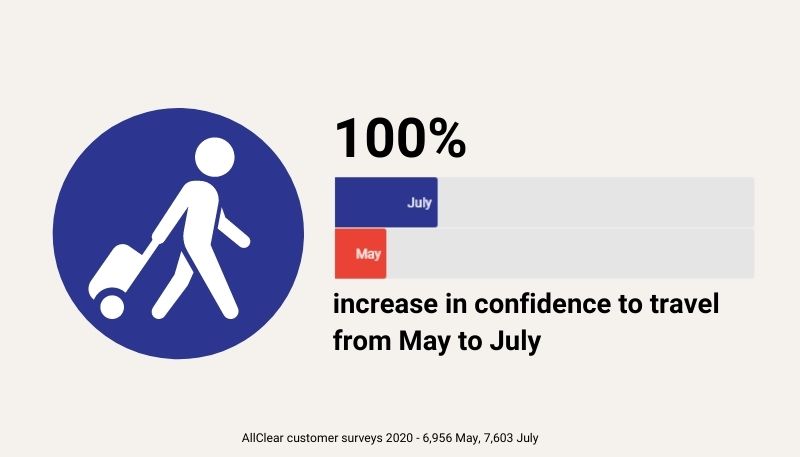 So it's important that you have travel insurance that gives you complete peace of mind. We offer enhanced Covid-19 cover with our travel insurance including medical emergency expenses of up to £15 million.
Travel insurance from AllClear also covers you for cancellation and curtailment up to £25,000, and personal belongings up to £3,000.
Europe is the most popular travel destination for UK residents, with a host of locations in over 40 countries being incredibly popular throughout the year.
No matter where you go on holiday, you will need to take out European travel insurance if you want to cover against cancellations and lost luggage. Whether you are travelling to Paris, Stockholm or Athens, finding yourself without any personal possessions or no way to get home in a foreign country is not a position anyone ever wants to find themselves in.
Travel insurance from AllClear covers you in the event of such things happening, with cancellations and curtailment being covered up to £25,000, and personal belongings covered up to £3,000. Add this on top of our medical travel insurance coverage of up to £15million for all ages and medical conditions, you can enjoy your trip without any worry.
The Key Benefits you can get
Main Benefits
Cancellation and Curtailment covered up to £25,000, including for Covid-19
Up to £15 million emergency medical expenses cover, including for Covid-19
Up to 30 days FREE extended cover (if due to unexpected circumstances beyond your control)
Up to £2,000, if medically necessary, for a friend or relative to travel from your home area to stay with you if you fall ill with Covid-19 (costs for room and to accompany you home)
Repatriation costs, when medically necessary, to bring you back to the UK where it is deemed to be in your best interests
Following recovery from Coronavirus, costs for a continued recuperation stay, when medically necessary and under doctors advice
Costs for your return flight following your enforced stay due to Coronavirus
Personal Belongings covered up to £3,000
All conditions. All ages.
All these figures are per person, and per trip.
Will you be covered if you're travelling during the pandemic?
There are a few things to check first, as it needs to be safe for you to travel to make sure you're covered:
You must be fit to travel
The FCO must NOT have advised against travel to your destination
You must follow the local government advice for your destination, checking and following their guidelines and entry requirements
You can then be covered for emergency medical expenses or cancellation relating to COVID-19, when you have travel insurance with enhanced Coronavirus cover. If you're an existing policyholder, you can read our Frequently Asked Questions if your trip is affected by Covid-19.
Is EHIC Still Valid?
European Health Cards (EHICs) are still valid for UK residents until December 2020, while the UK government continues to work on what our relationship with the EU is going to be now we have Brexit has happened. From January 2021, we do not know whether UK nationals will be able to still benefit from an EHIC. You may want to consider looking into our Brexit travel insurance if you are travelling after this date.
While the card entitles you to emergency medical cover, you are not entitled to the same sort of care delivered by the NHS. You are also not covered to be patronised, meaning you could be required to pay thousands for your transport back to the UK. Further reasons to have European travel insurance are:
Few EU countries pay the full cost of medical treatment, even under the European Union's healthcare arrangements. You still need sufficient travel insurance to cover healthcare costs.
In some countries, like Greece, the health service only covers medical treatment, and will not extend to feeding and personal care.
If you need an air ambulance home or you can't travel home on your booked ticket, you could still face a bill of thousands. A broken ankle, for example, can often mean a medical escort home (usually required by the airline in case of complications in flight) and a first-class seat for extra legroom.
You may not be covered if you need extra accommodation to stay with a sick relative.
Healthcare costs are rising in Europe so ensuring you have adequate medical travel insurance for Europe travel is more important than ever. AllClear provides medical travel insurance for Europe, so you can travel with complete peace of mind.
Travel insurance to Europe from AllClear covers all of the above. If you do find yourself in need of medical treatment when visiting Europe, you will not have to worry about any of these risks.
Our 3 Step Quote Process
1. Call us or click a quote button on our site
Once you are ready to start the quote process, the first step is to provide your personal details and information about your holiday plans.
2. Complete our simple medical screening process
You then declare the medical conditions for you (and any other travellers) and answer the specifically designed medical questions.
3. Get your quotes
You will then get your quotes and can either proceed to buy, or save your quote, at this stage.
Our 5 Star Trustpilot Rating
Read AllClear Trustpilot Reviews