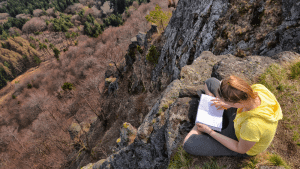 Everyone loves to travel, meet new people and try new things. These bloggers are not letting anything stop them from seeing the world. They are inspirational, and each offer their own unique story with advice. Whether you can relate to the challenges they face or not, what they have to share is undeniably interesting, and provides us with a different perspective on travelling the world. Discover the 6 disability travel blogs you need to read!
The top 6 disability blogs you need to read
Martyn Sibley is an 'adventurer at heart'. Living with Spinal Muscular Atrophy doesn't stop him from travelling the world. His blog covers many different aspects of his life, but in particular he has written several posts about his trips; ranging from road trips around Europe to flying to Japan. Martyn also writes about accessible destinations for wheelchair users.
Based in Sydney, Julie and her family are passionate about travelling. Her son was diagnosed with Cerebral Palsy at a very young age, and the information she has to give on all aspects of travelling with someone who has a disability is invaluable. Julie sets out to help as many people as possible with her blog, offering multiple perspectives and holiday tips.
Cory Lee is slowly fulfilling his dream of visiting every continent. His optimism is admirable and the content of his blog exciting – whether you are a wheelchair user like Cory or not. The blog provides holiday tips for accessibility; accounts of his worldwide adventures; and offers a very exciting bucket list!
Typing with just her left thumb, Glenda Watson Hyatt writes openly about her life with Cerebral Palsy, her work as a spokesperson, and her spontaneous holidays. She's a great role model for anyone with similar disabilities.  You can also check out her auto-biography 'I'll do it myself: the book'.
Amy, also known as 'hot wheels,' updates her readers on all of her experiences, including funny stories that she collects whilst travelling the globe. One of her primary aims is to visit as many places possible, and along her way, give advice to other people with disabilities. If you enjoy reading amusing travel stories, or you're looking for honest reviews on a destination's accessibility, then her blog is for you!
After being diagnosed as deaf at the age of 5, Ed gives a unique outlook on what it's like to have his condition abroad. Ed expresses the troubles he has faced since deciding to independently travel the world, as well as writing about his positive experiences, in his destination reviews.