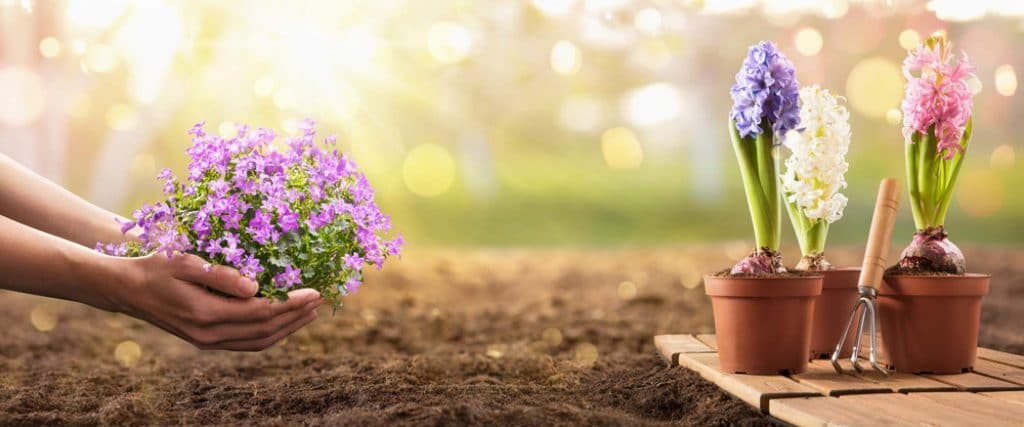 When lockdown first began our gardens were sent into a global bloom, with everyone enthusiastic to give gardening a go. Hopefully, since then you've experienced a rewarding summer full of flowers and vegetables. Now, as the pandemic continues and we go from summer to autumn – it's time to prepare our gardens for the winter. We hope our top 7 tips for your garden help you to get started…

Tidy, tidy, tidy
As the leaves start to fall from the trees, we can no longer ignore the fact that summer has come to an end. Although we may feel a pang of longing for the sunshine, we can look forward to winter berries and the occasional robin in our gardens. Signaling the ideal time for the first of our tops tips for your garden, which is to tidy…
Start by taming the trees, however, not all trees and shrubs need to be pruned in the winter or early spring. The general rule to follow is to prune trees and shrubs in the winter that bloom on new growth. Those that bloom on old growth should be pruned in late spring or summer. Click here for more information on when to prune trees.
Once your trees are in order, you can turn your attention to any flowers or vegetables that are at the end of their growing cycle. These can be added to your compost and any pots that are no longer in use can be stacked away for the winter, leaving your garden clean and organised.
Protect your pond
A stagnant pond is no friend to wildlife – be sure to clear the water of your pond of any leaves, rumble or rubbish. To avoid leaves from falling in and causing a build-up, invest in fine netting and drape it across. Another great tip is to add any leaves caught by your net to your compost to create leaf mould.
Click here for more information about leaf mould and its compost benefits.
Lawn enforcement
The winter can be cruel to lawns if not cared for correctly. To avoid damage to your lawn we recommend the following tips for your garden:
Replenish the lawn by planting grass seeds in sparse areas
Rake the leaves to avoid the grass being smothered
Strim any overgrown edges
Consider the edition of a pathway so you can avoid walking on the grass in frosty weather
Apply manure magic
Manure aids the retention of water and nutrients in the soil. Not only is manure organic, it also has beneficial microorganisms which help to promote the growth of plants. It's best to use well-aged manure, therefore autumn is the ideal time to add it to your soil as it then has plenty of time to break down before the spring. Then you can simply sit back and let the worms do the work.
Compost is not just for Christmas
Composting is another natural way to improve the structure of your soil. In just a short amount of time, you can create great top-soil from the waste of your home. Everything from eggshells, coffee grounds and vegetables to browns and greens can be considered for compost. However, make sure to add no cooked food or meat-eating animal waste is added.
If you're creating compost your waste will need air circulation and to be watered regularly. If you're interested in creating for the first time, a great read is 'Composting Basics 2020: The Complete Gardening Guide' by Fran Bracker – you can find it on Amazon.
TLC your tools
They've worked hard for you all year, aiding your journey of growth. Now, it's time to take care of them. Once you're ready to put them to one side for the winter, you'll want to wash and dry them. To prevent rust, it's best to wipe them with linseed oil to seal the metal and store them somewhere dry making sure they're away from the outside elements.
Time to sort your seeds
Although 2020 didn't turn out how most of us planned – we can hope for a better and brighter 2021. Start by sorting your seeds. It's important to make sure your seeds are viable and not past their expiration date. Once you've sorted the old from the new, it's time to decide what you'd like to grow next year. When you've picked out what you want to grow, you can categorise them by month on when they need to be sown.
Seeds need to be stored in a cool dry place. Tackle boxes and pocket folders are a great storage solution – you can also label the draw or folder by month so you don't have to repeat the process.
This is also an exciting time to explore different varieties, don't be afraid to venture out and purchase some new seeds that you haven't grown before. Thompson and Morgan offer a great range of seeds.
Make sure you have the COVID-19 essentials
Due to the COVID-19 outbreak a quick dash to the local gardening centre is no longer possible without a few essential items to keep you and those around you safe. So, don't forget to take the following items with you whenever you leave the house:

A face covering
In public spaces, it's now mandatory to wear a face-covering in the UK to help reduce the spread of COVID-19. So, when you're out and about gathering goods for your garden don't forget to take one with you. Click here for more information on COVID-19 and face masks.
Hand cleansers
Whether you've been at your local gardening centre or pottering away in your greenhouse it's always a good idea to keep your hands as clean as possible, especially following the outbreak of COVID-19.
For when it's not possible to wash your hands, hand cleansers are a great on-the-go solution.
You'll need a liquid or gel that's at least 60% alcohol concentration. Click here for more information about hand cleansers.
Enjoying your autumn and winter in the UK
During these uncertain times it's important we still try to enjoy ourselves where possible.
You can just sit in your garden and observe the scents, new flowers, and birdlife – it's so easy to get so involved in the work and not spend time just being here, and with a lot of us having more time on our hands a home, it's a chance to appreciate nature at home, and in the UK.
These are just a few ideas to get you started, but we hope they have helped – happy gardening!
How to Travel With Confidence During the Pandemic
Find the answers to the most common questions that AllClear policyholders have asked about their travel insurance cover