Travel Items to Revolutionise Your Trips
With Black Friday soon approaching, there will be many travel items on sale. While we are currently in lockdown – you won't want to miss out on gadgets that can revolutionise your future travels. 
Given that many of us have not been able to travel as frequently as we would like this year, it goes without saying that we will all want to make the most out of next year. And, when it comes to taking a well-deserved trip, you want your experience to be as stress-free as possible, especially in a post-COVID-19 travel world.  
In the past, packing was just simply putting pen to paper and writing down the essentials that you couldn't live without for a week before adding such items to your suitcase. Now, however, the travel industry has evolved – new gadgets are being created daily. These new gadgets and items range from luxury must-haves to affordable but life-changing travel items. All of which have the power to change your travel experience forever.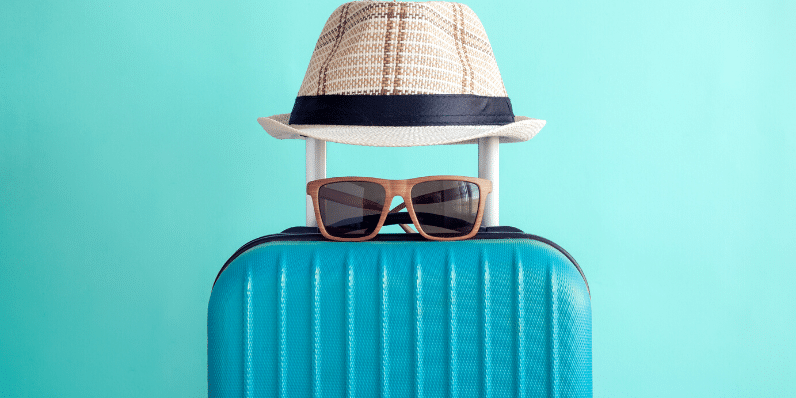 This Black Friday Prioritise Comfort and Convenience
Before buying the perfect product – it must first be designed. In the world of design, there are many ideals- the ideal that took the world by storm was that of design genius Dieter Rams. He believed that when it comes to designing the perfect product
'Form follows function' – Dieter Rams, iconic German industrial designer
But what does this mean for us? It means that the perfect product will make our lives more convenient in some way or another as well as being aesthetically pleasing. 
Therefore, when selecting our top 5 travel products you never knew existed – we've selected items that are stylish but more importantly, they will aid your comfort or convenience on any journey that you take, both now and in the future.  
Black Friday: Top 5 Travel Items You Never knew You Needed
1. Product: Hanging Toiletry Travel Bag 
When travelling, cosmetics, shampoos and toiletries can all become mixed up if you pack them all in the same bag. This can make getting ready rather more time consuming – and ultimately result in wasting precious holiday hours where you could otherwise be enjoying a morning brunch or sunbathing on the beach. 
This is where the hanging toiletry bag comes in – you simply pack each compartment in convenient categories. Hang it on the back of any door and it unrolls displaying all your items without the usual hassle. 
Price: £21.99
Brand: BAGSMART
Purchase from: Amazon 
For more information, click here. 
2. Product: Portable Espresso Machine
Not every apartment will come with a fancy espresso machine. For many coffee lovers out there, waiting for breakfast is still too long to wait for coffee in the mornings. 
This is where the portable handheld espresso machine comes into place. The gadget is compatible with Nespresso Original Capsules and compatibles. Meaning that you can have a coffee when and wherever you like. 
Price: £44.94
Brand: WACACO 
Purchase from: Amazon 
For more information, click here
3. Product: Portable Steamer 
Very few people enjoy ironing, but even fewer people enjoy looking crumpled in their holiday snaps! This is where the portable steamer comes in. You can get rid of any crease or lines your favourite shirt has acquired in the suitcase within minutes. 
Price: £110.00
Brand: STEAMERY
Purchase from: Selfridges & Co
For more information, click here
4. Product: Travel Memory Foam Neck Pillow 
No more aches and pains! With a Travel memory foam neck pillow, such as the one made by FYLINA, you'll be comfortable on any flight you take. And unlike other travel pillows, it moulds to your shape to support your head and neck. It also comes with an eye mask and earplugs – making it easier than ever to sleep when travelling. 
Price: £12.99
Brand: FYLINA
Purchase from: Amazon 
For more information, click here. 
5. Product: Universal All-In-One Travel Charger 
Do you remember packing multiple chargers and adapters, then having to untangle them all once you'd arrived at your destination? Don't worry it has happened to us all! However, this universal all in one travel charger features adaptors for the USA, Europe, the UK and Australia, an integrated power bank and wireless charging. You can charge via the USB-A and USB-C ports for multi-device compatibility – meaning you'll save space and time. 
Price: £75.00
Brand: CONRAN SHOP
Purchase from: Selfridges & Co
For more information, click here. 
What Else Do You Need to Pack for a Post Lockdown Holiday
It can be difficult to know what to pack for a holiday. At AllClear, we believe that holidays should be exciting – so we've tried to help you enjoy every aspect, even packing, by creating an All-in-one holiday checklist.
How many outfits Do You need for a 7 day holiday?
If you're going on a 7-day trip, you'll need to take at least 7 outfits. However, we recommend you pack at least 9 so that you have some spare options. To save space in a suitcase, try to select items that are interchangeable with various outfits. For example, items such as jeans can be worn with various tops. Remember to weigh your case before leaving for the airport to make sure that your outfits and other essentials aren't over the limit. 
When Should You Start Packing for a Holiday?
There is no right answer for when you should pack for a holiday. However, to reduce pre-holiday stress – we recommend that you pack at least a week in advance. This will prevent you from wearing items you wish to take with you in the days leading up to your trip and will therefore also mean you won't have to do any last-minute washing. 
COVID-19 Essentials to Pack
When lockdown ends, and we can travel again – we will all need to take the following items that are essential in a post COVID world. These items include;  
A Face covering for when you enter any public spaces. For more information on face masks,

 click here

.

Antibacterial gel that's at least 60% alcohol concentration. For further information,

 click here

. 
<h2>How To Travel with Confidence During the Pandemic</h2>
Article sources: