With Black Friday soon approaching, there will be many travel items on sale. Now that we have the freedom to embrace our travel opportunities, with more destinations to choose from than ever before – you won't want to miss out on these gadgets!  
In the past, packing was just simply putting pen to paper and writing down the essentials that you couldn't live without for a week before adding these items to your suitcase. Now, however, the travel industry has evolved – new gadgets are being created daily. These new gadgets and items range from luxury must-haves to affordable but life-changing travel items. 
This year we've created a list of top 10 Black Friday luxury travel gadgets.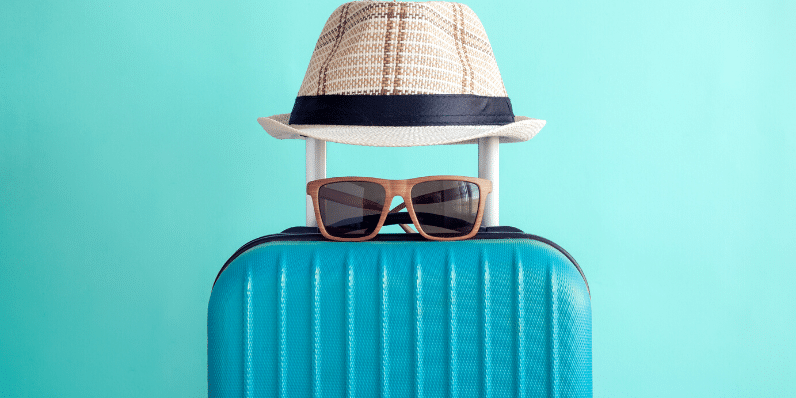 The new travel era embraces comfort and convenience
As a result of the pandemic, we've all spent a little more time at home over the last few years. During that time, many of us got used to online shopping, new technology and new processes. Overall, we've come to appreciate the convenience.  Travel should be no exception.
So here are our top 10 travel products you never knew existed. We've chosen items that are stylish but more importantly, they will help your comfort or convenience on any journey that you take. 
Black Friday: Top 10 travel items you never knew you needed
1. Product: Apple AirTag
Wish you could keep track of your personal belongings when travelling? With AirTag by apple, you can quickly and easily keep track of your stuff. The device connects to your app and your iPhone – so you can follow your item's journey.
Price: From £29
Brand: Apple
Purchase from: Apple
For more information, click here. 
2. Product: Electronic organizer
The pandemic certainly made us all embrace technology a little more.  For those that want to take their gadgets on holiday with them, this organiser is perfect for storing chargers, SD cards, adapters and cables. 
The convenient sections will ensure that your wires won't become tangled – giving you quick and easy access to what you need when you need it. 
Price: £18.89
Brand: BAGSMART
Purchase from: Amazon 
For more information, click here. 
3. Product: Portable espresso machine
Not every apartment will come with a fancy espresso machine. For many coffee lovers out there, waiting for breakfast is still too long to wait for coffee in the mornings. 
This is where the portable handheld espresso machine comes into place. The gadget is compatible with Nespresso Original Capsules and compatibles. Meaning that you can have a coffee when and wherever you like. 
Price: £44.94
Brand: WACACO 
Purchase from: Amazon 
For more information, click here
4. Product: Hanging toiletry travel bag
When travelling, cosmetics, shampoos and toiletries can all become mixed up if you pack them all in the same bag. This can make getting ready rather more time consuming – and ultimately result in wasting precious holiday hours where you could otherwise be enjoying a morning brunch or sunbathing on the beach. 
This is where the hanging toiletry bag comes in – you simply pack each compartment in convenient categories. Hang it on the back of any door and it unrolls displaying all your items without the usual hassle. 
Price: £21.99
Brand: BAGSMART
Purchase from: Amazon 
For more information, click here. 
5. Product: Potable clothing line
We all dream of a walk-in wardrobe, some of us are even lucky enough to have one.  Unfortunately, you can't take them with you on holiday and more often than not hotel wardrobe and storage facilities are never quite big enough.
This Black Friday, discover the portable clothing line. It's perfect for additional space. It's also great for hanging up beach towels and swimming costumes at the end of the day – ensuring that they dry properly and don't dampen your other items.
Price: £14.10.
Brand: HAWATOUR
Purchase from: Amazon
For more information, click here
6. Product: Smart bottles 4-in-1
This wonderfully designed bottle keeps all your liquids together in one place. To access each item, simply rotate the top to switch between different travel dispensers. For those that are looking to optimise space, this bottle is ideal – it doesn't take up much room in your suitcase but allows you to bring 4 kinds of lotions, serums, or sanitizers with you at a time.
Price: £9.99
Brand: Higolot
Purchase from: Higolot
For more information, click here
7. Product: Portable steamer
Very few people enjoy ironing, but even fewer people enjoy looking crumpled in their holiday snaps! This is where the portable steamer comes in. You can get rid of any crease or lines your favourite shirt has acquired in the suitcase within minutes. 
Price: £110.00
Brand: STEAMERY
Purchase from: Selfridges & Co
For more information, click here
8. Product: Travel memory foam neck pillow
No more aches and pains! With a Travel memory foam neck pillow, such as the one made by FYLINA, you'll be comfortable on any flight you take. And unlike other travel pillows, it moulds to your shape to support your head and neck. It also comes with an eye mask and earplugs – making it easier than ever to sleep when travelling. 
Price: £12.99
Brand: FYLINA
Purchase from: Amazon 
For more information, click here. 
9. Product: Universal all-in-one travel charger
Do you remember packing multiple chargers and adapters, then having to untangle them all once you'd arrived at your destination? Don't worry it has happened to us all! However, this universal all in one travel charger features adaptors for the USA, Europe, the UK and Australia, an integrated power bank and wireless charging. You can charge via the USB-A and USB-C ports for multi-device compatibility – meaning you'll save space and time. 
Price: £75.00
Brand: CONRAN SHOP
Purchase from: Selfridges & Co
For more information, click here. 
10. Smart suitcase
Embrace the future of travel with a smart suitcase. Not only does it have an LED light that comes on when you open your suitcase so you can see all your items in dark, but it also has its own built-in USB charging bank – so you can plug in your phone or tablet. It also has a security feature so the case won't open when it's away from you. The distance can be set using the samsara app.
Price: From £222.00
Brand: Samsara
Purchase from: Samsara
For more information, click here. 
What else do you need to pack for a post lockdown holiday
It can be difficult to know what to pack for a holiday. At AllClear, we have helped you out with our All-in-one holiday checklist.
How many outfits do you need for a 7 day holiday?
If you're going on a 7-day trip, you'll need to take at least 7 outfits. However, you may want pack at least 9 so that you have some spare options. To save space in a suitcase, try to select items that are interchangeable with various outfits. For example, items such as jeans can be worn with various tops. Remember to weigh your case before leaving for the airport to make sure that your outfits and other essentials aren't over the limit. 
When should you start packing for a holiday?
There is no right answer for when you should pack for a holiday. However, to reduce pre-holiday stress – you might want to pack at least a week in advance. This will prevent you from wearing items you wish to take with you in the days leading up to your trip so you won't have to do any last-minute washing. 
COVID-19 essentials to pack
Some destinations still have local measures in place to help reduce the spread of covid-19 to help keep everyone safe. We recommend checking your chosen destinations entry requirements before travelling by visiting the FCDO website.   We also recommend packing the following items:
A Face covering

as it's still a requirement for entering some public spaces. For more information on face masks, click here.

Antibacterial gel that's at least 60% alcohol concentration.

For further information, click here.
How To Travel with Confidence post-pandemic
Article sources:
Author notes
Written by Lydia Crispin, MA Content Creator at AllClear
Edited by Letitia Smith, M.Sc. Content Manager at AllClear