Last year many adventures had to be put on hold, and while travel may still be difficult for the early part of this year – we can't wait until we can get back to ticking off our travel wish lists once again. We wanted to know your 2021 dream destination- we asked and you voted. So we can now reveal the winning holiday hotspot for 2021.
Revealed: 2021 Dream Destination as Voted for by You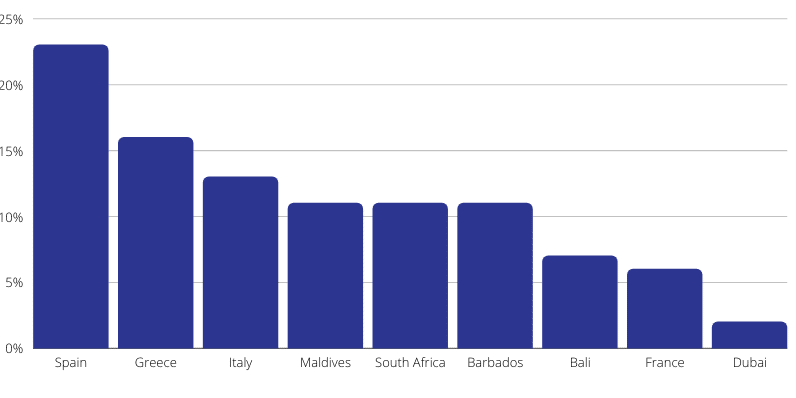 We can now reveal that with 23% of the votes, Spain is the holiday hotspot for 2021.  With its warm weather, vibrance and flair for life – it's hard to pinpoint exactly what it is about Spain that captures that hearts of thousands of Brits year on year. With so much to offer we agree that it deserves a spot on the 2021 travel wishlist. For more information on Spain, top travel tips and Travel insurance for Spain, click here. We also have guides detailing travel insurance and tips on Greece and  Italy, should those destinations be next on your travel wish list.
New Year, New Travel Possibilities
While travel is not possible right now – news that the older generation will be some of the first to be vaccinated is great news for travel planning in 2021 for the over 50s. For more information on who may be eligible to receive the vaccine and for the latest update on the vaccine roll-out, click here.
Travel Insurance for Your 2021 Dream Destination
When it's possible to travel to your dream destination again – you'll need to have comprehensive travel insurance in place. The FCDO has stated that:
"The EHIC may not be valid from 1 January 2021. Make sure you get travel insurance that covers your needs, particularly if you have a pre-existing medical condition."
If you have a pre-existing medical condition, AllClear can help.  As a specialist travel insurance provider, AllClear can tailor your policy to suit you and your medical needs. As one of only 13 insurers offering 'Superior' Rated Covid Cover, AllClear can ensure that you can travel with confidence in a Post-Covid travel era.
Published on: 22 Dec 2020 
Author notes. By Lydia Crispin, MA, AllClear Medical and Travel Content Creator. "It's important that our customers have confidence when they travel. I enjoy writing the latest-travel insights and industry updates so that each and every person can make well-informed travel decisions"
Edited by Letitia Smith, MSc, Content Manager at AllClear.