World Suicide Prevention Day
According to the NHS, one in four adults experiences at least one diagnosable mental health condition in any given year. The pandemic has been difficult for everyone but particularly difficult for those living with a mental health condition, due to the isolation experienced as part of lockdowns.
As today is World suicide prevention day, many organisations and charities such as Mental Health UK are working together to help raise awareness for those who are struggling.
The theme this year is 'creating hope through action' – they've pulled together a number of helpful resources relating to various topics surrounding suicide, which can often be a difficult topic to approach.  Please see the resources below:
Living with or knowing someone who struggles is never easy, but through our actions, we can offer support to those around us.
How Holidays can impact our mental health and well being
As a specialist medical travel insurance provider, we aim to not only provide comprehensive cover for those who are living with a mental health condition.  We also aim to conduct research into how holidays impact our mental health and wellbeing in the hope of continuing to provide everyone with the opportunity and knowledge to travel safely.
Over the last year or so, the pandemic has meant that many of us have experienced a lack of holidays. We understand that travel restrictions have been put in place across the world to keep travellers safe. However, the importance of holidays to our mental health and well being has often been overlooked.
So, we've taken the time to research how travel and lack of travel impact our customers' wellbeing.
We hope the research outlined below will provide you with insight into why taking a break is essential and knowing that any feeling you have related to post-pandemic travel is normal and that you're not alone.
Holidays and the benefits to our mental health prior to the pandemic
Prior to the pandemic, many of us were lucky enough to enjoy multiple getaways each year. The sunny escapes and weekend breaks enabled us to relax and rejuvenate. According to Dr Tamara McClintock Greenberg, author of Psychodynamic Perspectives on Aging and Illness, Holidays are beneficial as "The stress of work and daily demands can distract us from what we find to be actually meaningful and interesting." 
Studies support the ideology that holidays can improve our mental health and well being. Research conducted by Cornell University indicates that "the anticipation of a trip can increase your happiness substantially".
So, how has the lack of travel over the last year or so impacted us…
The negative impact on our mental health due to lack of holidays 
Lack of holidays has a direct effect on people's mental health and wellbeing. The graph indicates that 50% of those surveyed experienced a negative effect due to not being able to go on holiday as a result of the pandemic. 
The impact differs between age groups, decreasing with age. At least 1 in 2 adults aged 51-60 (62%) have experienced a negative impact on their mental health due to lack of holidays; decreasing by 44% from those aged 51-60 to those aged 71+. 
No matter your age, it's important to know that if lack of holidays has negatively impacted your wellbeing, you're not alone. 
If you are experiencing a crisis, you can get help through the NHS using their HUB of Help service.  
How the pandemic has changed how we view the importance of holidays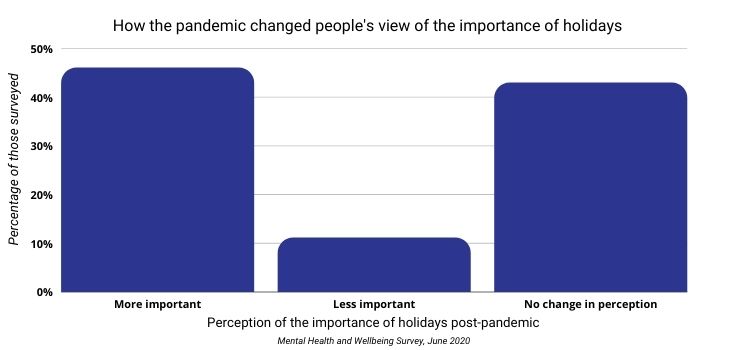 The saying goes, "you don't know what you got 'til it's gone…". This is evidently applicable to holidays. Not being able to enjoy a break has caused many people to now view them as more important. In fact, out of those we surveyed, at least a quarter within each age group now view holidays as more important.  The pandemic led those aged 51-60 to alter their perception of holidays the most, with more than half (56%) now viewing holidays as more important since the pandemic. 
Lucky, there is still plenty of time to book a post-lockdown getaway. For more details on how to navigate the 'new normal' when it comes to travel, read our all-in-one post-pandemic travel guide.
Aspects of holidays most missed during lockdown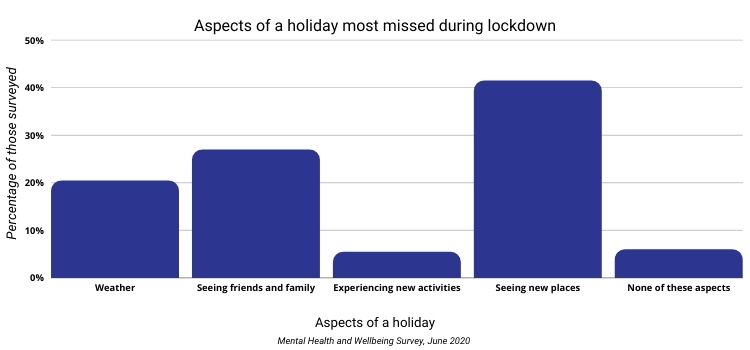 With the amount of rain, Brits have endured this summer compared to the heatwave of 2020, it was surprising to discover that the weather was not the aspect of a holiday most missed during lockdown. In fact, at 41.1%, 'seeing new places' was the most missed aspect of a holiday. 
This could be why so many Brits are keen to enjoy a staycation this year; 35.2% of those we surveyed are indeed planning a break in Britain. After all, even without the guarantee of good weather, the promise of refreshing new scenery still offers them a valuable experience. 
If you're interested in a UK staycation, here's a guide detailing what the UK has to offer. 
How post-pandemic travel can make us feel 
It's normal to have some feelings of nervousness when it comes to travelling again.  Overall, 41.4% of those we surveyed admitted to feeling this way.  However, many also experience feelings of happiness and excitement. When it comes to the older generation, 48% of those aged 71+ felt excited or happy about the prospect of travelling post-pandemic. 
The best way to help ease any feelings of post-pandemic nervousness regarding travel is to prepare in advance. To help make the process as simple as possible – we've put some top tips together below: 
Top tips for planning a post-pandemic holiday with confidence 
We hope if you are able to travel, that you enjoy your well-deserved and long-awaited break. The most important thing is that you travel safely. Therefore we recommend that before booing your getaway you: 
Author notes
Written by Lydia Crispin, MA Content Creator at AllClear
Edited by Letitia Smith, M.Sc. Content Manager at AllClear