So, what is "know your numbers week" we hear you say?
Know Your Numbers Week is a campaign by the charity Blood Pressure UK, which takes place every year in the second week of September – and this year it's all about knowing your blood pressure to help you live a long and healthy life!
The charity wants as many people as possible to get their blood pressure checked, as they hope to prevent deaths and disability from strokes and heart disease. After all, approximately one third of people with high blood pressure don't know they have it.
This guide will help you find out what counts as high blood pressure, where you can get your pressure checked, what lifestyle choices you can make to stay healthy and more…
High Blood Pressure – by the Numbers
High blood pressure – also called hypertension – can increase your risk of having a heart attack or a stroke and make you more likely to develop kidney disease, peripheral arterial disease, heart failure and even some forms of dementia.
Blood pressure is recorded with 2 numbers. The higher number (systolic) is the force at which your heart pumps blood around your body, and a lower number (diastolic) indicates the resistance to the blood flow in your bloods blood vessels. Both are measured in millimetres of mercury (mmHg).
A healthy blood pressure is between 90/60 and 120/80, however most adults in the UK record a number between 120/80 and 140/90, which is higher than it should be… Anything above than 140/90 is diagnosed as high blood pressure.
The NHS states that 1 in 4 adults in the UK have high blood pressure, but since there are rarely any symptoms, many don't know they have it and the only way to find out if yours is high is to have it tested. To help you get tested, Blood Pressure UK have set up hundreds of Pressure Station across the UK which will offer free checks  – and you can find your nearest blood pressure checking station using this handy postcode checker.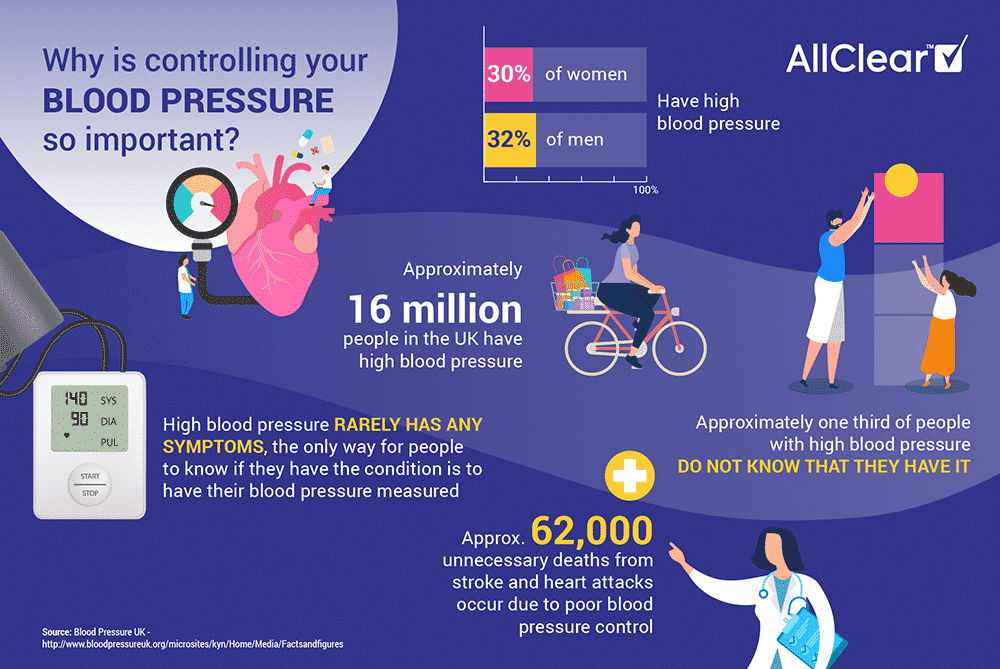 6 Tips for a Blood Pressure Friendly Lifestyle
The average life expectancy in the UK has risen steadily for many years and now sits at a little over 81 years old. And according to the World Bank, the average person now lives 10 years longer than they did in 1960. With many any of us now expected to live into our 80s and beyond, quality of life is key, and keeping ourselves fit and healthy for as long as possible takes on renewed importance.
Here are six tips  to help keep your blood pressure at a healthy level and help prevent various health problems. 
Eating Healthy
Eat at least 5 portions of fruit and veg a day: this makes sure you get enough potassium which has been proven to lower blood pressure
Reduce the amount of salt you eat: eating too much can significantly increase your blood pressure. The current advice is to eat no more than 6g (1 teaspoon) of salt a day
Cut down the amount of saturated fat you eat: instead consume more dietary fibre in whole grains.
Getting Active
Do at least 150 minutes of moderate-intensity activity each week
Strengthen your muscles a couple of times a week by doing lifting weights or doing exercises – or simply heavy gardening – that use your body's weight as resistance. This will also help improve your bone density as you get older.
Watching your Weight
Your weight affects your blood pressure and if you're carrying a few extra pounds, losing just 10% of your weight can help reduce your systolic blood pressure by up to 10mmHg
Being Careful of What You Drink
Try to aim for the government's recommendation of 14 units of alcohol per week, spread evenly over 3 days or more as alcohol can raise your blood pressure over time, and is often associated with weight gain
Don't drink more than 4 cups of coffee a day, as this is proven to increase your blood pressure
Quitting Smoking
Smoking can cause your arteries to narrow and it's also a leading cause of cardiovascular disease. If you have high blood pressure as well, it will cause your arteries to narrow quicker
Sleeping Well
Try to get at least 6 hours of sleep a night. Long-term sleep deprivation is associated with a rise in blood pressure.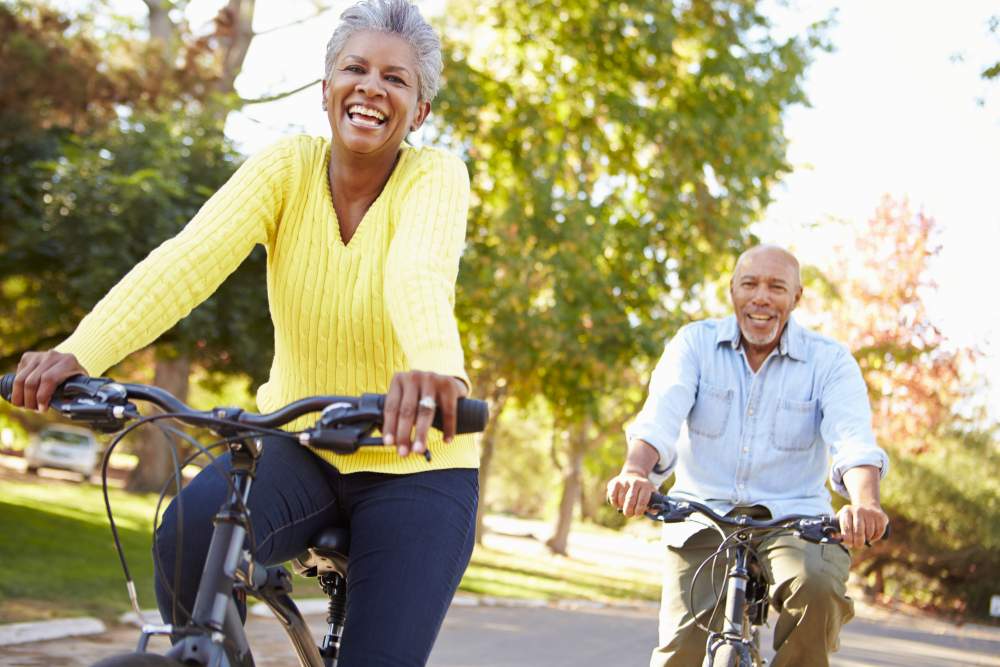 Tips for Travelling with High Blood Pressure
Blood Pressure UK also offers plenty of helpful advice on travelling with high blood pressure.
The charity states that all forms of standard travel, including flying, are generally okay if you have high blood pressure that is well controlled, but it always makes good sense to see your doctor before you travel.
You can also read our guide on Flying with high blood pressure.
Plus, if you have a holiday planned, consider our specialist blood pressure travel insurance and discover why we're trusted by over 3 million holidaymakers!