Everyone, literally everyone has a favourite sandwich. From one-ingredient wonders to towers of meat, there is a sandwich out there for you and National Sandwich Day on 3 November recognises the world's favourite lunch.
While the origins of favourites like the honourable chip butty may be in dispute, the name 'sandwich' almost definitely comes from its inventor John Montagu, 4th Earl of Sandwich. The Earl was rumoured to be so focused on his card games and gambling that he did not take the time to eat properly. When hungry, his servants would bring him sliced meat between bread, and the rest is history. 
The sandwich quickly spread around the world, and nearly every country has its own favourite. So, in celebration of National Sandwich Day, here are 15 of our favourites from around the world to sink your teeth into.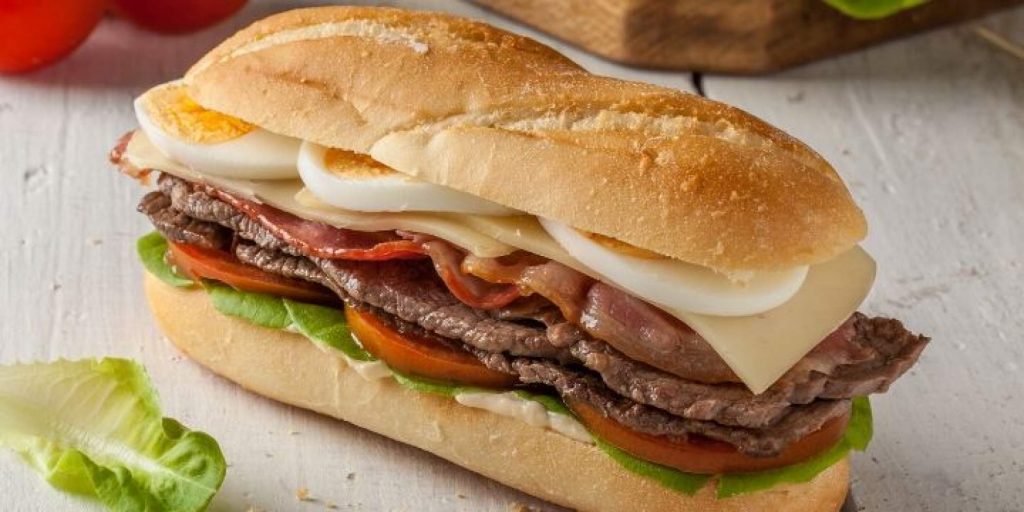 Chivito, Uruguay
The Chivito (which means little goat) was invented in a bar and is now the country's national dish. No-one knows why it's called little goat as it's actually made of beef, bacon and ham, topped with mozzarella, lettuce, tomato, and hard-boiled eggs. It's always eaten with mayonnaise and a side of fries.
Sabich, Israel
Named after the founder of the first Sabich stand in Israel, Sabich Tsvi Halabi, the popular Israeli sandwich fills a floury pita base with fried aubergine, boiled eggs, hummus, tahini sauce and pickles.
The Michetta, Italy
Milan's Michetta defined a generation of Italians. It was the food of choice of the 'paninari' in the early 1980s who were obsessed with designer clothes and would meet in the Al panino bar.
The Michetta sandwich is all about the bread roll which is crispy on the outside and soft on the inside – what goes inside is up to you – traditionally you'd go for ham and cheese.
Shawarma, Lebanon
While Shawarma is often found on take away menus, many argue that the best is still found in Lebanon. The locals order Chicken Shawarma and pair it with falafel and toum, but there's nearly always spit-roasted mixed meat varieties that are worthy seconds.
Chacarero, Chile
Named after workers who tend to chacras (ranches or farms) the Chacarero was the staple lunch of farmhands but is now eaten everywhere in Chile.
Chacareros are made by stacking thinly sliced pork or beef, with equally skinny slices of green chili pepper, tomato and green beans as high as you can manage. 
Skagen Macka, Sweden
Sweden's traditional Skagen Macka (sometimes known as Toast Skagen, or Skagen Toast) is a prawn-and-crème-fraiche-topped toast invented by restaurateur Tore Wretman in the years following WWII when fast food started to take over the country. It has a slightly confusing name as Skagen is actually a port town in neighbouring Denmark.
Spaghetti Sandwich, Japan
Exactly what it says on the tin – the spaghetti sandwich is made up of pre-cooked and sauced spaghetti, dolloped into a submarine roll or garlic baguette. It's one of Tokyo's favourite commuter snacks and can be served hot or cold, with or without cheese 
The Philly Cheesesteak, Philadelphia, USA
The famous Philly Cheesesteak was supposedly invented in the 1930s by Italian brothers Pat and Harry Olvieri. It combines thinly sliced rib-eye beef fried on a hot griddle with American cheese which is then stuffed into an Italian bread roll. 
Po' Boy, Louisiana, USA
America has made the sandwich its own, and pretty much every state has a signature creation so it'd be wrong for us only to include one on this list.
The second of America's great sandwiches on this list is the Po' Boy. A few states have tried to make the Po' Boy their own but the original fried seafood sandwich is still the best known. Prawns and oysters are topped with pickles and butter, as well as some optional salad extras.
The Francesinha, Portugal
The calorie-loaded Francesinha hails from Porto and started life as the Portuguese equivalent of the croque-monsieur. It's made by packing two slices of bread with wet-cured ham, smoke-cured pork sausage, chipolata sausage and steak. The sandwich is then covered in melted cheese and beer and tomato sauce. 
Doner Kebab, Turkey/Germany
Although the Doner Kebab is known for its Turkish origins, the kebab we know today was first made in Berlin by Turkish immigrant Kadir Nurman who transformed it into a fast-food flat bread sandwich full of vegetables, spit roasted meat and sauce.
The Bành Mì, Vietnam
France's occupation of Vietnam saw the introduction of the baguette to the country, which eventually led to the creation of the truly brilliant Banh Mi. 
A traditional Bành Mì incorporates oven-roasted pork belly, liver pate, cucumber slices, pickled carrot and radish, mayonnaise and chilli. Still, you can now get it with everything from chicken to ice cream.
The Croque Monsieur, France
Nobody's sure of the origins of the Croque Monsieur, but it started to gain notoriety in the early 1900s and it's become a worldwide favourite. Boiled ham and sliced is placed inside two slices of buttered and toasted brioche before more cheese is grated on top and grilled. What can go wrong?
Gatsby, South Africa
The Gatsby sandwich was invented by restaurateur Rashaad Pandy who wanted a serve a quick but filling meal to builders working on his next location. He put South-African-style chips, polony and achaar in a large round of bread and cut it into wedges – when one of the workers called it a "Gatsby smash" after The Great Gatsby film, the name stuck.
Today, the Gatsby consists of lettuce, sausage, fries and sauce.
The Chip Butty, England
Leonardo da Vinci said:"simplicity is the ultimate sophistication." and if that's the case, then the glorious Chip Butty is the most sophisticated sandwich in the world. 
The other sandwiches on the list may be sexier and be a bit more creative, but there are few things better than hot chips stuffed between slices of buttered white bread. 
Is there a sandwich you think should be on the list? Let us know in the comments.