Thanksgiving Day is a major national holiday in the US. The celebration is filled with family feasts, parades and presidential turkey pardons – but how much do you know about the history of Thanksgiving? Well, read on if you want to know more.
The History of Thanksgiving
In September 1620, a ship called the Mayflower left Plymouth, England, carrying 102 passengers to the New World. After a problematic 66-day crossing, they dropped anchor near the tip of Cape Cod before crossing the Bay a month later and establishing a village they called Plymouth.
Most of the colonists stayed on the ship, and half died in the first brutal winter. In March, those left moved ashore, where an Abenaki Indian greeted them and introduced them to another Native American, Squanto. Squanto was a member of the Pawtuxet tribe. He taught the Pilgrims how to cultivate corn, extract sap from maple trees, catch fish and avoid poisonous plants. He also helped the settlers forge an alliance with a local tribe called the Wampanoag.
In November 1621, the Pilgrims' first corn harvest proved successful and the Governor, William Bradford, organised a celebratory feast. He invited a group of Native American allies, including the Wampanoag chief Massasoit and Thanksgiving was born.
Days of fasting and annual Thanksgiving celebrations soon became standard practice on other New England settlements, but it took over 200 years for it to become a national holiday. 
In 1863 Abraham Lincoln scheduled Thanksgiving for the final Thursday in November until 1939. Franklin D. Roosevelt then moved the holiday forward a week to try and increase retail sales during the Great Depression. The move was met with a lot of opposition, and in 1941, Roosevelt signed a bill returning Thanksgiving to the fourth Thursday in November where it has stayed to this day.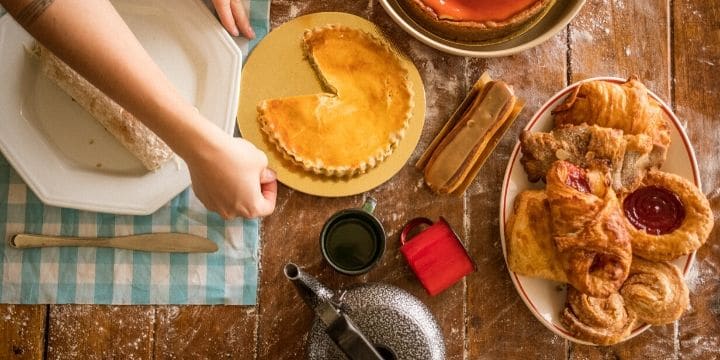 Thanksgiving Recipes
A big part of Thanksgiving is cooking and sharing a meal with family and friends, and a few dishes are essential to a feast. Turkeys are a must for a holiday as alongside dollops of mashed potatoes and pumpkin pie for dessert.
Turkey Recipe 
For a mouth-watering Turkey with Spiced Cranberry, Apple and Sage Stuffing recipe, check out the Foodnetwork. Super simple, and serves 10 people. It's sure to be a crowd-pleaser. 
Mashed potatoes
In the last few years, there has been an influx in new ways to mix up your mash, ranging from garlic mash to cheddar, chive and bacon mash. However, this year, why not go for a classic. Check out, Creamy Mashed Potatoes Recipe by Natasha's Kitchen. 
Pumpkin pie
For the iconic American treat, check out the BBC's Good Food pumpkin pie recipe. The sweet shortcrust pastry tart case filled with lightly spiced squash will leave your tastebuds wanting more.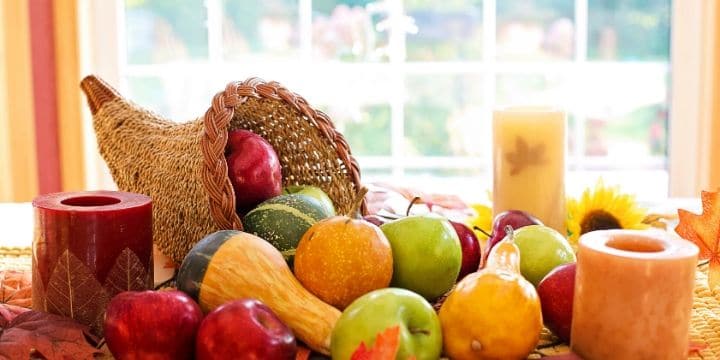 Thanksgiving Traditions
Aside from the Thanksgiving feast, there are a few other significant traditions.
Most Thanksgiving dinner tables will feature a cornucopia as a centrepiece. These are hollow, horn-shaped wicker baskets overflowing with fruits, vegetables and grains to symbolise a bountiful harvest. 
Parades are also a massive part of the holiday, and New York City's is the largest and most famous. Attracting around 3 million spectators along its 2.5-mile route, it has been running since 1924 and typically features marching bands, performers, elaborate floats conveying various celebrities and giant balloons shaped like cartoon characters.
Nobody is 100% sure of the origins, but every year the President pardons one or two Thanksgiving turkeys and sent them to a farm for retirement. A number of U.S. governors also perform the annual turkey pardoning ritual.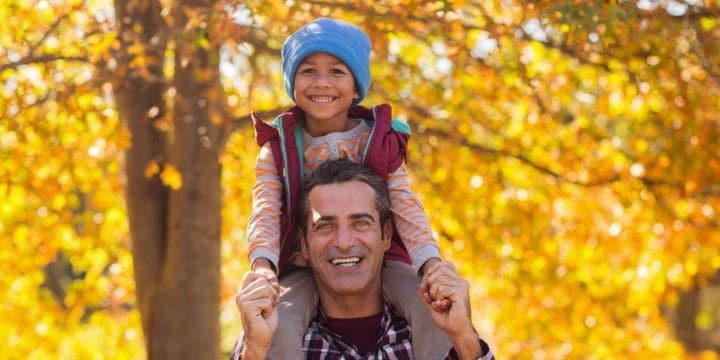 2019 List of Things to be Grateful For
Another tradition that acknowledges the origins of Thanksgiving is thinking about what you're thankful for and acknowledging that we take some things for granted.
Some people make lists as a way of showing their gratitude, and one of the best that we've come across is on the Positivity Blog, where the writer shows his thanks for:
A warm, safe home
Plenty of drinkable water
Not going hungry
Being able to enjoy the free pleasures in life
Access to the internet
Have you got something you'd like to show thanks for?