Do you have any half term plans with the grandkids? 71% of you told us you do in a recent survey, and it can be a joyful experience – but let's be honest, it can also be exhausting!
When you're out and about or travelling on family holidays it's lovely to watch young children's excitement to learn and explore, however, it can be difficult to keep them happy and occupied at all times. So, here are a few tips to make your break with the grandkids as fun as possible…
Have Entertainment on Hand
Playing games, reading books and discussing what you are going to do on your trip are all good ideas. Think Connect Four and talking about their favourite Superhero. Electronic devices are also great for watching films when the kids (or you) need some quiet time.
Pack Snacks and Plan Meals
As you've probably experienced, children can be fussy eaters. So don't forget that when travelling you might not always be able to get the food they love. Bring along familiar snacks to stop the grumpiness of rumbling tummies. Same goes for drinks too – and do they have a special cup? – make sure you don't forget it!
Broaden and Pique Their Interests
One of the best summer tips for travelling with grandchildren is to find activities that you will both enjoy. For example, learn more about a subject they like and pique their interests by exploring a museum which has an exhibit about it.
Also, creative activities like painting and drawing can make children take more notice of their surroundings and ask questions about where you've travelled to; broadening their interests further.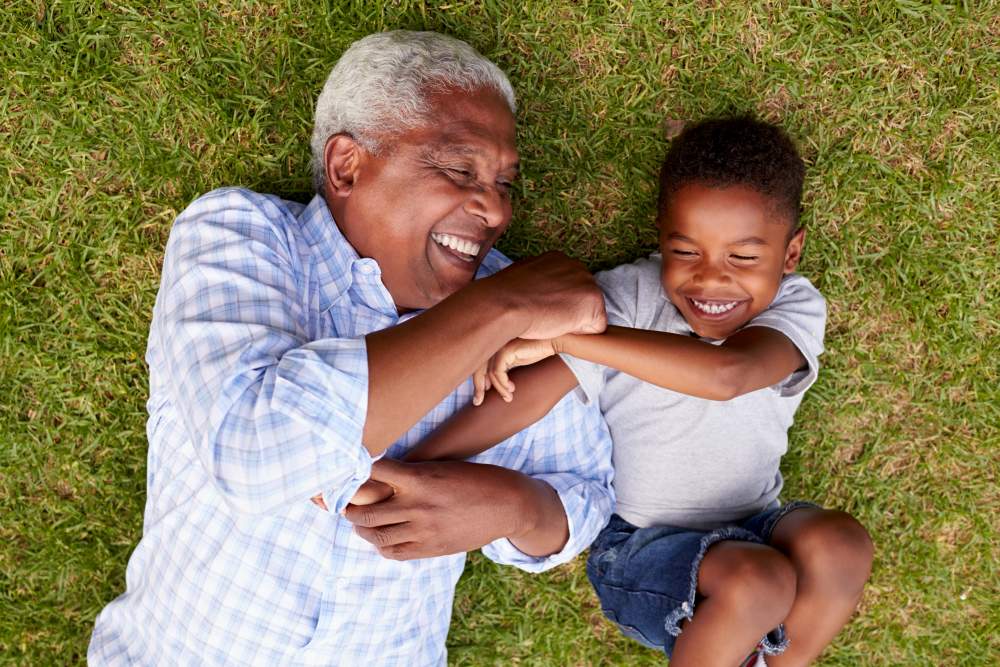 Stick to a Routine
Although you can be a little more flexible on holiday, children are best when they stick to a routine.  Just like at home, try to keep to regular meal times and nap times – for small children especially. Avoid temper tantrums and meltdowns by making sure they are well rested and well fed. Although bedtime can vary slightly, they are more likely to enjoy the day with you if they've had a proper nights sleep.
Take Time to Review and Evaluate Your Time
We all like to decompress at the end of the day and doing so can be beneficial for the children too. Take time to talk about what you have done during the day. Asking questions such as, "What did you like best?" can be beneficial to the whole experience. It also helps the kids to process what they've done and to remember the fun they have had with you.
Plus, evaluating at the end of the day will aid a restful sleep too.
Tips on What to Bring Along
There are certain essential but small things that make all the difference to your travelling. For example, wet wipes to clean messy fingers and wipe scraped knees; a first aid kit for minor injuries that are bound to happen (those plasters work magic), and of course sun cream.
---
Do you have any tips for travelling with grandchildren? Or are there any essential items that you would bring along? Let us know!
Lastly, don't forget your most essential packing if you're going on holiday: medical travel insurance.  At AllClear, we cover All conditions. All ages. All destinations.  Discover our Seniors Travel Insurance today!