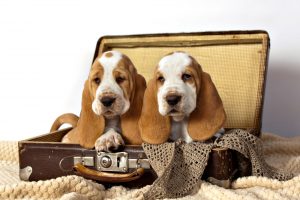 Phone? Check. Keys? Check. Passport? Check. You're all set for an exotic adventure abroad, except for one thing: what to do about the dog?
In the past, you wouldn't have had many options when it comes to caring for your pets while travelling abroad. However, there's been a huge increase in the number of pet-friendly hotels, restaurants and events found all over the world. Making it possible to take the vacation of your dreams without having to leave your furry friend at home. If you're interested in bring your pet along on your next adventure, you may want to…
Tour Paris
With nearly 1 dog for every 7 people, it's perhaps not a surprise that the French capital city is considered one of the world's most pet-friendly cities. Estimates say that somewhere around half of the City of Light's hotels are pet-friendly, as well as the majority of its restaurants. While pets won't be allowed into the city's famous museums, you can take them to a handful of the city's lovely parks, including the famous Jardin du Luxembourg.
You can also bring animals to the Champs de Mar, home of the iconic Eiffel Tower.
While Paris is generally very pet-friendly, it's always best to call ahead and confirm that the specific destinations in your itinerary will accommodate your pet.
Explore Amsterdam
Amsterdam may just be the perfect place for both humans and pets. We can appreciate the city's top-notch dining, world-class museums, and infamous nightlife, while our animals will adore the numerous parks and luxury pet-friendly hotels.
Unless you see a "No Dogs Allowed" sign post, it's safe to assume your pet will receive a warm welcome just about anywhere in Amsterdam (that said, once again city museums are an exception).
Amsterdam is also home to the famous Poezenboot, or Catboat. The Catboat is an animal sanctuary built on a houseboat, and has become a must-see attraction since its opening in 1968. While you're unlikely to be allowed to bring a pet you already own into the Catboat, you may just walk away with a new feline family member.
Join a Halloween Dog Parade in New York City
Love it or hate it, clothing for pets isn't just another weird trend: it's here to stay. If you're a fan of dressing up your pooch for special occasions, consider taking a holiday to New York City next October for the annual Tompkins Square Halloween Dog Parade.
Dubbed the "largest dog costume parade in the world" by CNN, this fun event brings together hundreds of costumed dogs and thousands of spectators from all over the world. Think your dog has what it takes to win the Best in Show prize? It's free to enter, and there's a chance you could win a prize.
But even if you don't want to participate in the runway competition, you can still join the parade and gawk at all of the meticulously crafted (and generally hilarious) canine costumes on display.
Relax in Shanghai
Many people instinctively think of European and American cities when planning holidays with their pets – as they tend to be more pet-friendly than other destinations around the world.
However, attitudes towards pets are changing, as evidenced in a recent survey by the Shanghai Daily. This newspaper found that while it's still not advisable to bring a dog to most public places in China, some hotels and restaurants are beginning to change their opinions. For example, Shanghai's Doubletree in Wuxi Lingshan has recently became one of the city's first five-star hotel to allow pets.
Unfortunately, most public parks in Shanghai don't allow dogs. So, the Shanghai Daily recommends visiting nearby Chongming Island if you're seeking an open place to let your dog run wild. Bringing cats out in public is a bit easier, but it's still recommended to call ahead to your destination and check on their pet policies.
While it's definitely more difficult to travel with a pet in China, it's certainly not impossible – all that's required is a bit of research and a few phone calls!
Legal regulations for UK residents
Remember if you want to travel with a dog, cat, ferret – or any other pet – there's a few legal regulations you should be aware of. Most notably, your pet will need a pet passport to legally leave and reenter the country. Acquiring a pet passport will require a trip to the vet. You'll need proof of ownership, recent blood tests, and an up-to-date vaccination record.
For some travel destinations, especially those in developing parts of the world or those with high rates of pet-related diseases, you may also need a veterinary certificate to reenter the country. This certificate is used to prove that your animal is in good health and won't spread foreign diseases to other animals.
---
Every country has different regulations and requirements for animals crossing the border. Fortunately, a bit of research is all that's necessary to  see if your pet can accompany on your next adventure!