Holidays can seem like a distant memory, especially as the UK endures its third lockdown. However, we must all continue to try to stay as upbeat as possible. And what better way to do so then by reflecting on our favourite holiday moments? As the COVID-19 vaccine roll-out begins to pick up momentum, we are sure that brighter days lay ahead. Travel will soon resume and we will be able to re-experience our favourite holiday moments with newfound appreciation. Until that happens, we can enjoy discovering our favourite holiday moment really is. 
Revealed: Your Favourite Holiday Moment as Votes for by You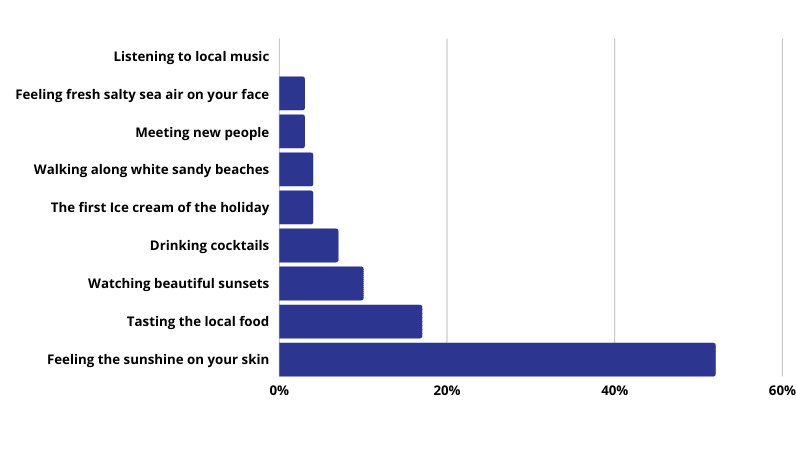 We asked you to vote for your favourite holiday moment. Many of you took part and we can now reveal that, at 52%, feeling the sunshine on your skin is by far your favourite holiday moment! If reminiscing over your favourite holiday moment has inspired you to plan a post-lockdown holiday in the sunshine, then you'll need comprehensive travel insurance in place.
It's no surprise that following the outbreak of COVID-19, many of you are prioritising safer travel, AllClear research found that 36% want best possible insurance. To enable you to travel safely, AllClear includes enhanced Coronavirus cover with all policies as standard, protecting both you and your trip. Our Covid-19 cover has been rated Superior by a leading independent UK Consumer Champion and is included with AllClear policies at no extra cost.
What Evokes the Memory of Our Favourite Holiday Moments 
As you have probably sussed out, all of the movements listed above are strongly linked to our senses. This is because our memories are scattered across the brain's sensory centres, which are governed by the Hippocampus. See, our brains are extremely clever – if one of our senses are stimulated to evoke a memory, other memories and related senses are also triggered.
Picture the moment you voted for above. You can probably remember the exact time when you last experienced that moment, the sights, the sounds, the feel of it. So, when you're next on holiday make sure you're in touch with your surroundings. To make the most of the moment and soon to be a memory – you'll want to experience it through all your senses!
2021- Making New Memories and Reliving our Favourite Moments
Previously, we asked you what was your 2021 dream destination – you revealed to us that it was in fact Spain. So, if you wish to relive your favourite holiday moment in your dream destination – you'll need comprehensive travel insurance in place for peace of mind. For more information, travel tips and travel insurance for Spain, click here. For information and travel tips, we also have guides for Greece, Italy and France, should those destinations be next on your travel wish list.
According to a study commissioned by Jet2holidays, the next holiday British people take 'will be the most important in their lives', and we can most certainly agree! However, one thing that's sure to spoil any holiday is unexpected emergency medical bills and cancellation. See how AllClear can help you with Comprehensive Travel insurance with no upper age limits and enhanced COVID-19 cover included.
Lockdown Resources until we can Travel Again
While the UK resides in Lockdown 3.0, we thought we'd together some additional travel-related resources. The links below should help keep you entertained and inspired until we can venture to our favourite holiday hotspots once more:
Published on: 12 Jan 2021 
Author notes. By Lydia Crispin, MA, AllClear Medical and Travel Content Creator. "It's important that our customers have confidence when they travel. I enjoy writing the latest-travel insights and industry updates so that each and every person can make well informed travel decisions"
Edited by Letitia Smith, MSc, Content Manager at AllClear.